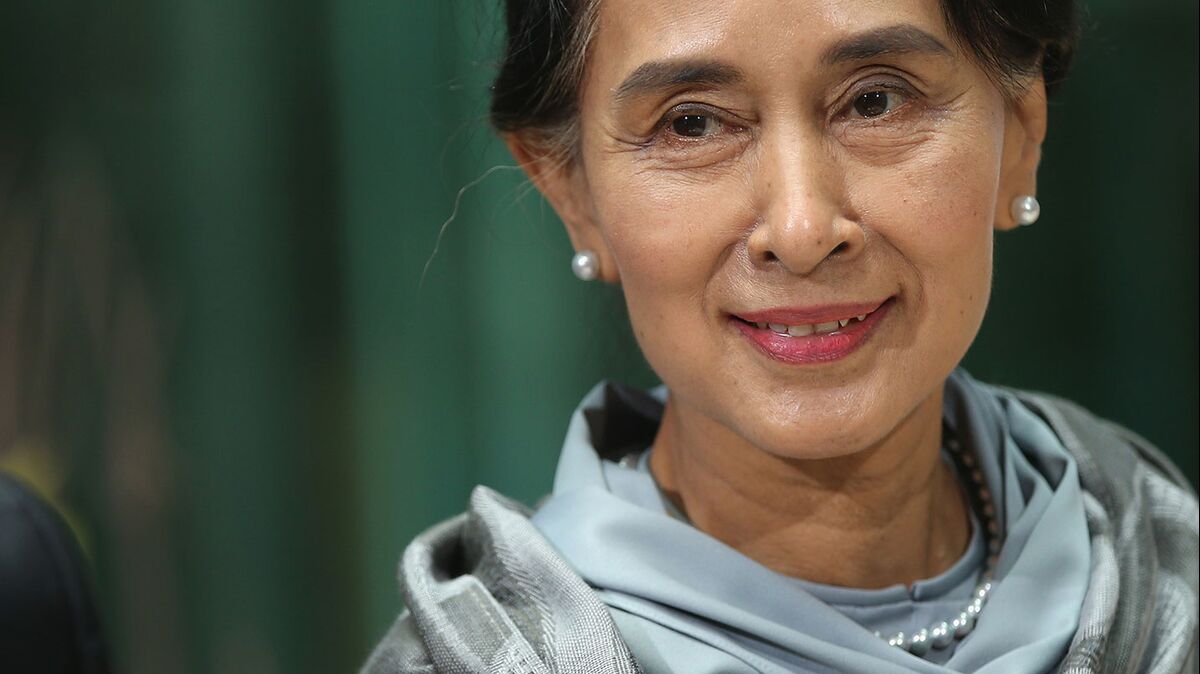 Myanmar's Transition
By
|
Updated Sep 14, 2016 12:59 PM UTC
Under decades of military rule, the battle lines in Myanmar were stark. On one side stood Burmese generals — brutal and corrupt — arrayed against dissident Aung San Suu Kyi, the charismatic daughter of the country's modern founder. Five years into the Southeast Asian nation's highly praised opening to the outside world, the situation is both hopeful and murky. A much-needed influx of foreign investment has driven up property prices and threatens to widen inequality. A liberated media and Internet culture have created a freewheeling arena for debate and dissent, yet also have facilitated a swell of anti-Muslim sentiment fueled by radical Buddhist monks. Above all, a sweeping victory for Suu Kyi's National League for Democracy in last November's elections promises to solidify the country's transition to democracy, yet also increases pressure on her to deliver prosperity and peace, even as she negotiates a new relationship with the military.
The Situation
After defeating the ruling party by a margin of nearly 10-to-1 in the elections, Suu Kyi's party took over the two houses of parliament on Feb. 1. While the head of the army has promised to cooperate with the former political prisoner, the military continues to control the powerful security ministries and has rejected efforts to amend the constitution, which bars Suu Kyi from serving as president because her children are U.K. citizens. Instead, her longtime confidant Htin Kyaw assumed the office on April 1, while her party introduced a bill to name her as "state counselor," a role akin to prime minister, cementing her dominance of the government. (She also serves as Myanmar's Foreign Minister.) Among the Buddhist majority, prejudice against the Rohingya community — Muslims castigated as illegal immigrants and stripped of citizenship — remains fierce and widespread. A painstakingly negotiated agreement for 15 of the country's ethnic insurgent groups to put down their arms was signed in October by only eight, casting doubt on whether the new government can finally end the world's longest civil war.
The Background
Modern Burma, as it was then known, emerged from British colonial rule after World War II and fell directly into conflict. Ethnic minorities make up a third of the population of 56 million and occupy half the country's land, sitting on some of its most valuable resources, such as jade, gold, teak and opium. A deal guaranteeing ethnic rights and self-determination fell apart after Aung San, slated to become the country's first leader, was gunned down with most of his cabinet in July 1947. The army soon sought to assert control over minority areas by force. A coup led by army chief Ne Win in 1962 inaugurated a half-century of military rule, during which the country descended into desperate poverty and isolation. Troops viciously suppressed pro-democracy protests in 1988. Two years later, the army annulled the results of elections that Suu Kyi's party won in a landslide. Under house arrest for much of the next 20 years, she served as a global lightning rod drawing attention to the junta's misrule. Suu Kyi agreed to take part in by-elections and join parliament only after a new civilian government led by ex-generals in 2011 announced major political and economic reforms. They have included the release of political prisoners, freedom to assemble and demonstrate, and an opening to foreign investors.
The Argument
Ever since former President Thein Sein laid out his dramatic reform program, observers have debated how genuine the country's transformation is. Skeptics say the military, which also guarantees itself a quarter of the seats in parliament and thus an effective veto over constitutional amendments, is unlikely to give up any further influence. Former regime cronies continue to control vast swaths of the economy. And anti-Muslim bigotry is deeply entrenched across the political spectrum. Even Suu Kyi's party put forward no Muslim candidates in the elections, although she has since asked former United Nations chief Kofi Annan to help explore solutions to the Rohingya issue. More broadly, optimists point to signs of dynamism. The Asian Development Bank predicts a second straight year of economic growth of faster than 8 percent in 2016. Incomes in cities such as Yangon are rising. The media is generally free and full-throated. Virtually all armed ethnic groups took part in the first of a series of peace conferences. Parliament has developed into a legitimate check on the executive and should grow even more powerful with the dominance of Suu Kyi's party. Much depends on whether the military accepts an accelerated pace of change or decides to retrench.
The Reference Shelf
First published Oct. 7, 2015
To contact the writer of this QuickTake:
Nisid Hajari in Singapore at nhajari@bloomberg.net
To contact the editor responsible for this QuickTake:
Grant Clark at gclark@bloomberg.net