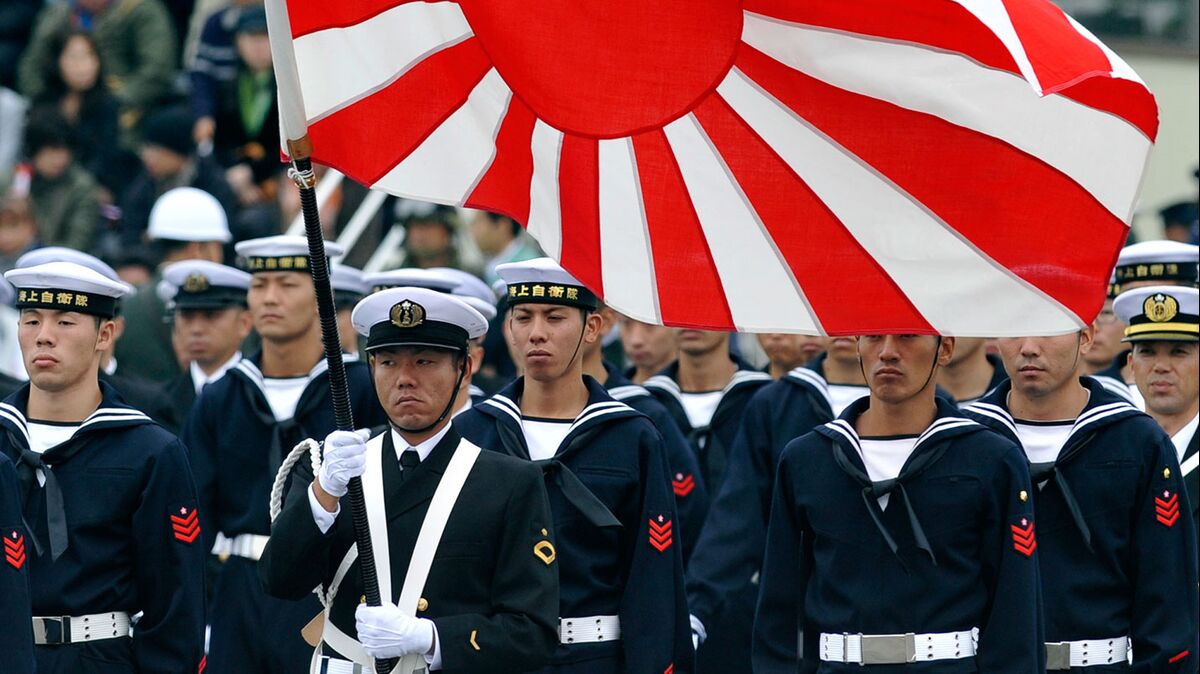 Japan's Military
Fighting History
By
|
Updated Nov 10, 2016 6:58 AM UTC
Bombed-out and poverty-stricken after World War II, Japan disbanded its military and renounced war. Seven decades later, moves to reclaim powers for the armed forces are stirring passions inside and outside the country. Japan's relations with its Asian neighbors soured over the last few years as Prime Minister Shinzo Abe pushed ahead with laws to reinterpret its U.S.-drafted pacifist constitution. After his latest election victory, he has a chance to actually amend the document. While Abe avoids pointing the finger directly at China, Beijing's growing military prowess and territorial claims have inflamed tensions in the region. Abe's moves have stoked the long-simmering debate about whether Japan has come to terms with its wartime atrocities.
The Situation
Proponents of constitutional reform won two-thirds of the seats in the upper house in a July 10 election, fulfilling a requirement for the process of change to begin. In 2015, Abe pushed bills through parliament allowing the armed forces to defend other countries. Opposition members tried to physically delay the legislation and thousands demonstrated outside parliament. Many Japanese remain concerned that the country will become entangled in U.S.-led wars like those in Iraq. But as threats simmer closer to home, Japan approved a record defense budget. The election by Donald Trump, who has threatened to withdraw U.S. troops from Japan, has sparked fears the alliance may be weakening, and may prompt calls for a still stronger military. Last year marked the 70th anniversary of Japan's defeat in World War II, a time when Asian nations recalled the Imperial Army's brutal invasion and colonization. There has been public bickering on portrayals of the war in textbooks and memorials for decades. Japanese officials have triggered diplomatic flare-ups over the years by downplaying, defending or challenging the evidence of wartime abuses such as the 1937 Rape of Nanking. Abe signaled a breakthrough on one such issue when he apologized to Korea over so-called "comfort women" coerced into military brothels and the two countries subsequently revived talks over an intelligence-sharing agreement. 


The Background
Japan's Imperial forces had been feared since their surprise victory over Russia in 1905, and the size of the military peaked at more than 5 million soldiers. After World War II, the U.S. sheltered Japan under its nuclear umbrella. The country's Self-Defense Forces, founded in the 1950s, were initially limited to fending off any attack on its islands. Japan began making changes after it was accused of "checkbook diplomacy" during the 1990-1991 Iraq war for contributing $13 billion but no troops. Japan subsequently took part in UN peace-keeping operations as well as sending non-combat troops to the second Iraq war for a reconstruction mission. Each step toward full militarization has been met with unease, as there have been waves of confession and denial in Japan over the years. Reconciliation was delayed by the Cold War, which cut Japan off from China until ties were established in 1972. There has been no resonant public image of atonement like West German Chancellor Willy Brandt falling to his knees in the former Warsaw ghetto in 1970. Though Japanese officials offered high-profile apologies in the 1990s, they have been clouded by visits by Japanese leaders — including Abe — to Tokyo's Yasukuni Shrine, where war criminals are among those honored.
The Argument
Abe wants to turn the page on the war and says that while he upholds past apologies, he doesn't see a need to repeat them. Critics see him as a nationalist hard-liner who is pandering to right-wing groups that deny Japan's atrocities. South Korea and China worry that a reluctance to face the past could pave the way for a return of Japan's militarism, while pacifists say Abe's changes spell the end of their ideal. The push to beef up Japan's armed forces was backed by the U.S., Australia and neighbors including Taiwan. They want the country to share the burden of patrolling Asian waters and help maintain the regional balance of power. China says the shift runs the risk of unsettling regional security, while South Korean officials have insisted that Japan must show more sincere regret over its past misdeeds before it can forge a bigger role.
The Reference Shelf
(An earlier QuickTake corrected a reference to Japan's involvement in UN peacekeeping forces.) 
First published Aug. 6, 2015
To contact the writer of this QuickTake:
Isabel Reynolds in Tokyo at ireynolds1@bloomberg.net
To contact the editor responsible for this QuickTake:
Grant Clark at gclark@bloomberg.net