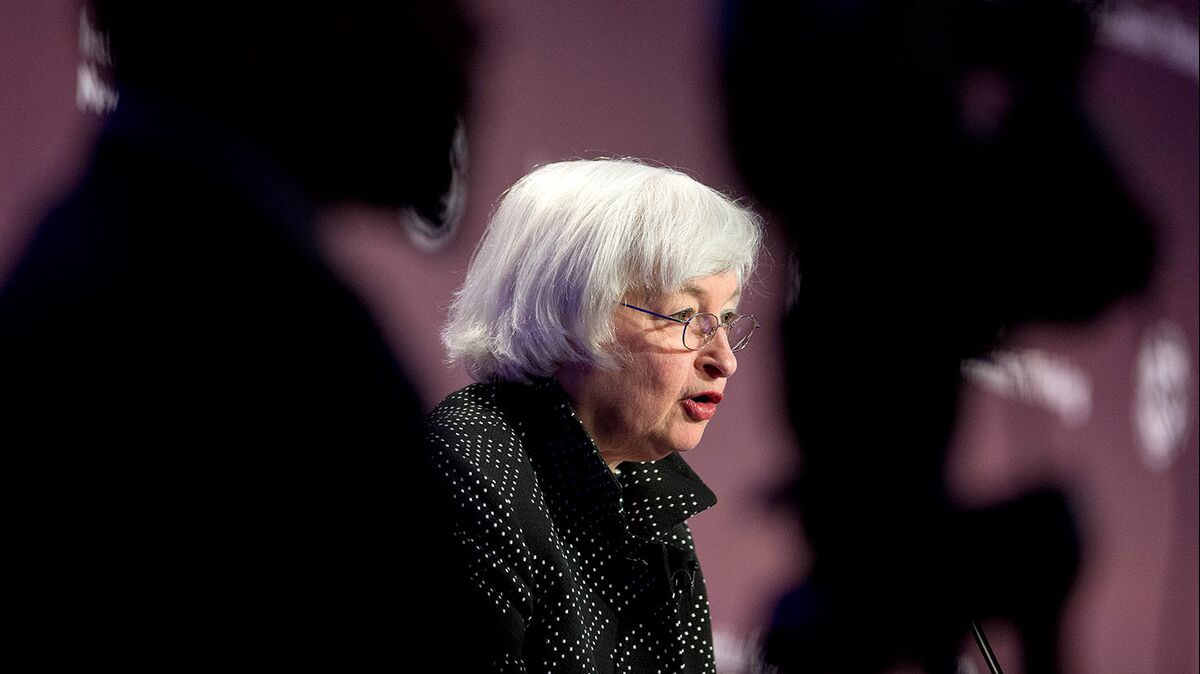 The Fed Lifts Off, Barely
Ending a Zero-Rate Era, Carefully
By
|
Updated Nov 9, 2016 7:54 PM UTC
Almost a year after the U.S. Federal Reserve began pulling back on the greatest monetary stimulus in its history, the question is, when it will act again? In December 2015, the Fed's policy-making committee voted in favor of what many called liftoff, an increase in the interest rate target the bank had pushed to near zero after the 2008 financial crisis. That vote was supposed to be the start of a process known as normalization. Fed officials had envisioned rates slowly creeping upward in a way that puts the economy near full employment with inflation averaging around 2 percent. But how fast? And how to manage conflicting currents at home and abroad? Former Fed Chairman Alan Greenspan's prediction: "There is no conceivable scenario in which it is going to be easy." Add to that Donald Trump's election as U.S. president.
The Situation
The Federal Open Market Committee, the Fed's policy-making body, seemed to set the stage for lifting rates by year-end in its Sept. 21  and Nov. 2 decisions. But Trump's victory could alter the situation. He has vowed to rewrite economic policy and tear up existing U.S. trade agreements and had been seen by investors as less predictable than his Democratic opponent, Hillary Clinton. Before the Nov. 8 election, the FOMC had released statements saying the case for another hike had gotten stronger along with forecasts in September that pointed to one quarter-point increase in 2016 and two hikes in 2017. Two of its members — regional Fed presidents Esther George and Loretta Mester — had dissented in favor of a quarter-point increase in November, following a three-person dissent in September that had been only the fourth time since 1992 that so many had broken away from the majority. September's triple dissent, along with comments made by Chair Janet Yellen during her press conference, pointed to further support for an immediate hike among the ranks of the FOMC's non-voting members. Last December, when the FOMC voted to establish a new target range for the overnight lending rate between banks of 0.25% to 0.5%, the FOMC's median estimate implied four quarter-point hikes in 2016.


The Background
The Fed sets monetary policy by adjusting the interest rate that big banks pay each other for overnight loans, the fed funds rate. Changes in that rate ripple through the economy, affecting employment, output and the price of goods and services. Just as the Fed had to cook up unconventional tools such as its bond-buying program to stimulate the economy, it's been using new tools for raising the fed funds rate and thereby ratcheting stimulus down. Its main focus is the huge pile of cash banks have parked at the Fed since the 2008 crash. To get the fed funds rate up, the Fed in December increased the interest it pays on those so-called excess reserves to 0.5 percent. A higher rate gives banks a risk-free alternative to transactions like making loans or buying securities that earn less, thereby forcing the interbank rates up toward the Fed's preferred level. The Fed is also using another form of overnight borrowing, known as reverse repo, that's available to money-market funds and other large non-bank investors as well. In a reverse repo, the Fed borrows securities overnight at a rate high enough to discourage lending at rates below the target range. The Fed is cushioning the effect of its interest rate hikes by putting off a reduction of its $4.5 trillion balance sheet, which was swollen by bonds purchased through its so-called quantitative easing program. When Treasuries mature, the Fed is rolling over the proceeds by buying more, a policy it says it will keep in place until rate normalization is "well under way."
The Argument
Since the Fed moved past its first hike, policy makers have been weighing a relatively improved post-crisis U.S. economy against mixed data and slow growth abroad. Now there's the question of what to make of Trump and of any market turmoil that could be triggered by his victory.  During the campaign, Trump was scathingly critical of the Fed's low-rate policy and called the central bank "a political arm" of the Obama administration. Speaking of Yellen, he said, "she knows that she's supposed to be inching them up." Yellen has said, "We do not take politics into account in our decisions."  Minutes of the FOMC's September meeting show that policy makers remained somewhat divided on key issues, including the timing of the next rate increase, risks to growth, the inflation outlook and the extent of slack left in the labor market. Among those officials who wanted to wait for more data, the decision to pause was described as a "close call." A number of participants thought it would be appropriate to wait for more evidence of progress toward the Fed's objectives, while some saw any further delay in boosting rates as a risk. 
The Reference Shelf
First published June 16, 2015
To contact the writers of this QuickTake:
Vivien Lou Chen in San Francisco at vchen1@bloomberg.net
Alex Harris in New York at aharris48@bloomberg.net
To contact the editor responsible for this QuickTake:
John O'Neil at joneil18@bloomberg.net