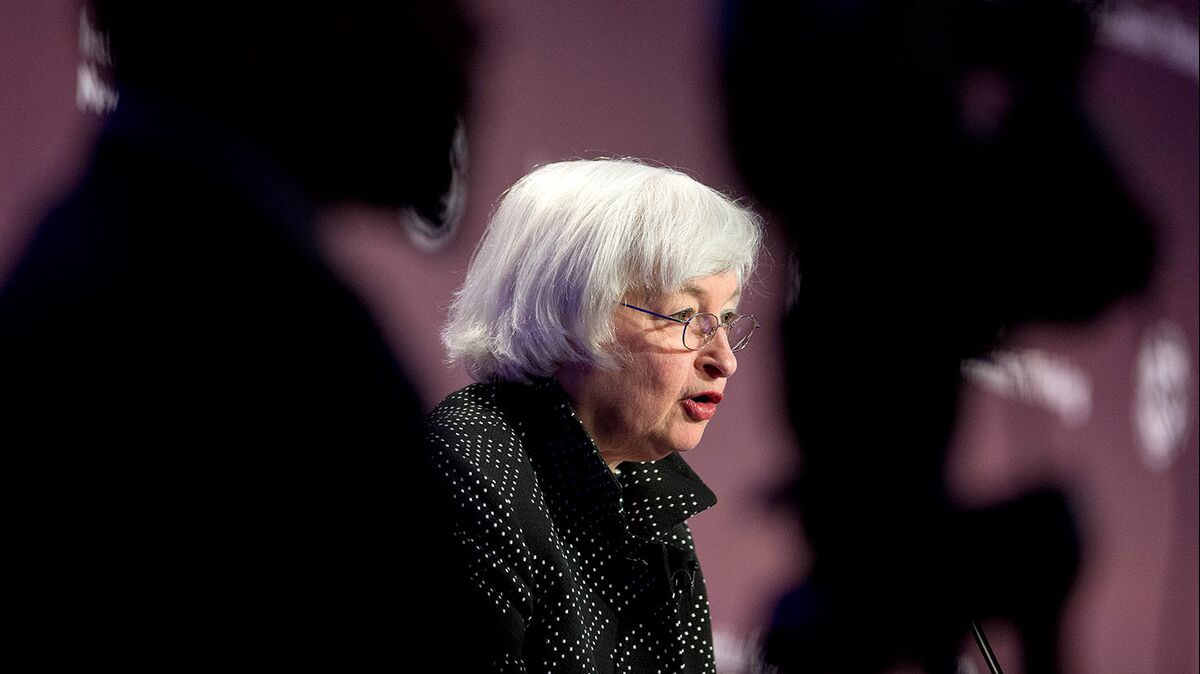 The Fed Lifts Off, Barely
Ending a Zero-Rate Era, Carefully
By
|
Updated July 26, 2016 2:57 PM UTC
More than six months after the U.S. Federal Reserve began pulling back on the greatest monetary stimulus in its history, the question is, when it will act again? In December 2015, the Fed's policy-making committee voted in favor of what many called liftoff, an increase in the interest rate target the bank had pushed to near zero after the 2008 financial crisis. That vote was supposed to be the start of a process known as normalization. Fed officials had envisioned rates slowly creeping upward in a way that puts the economy near full employment with inflation averaging around 2 percent. But how fast? And how to manage conflicting currents at home and abroad? Former Fed Chairman Alan Greenspan's prediction? "There is no conceivable scenario in which it is going to be easy."
The Situation
Fed Chair Janet Yellen's hope of lifting rates in coming months has been dashed by a confluence of factors that include the U.K.'s June 23 vote to leave the European Union, financial market turmoil, and inconsistent labor market data. While the FOMC's median forecast now calls for two quarter-point hikes this year, more Fed officials than in March are expecting just one move this year. One policy maker, St. Louis Fed President James Bullard, expects only 1 hike through 2018. Back in December, when the FOMC voted to establish a new target range for the overnight lending rate between banks of 0.25 to 0.5%, the FOMC's median estimate was for four hikes in 2016. 
The Background
The Fed sets monetary policy by adjusting the interest rate that big banks pay each other for overnight loans, the fed funds rate. Changes in that rate ripple through the economy, affecting employment, output and the price of goods and services. Just as the Fed had to cook up unconventional tools such as its bond-buying program to stimulate the economy, it's been using new tools for raising the fed funds rate and thereby ratcheting stimulus down. Its main focus is the huge pile of cash banks have parked at the Fed since the 2008 crash. To get the fed funds rate up, the Fed in December increased the interest it pays on those so-called excess reserves to 0.5 percent. A higher rate gives banks a risk-free alternative to transactions like making loans or buying securities that earn less, thereby forcing the interbank rates up toward the Fed's preferred level. The Fed is also using another form of overnight borrowing, known as reverse repo, that's available to money-market funds and other large non-bank investors as well. In a reverse repo, the Fed borrows securities overnight at a rate high enough to discourage lending at rates below the target range. The Fed is cushioning the effect of its interest rate hikes by putting off a reduction of its $4.5 trillion balance sheet, which was swollen by bonds purchased through its so-called quantitative easing program. When Treasuries mature, the Fed is rolling over the proceeds by buying more, a policy it says it will keep in place until rate normalization is "well under way."
The Argument
Now that the Fed has moved past its first hike, policy makers must weigh a relatively improved post-crisis U.S. economy and payrolls rebound in June against slowing growth abroad and the still unknown consequences of Brexit. The dollar's strength could also be a factor, since cheaper import prices would keep inflation too low. Minutes of the FOMC's June 14-15 meeting show policy makers agreeing on the need to monitor global economic and financial developments, yet somewhat divided over when to act. Most said a hike would be appropriate, absent major shocks, if the data confirms a pickup in growth and progress toward the Fed's inflation and employment goals. Some were uncertain about whether a move would be warranted soon and several saw downside risks. Fed funds futures aren't fully pricing in the next rate hike until the second half of 2017.
The Reference Shelf
First published June 16, 2015
To contact the writers of this QuickTake:
Vivien Lou Chen in San Francisco at vchen1@bloomberg.net
Alex Harris in New York at aharris48@bloomberg.net
To contact the editor responsible for this QuickTake:
John O'Neil at joneil18@bloomberg.net