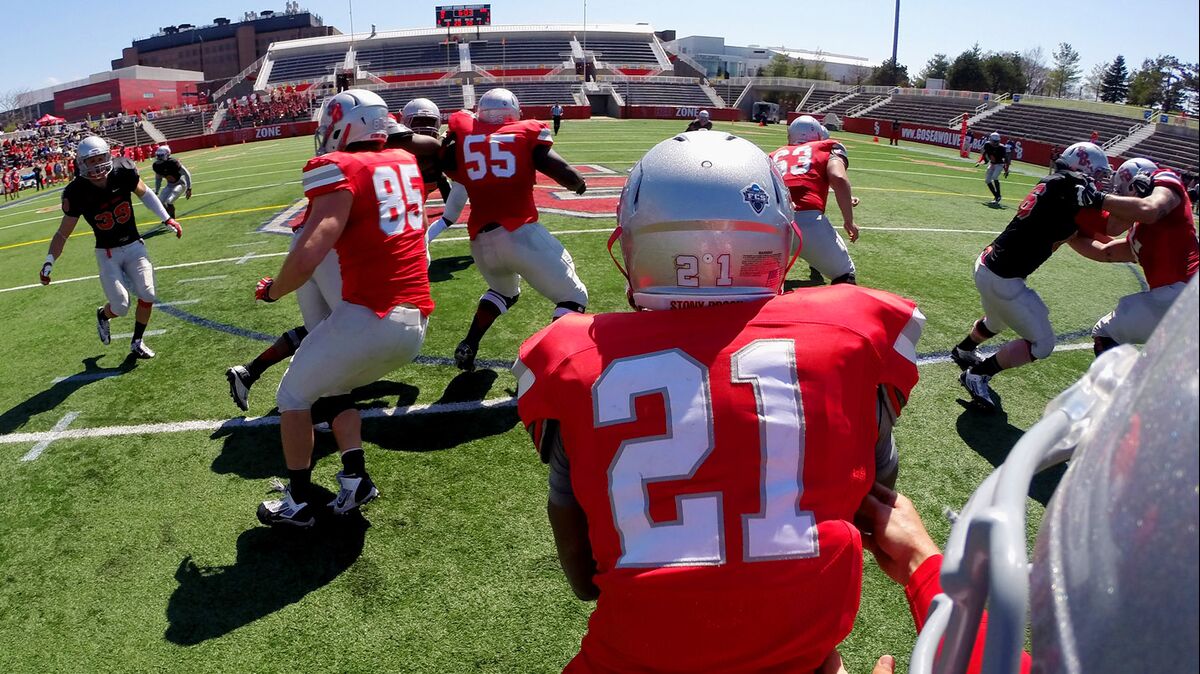 College Sports
Challenging the NCAA
By
|
Updated Aug 17, 2015 4:15 PM UTC
What if big-time college athletes got paid the way pros do, splitting TV and ticket revenue with their schools? Good-bye scholarships! (They wouldn't need them.) Good-bye starving point guards! (Spare cash for square meals.) Good-bye hypocrisy! (No more ersatz amateurism.) The industrial future of U.S. college sports long ago overtook its homier past, but some of the resulting strains are now being hashed out. One is a legal and regulatory tug-of-war over the billions of dollars universities earn from football and men's basketball — money the college-sports establishment is eager to keep and the athletes are bidding to share.
The Situation
In August, the National Labor Relations Board ruled that Northwestern University football players cannot form a union, overturning a March 2014 decision and ending the players' bid to change the college sports landscape. The players seeking unionization wanted freedom to sign their own endorsement deals, the ability to benefit from schools' use of their images, and bigger scholarships. They also wanted measures to improve graduation rates and guaranteed coverage of sports-related medical expenses for current and former players — a potentially expensive proposition in a sport just coming to grips with the long-term effects of concussions. Other battles are still in court. A former UCLA basketball player, Ed O'Bannon, led a 2009 suit accusing the National Collegiate Athletic Association, which rules college sports, of violating antitrust and publicity-rights laws by keeping college athletes from being paid for the use of their images. In August 2014, a U.S. District judge ruled that the NCAA rules did violate antitrust law and that players should be compensated. The NCAA is appealing the ruling. Two antitrust suits were filed on behalf of college athletes in March 2014. One called the NCAA a "cartel" that shouldn't be able to stop colleges from paying players.
The Background
The NCAA's top-level Division I has almost 350 member schools, fields more than 6,000 teams and provides an opportunity for more than 170,000 students to play sports each year. Many get a free education. Revenue generated by the division's 123 football teams and 344 men's basketball squads makes everything else possible; women's squash and men's riflery were the only other sports to make at least a six-digit profit, U.S. Department of Education data show. It also allows coaches to become millionaires — at large state universities they routinely earn more than their institutions' presidents. The television contracts involving the NCAA and the five most powerful college sports conferences are worth more than $31 billion. The NCAA's top level of college football, known as the Football Bowl Subdivision, turned a $1.4 billion profit in the fiscal year ended June 2014, while the Division-I basketball programs made $329 million. Dozens of schools have switched conferences in recent years, forgoing traditional geographic rivalries for financial windfalls. By forming leagues that sometimes reach from coast to coast, this has added grueling travel schedules to the players' burdens. The NCAA's 65 power-conference schools, which generate the most revenue, made a significant concession in January to the changing landscape, voting to allow scholarships to meet the full cost of attendance. That stipend, ranging from $2,000 to $7,000 depending on the school, could shift at least $108 million per year into student-athletes' pockets.
The Argument
The NCAA says free education is fair compensation for student-athletes, and notes that football and men's basketball subsidize scholarships for thousands competing in other sports. It says paying male athletes might turn colleges into civil rights violators because of laws requiring equal benefits for women; even the most popular women's sports don't make a profit. The additional power-conference autonomy might not be enough for some athletes, who say they're forced to spend more time on sports than school, while not fairly sharing in the proceeds of their efforts. Pay for play is the capitalistic way, they say.
The Reference Shelf
First published May 20, 2014
To contact the editor responsible for this QuickTake:
Jonathan Landman at jlandman4@bloomberg.net