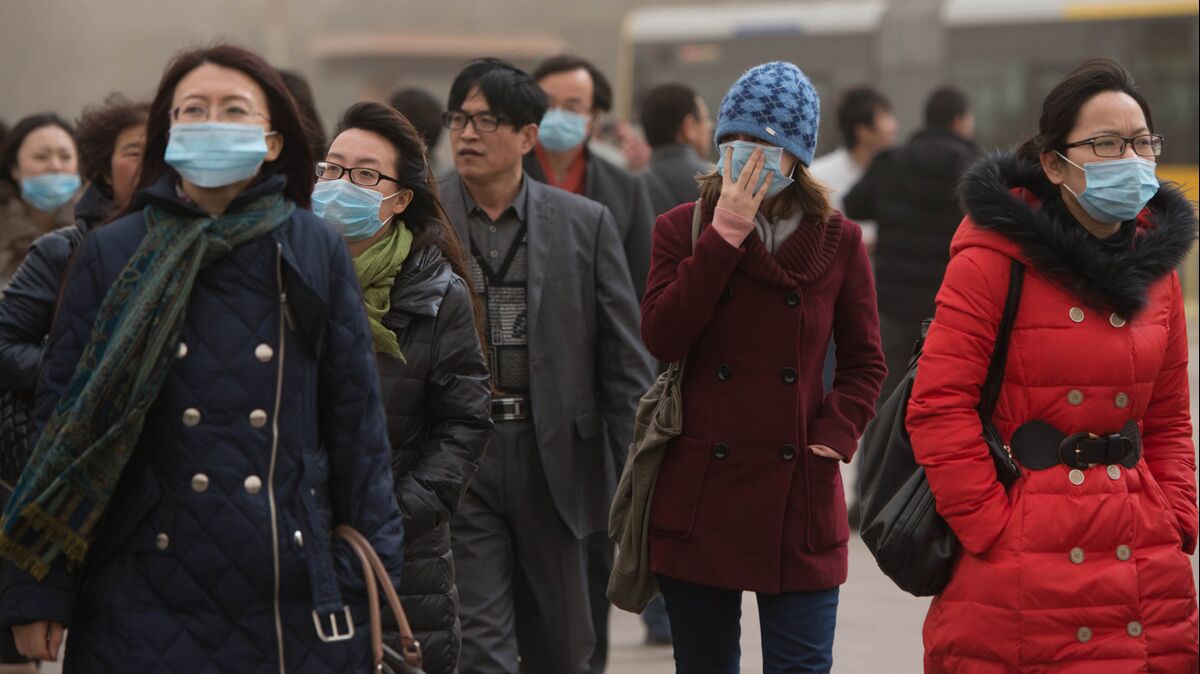 Choking China
By
|
Updated May 17, 2016 4:59 AM UTC
For many people in China, the most visible problem isn't the country's slowing economy, corruption or social harmony. It's dirty air. China is home to some of the world's most polluted cities, and when its thick blanket of smog blows into urban areas, frantic citizens pick up their mobile phones to check air-quality levels. Pollution is shortening lives in the world's most populous nation and, by some accounts, is the main cause of social unrest. It's a reminder of the trade-offs at the heart of China's transition from developing country into prosperous, modern nation, forcing the Communist Party to balance the rush for economic growth against the threats to life and health. Can China clear the air?
The Situation
China closed factories and limited traffic to clear the skies for a military parade in Beijing in 2015, as it had before the APEC summit in 2014 and the Beijing Olympics in 2008. By late 2015, the smog had returned to hazardous levels,  schools in Beijing were closed and the city government issued the highest red pollution alert for the first time. A documentary film on China's filthy skies last year drew more than 100 million viewers online before it was scrubbed from websites. Public concern about air pollution exploded in 2013 as Beijing's levels of PM2.5, the tiny particles posing the greatest risk to human health, peaked at 35 times the World Health Organization's recommended limit. Trapped in a cloud worse than most airport smoking lounges, the capital's 21 million residents donned face masks, kept their kids indoors and complained on social networks. State-backed media provided surprisingly critical coverage of a crisis that foreign outlets dubbed an "airpocalypse." Recent studies have raised alarm bells. One report said people in northern China may be dying five years sooner because of air pollution, and another said it kills 4,000 people a day. Other research has linked pollution and lung cancer. Chinese authorities responded, tightening environmental laws, raising fuel tax, shutting some coal-burning power plants, limiting the number of cars and unveiling more investments in solar and wind power. Pollution readings fell by 10 percent in 2015, but 80 percent of cities failed to meet national air quality standards.
The Background
Air pollution has been killing people since the dawn of industrialization, and China's is no worse than London's 19th-century pea soup or Japan's smog of the 1960s. Yet more is known about its risks now, and global warming raises the stakes: China overtook the U.S. as the biggest source of greenhouse gases in 2006 and has helped put the globe on a path to exceed United Nations targets for the rise in the Earth's temperature. Yet with coal still providing about two-thirds of China's energy, it will take years to reverse the nation's dependence on polluting fossil fuels. China's leaders have pledged to be less secretive and not to repeat mistakes that cost them public trust during the SARS outbreak in 2003 and a tainted milk scandal in 2008. China's contaminated water and soil are also prompting public worry, along with food and drug safety. China's air pollution blows into Japan and contributes to smog as far away as California.
The Argument
While the scale of the problem is massive, so is China's top-down response. It signed a historic agreement with the U.S. in 2014 to limit greenhouse gasses and promised for the first time that its carbon emissions will peak around 2030. China is the world's biggest spender on clean energy; it had 64 percent more solar capacity than the U.S. at the end of 2014, aims to triple capacity by 2020, and plans to start a national market to trade emission permits in 2017. President Xi Jinping pledged in 2015 to unleash an "iron hand" to protect the environment. Is China at a point where the smoggy air might temper the country's ambitions? At least seven provinces lowered their goals for economic growth for 2014 amid pressure for air pollution controls. Economic growth in Linyi, a city in China's eastern province of Shandong, slipped to 7.1 percent in 2015 from 10.1 percent a year earlier after it made pollution its No. 1 priority. China's Ministry of Environmental Protection is challenged by other powerful bureaucracies and must battle local officials and other vested interests to ensure government directives are followed.
The Reference Shelf
First published March 4, 2014
To contact the writer of this QuickTake:
Natasha Khan in Hong Kong at nkhan51@bloomberg.net
To contact the editor responsible for this QuickTake:
Grant Clark at gclark@bloomberg.net