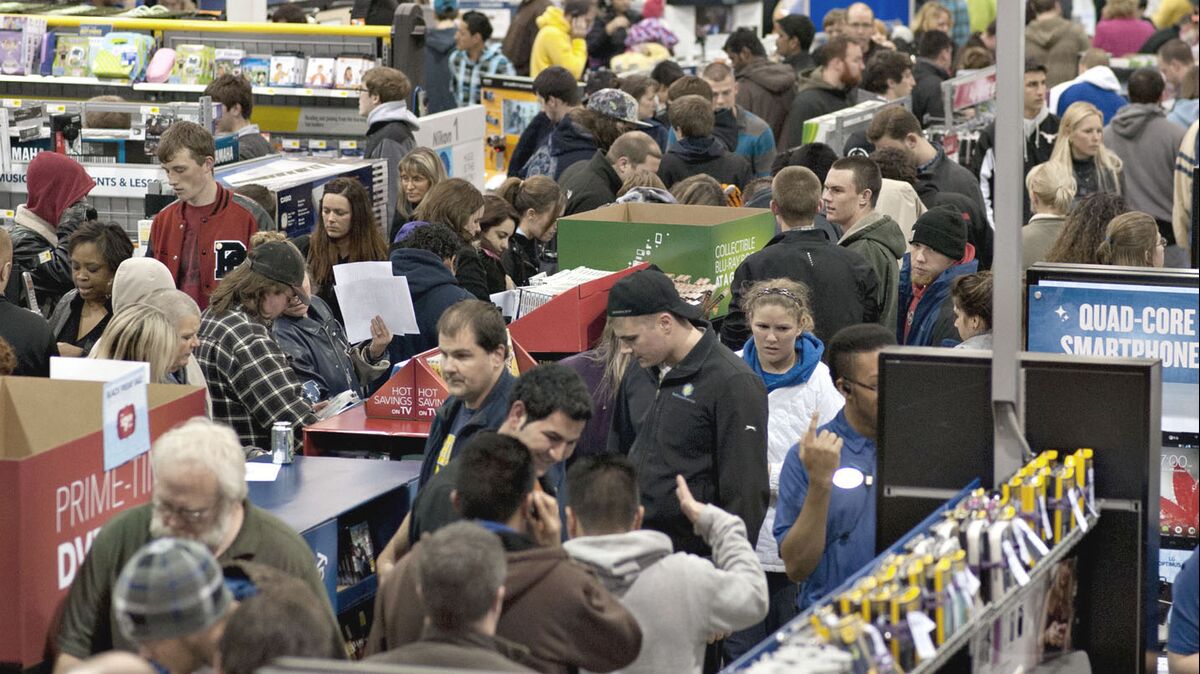 Black Friday
Top Shopping Day Fades to Gray
By
|
Updated Nov 30, 2015 5:02 PM UTC
For most of the last decade it's been America's biggest shopping day. That day is Black Friday, the day after the Thanksgiving holiday and an emblem of opportunity, or excess, or both. Now contemporary shopping trends are dulling Black Friday's appeal for consumers who'd rather shop from their couches. Retailers now offer bargains for a whole weekend or more to avoid the race-to-the bottom tactics that have been the staple of that day.
The Situation
In 2013, at least a dozen big U.S. retailers opened on Thanksgiving night for the first time, or opened earlier on Thanksgiving Day than ever before. This year, while some chains like J.C. Penney opened stores even earlier in the hopes of pulling customers to the mall for doorbuster deals the minute they put down their forks, several, including Staples and H&M, reversed course and decided not to open that day at all. For merchants, expanding Black Friday is a competition to persuade customers to open wallets as early in the shopping season as possible, and the weekend still accounts for 10 to 15 percent of holiday sales. But it's increasingly a harder sell. More than half of consumers — 52 percent — said they're relying less on Black Friday to make holiday purchases. They meant it: Retail sales over the 2014 Thanksgiving weekend fell an estimated 11 percent, though overall spending from November to December grew 4.1 percent.
The Background
Nobody is sure how Black Friday got its name. Some historians trace the term to the Philadelphia police, who were said to have coined it in 1961 to bellyache about the traffic. An urban myth claims the name marks the first day of profitability for retailers each year. Don't believe it: November and December account for about 20 percent of retailers' annual sales, so in most years companies are profitable well before the fourth Friday of November. The unofficial start to the holiday shopping season has been creeping earlier for several years. In 2012, many stores opened at midnight, and before that, early morning openings were used to lure customers seeking rock-bottom prices on items like televisions. The crowd scenes have been marred by stampedes, fights and at least one death. Online, sales have seen the same kind of slide forward. In 2005, retailers coined the term "Cyber Monday" to describe a surge in web purchases on the first work day after Thanksgiving by people who had spent the weekend browsing in stores. Now, increasing number of online shoppers, particularly those buying over their phones, are skipping the stores entirely. Other countries have traditions similar to Black Friday: Many retailers in British Commonwealth nations open at 5 a.m. or earlier for Boxing Day, right after Christmas, with deep discounts for waiting customers. Still, it's been difficult for retailers to export Black Friday overseas. In the U.K., Wal-Mart's Asda supermarket and other chains scrapped Black Friday promotions two years after initiating them, in part because of crashing websites and scuffles between customers.
The Argument
Retailers say the crowds that still show up on Thanksgiving night prove they're giving customers what they want despite complaints that they're ruining Thanksgiving. Some stores say they have no choice if they want to stake a claim to shoppers' wallets even as others, including REI, have promoted their refusal to open on Black Friday as a stand against rampant consumerism. Customers have more choice than ever over when — and how — to shop. They don't have to line up at 2 a.m. to secure a great deal, and if they choose, they don't even need to leave the house. The days of long lines, customer stampedes and overrun malls that characterized Black Friday's time is waning.
The Reference Shelf
First published Nov. 25, 2013
To contact the writer of this QuickTake:
Lindsey Rupp in New York at lrupp2@bloomberg.net
To contact the editors responsible for this QuickTake:
Jonathan Landman at jlandman4@bloomberg.net
Anne Cronin at acronin14@bloomberg.net