Much of Bernie Sanders' career is centered around his disgust for money in politics. He hates the fact of it, hates its effects, and, naturally, he has deep disdain for the process of raising it. The bigger the number, the more contempt he has. "I don't do these fundraisers for $100,000 apiece or $10,000," the Vermont senator, a self-described independent socialist, spat in his heavy Brooklyn accent during a recent speech to the National Press Club. "I don't know anybody who has that kind of money!" His average contribution, he humble-bragged, is $45.
Now he's thinking about running for president, in what is shaping up to be the most expensive election in history, likely exceeding 2012's total of $2.6 billion. There is madness in Sanders' crusade. But the madness itself is part of the method. Sanders aims to be the personification of the small but vocal movement trying to beat back the increasing political influence of millionaires and billionaires. The cornerstones of his stump speech: Wealth inequality is ruining the country. Climate change is real. And big money pollutes politics.
Supporting this mission will take, of course, money. His political advisers think he can be viewed as a legitimate candidate if he raises $50 million ahead of first-round primary contests in Iowa, New Hampshire, South Carolina and Nevada. Victories in any of those states, which he has already started visiting, would give him credibility as a real alternative to likely Democratic candidate Hillary Clinton, the thinking goes, and knock loose enough financial support to get his candidacy into the bigger states. Admittedly, a lot has to go right for Sanders—or wrong for Clinton.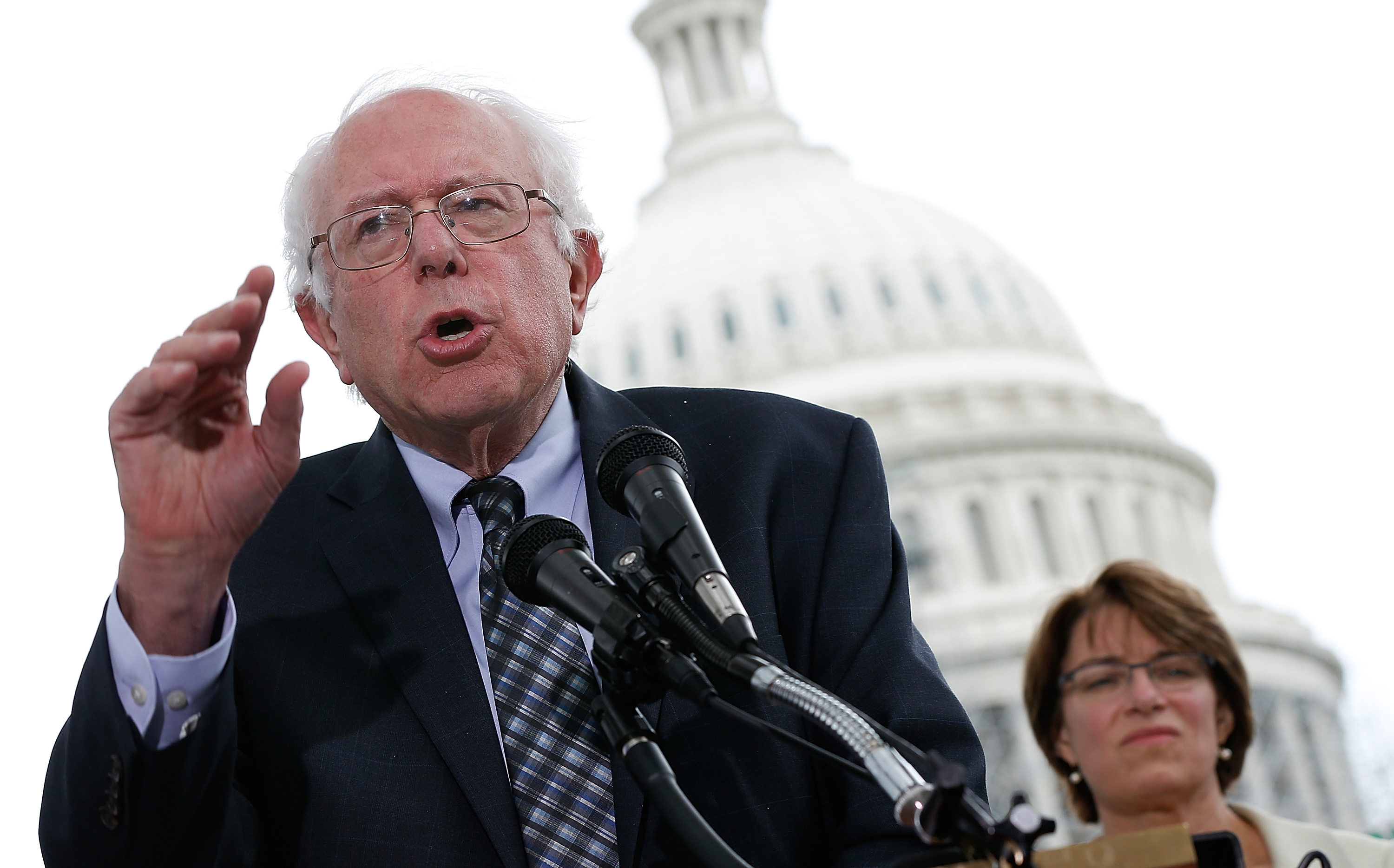 The former secretary of state's relationship with money, and the people who have it, is definitely one of the chinks in her armor. "Hillary's weakness, to the extent that she has one, is the perception that she's part of an old system of influence and that she is as close to the influence game as anybody," Harvard law professor Larry Lessig said in an interview. Lessig just led a failed $10 million effort to elect campaign-finance reformers to Congress.
"What Bernie's saying is, 'Don't elect a person who's part of the problem.' It's not impossible that the issue blows up during the primary and she's on the wrong side of it. And it's not completely stupid to imagine that she fails because of it."
The Sanders goal of $50 million, while a fraction of what likely 2016 hopefuls Jeb Bush and Clinton will likely raise, is still a big number. Getting there will involve an unprecedented reliance on small-dollar fundraising through the Internet. Sanders, for all his 73-year-old gruffness, is actually a web adept and a progressive mememaster on par with Massachusetts Senator Elizabeth Warren (who has ruled out a presidential bid).
But to really compete, Sanders is going to have hold his nose and put the touch on serious money people. That involves a new skill set for a guy whose major fundraiser every year is a sunset cruise on Lake Champlain, for which donors pay $25 to come aboard. He's trying. On April 3, he'll host a private breakfast fundraiser at the Hotel Palomor in Chicago, where the suggested contribution is $1,000. Similarly priced events are also on deck in Austin and Los Angeles.
Still, Tad Devine, a longtime Democratic consultant working with Sanders, said the senator "is just never going to be great at pigeonholing big donors, on the phone, in person or otherwise." What Sanders can hope for, Devine said in an interview, is that other people who are great at those things will eventually step forward to help.
The super-PAC question remains vexing. Republican hopefuls Jeb Bush and Rick Perry and Chris Christie already have those unlimited-cash vehicles in operation, and Clinton has her pick of two that have filled up with her trusted advisers. There's already a "Ready for Bernie Sanders 2016" group that can raise unlimited amounts of money, set up a few months ago by a fan who has never met the senator. Its director, Cary Peterson, said he feels confident he can raise millions of dollars, tossing out claims of pledges from a diamond dealer in Las Vegas and a yacht builder in Florida.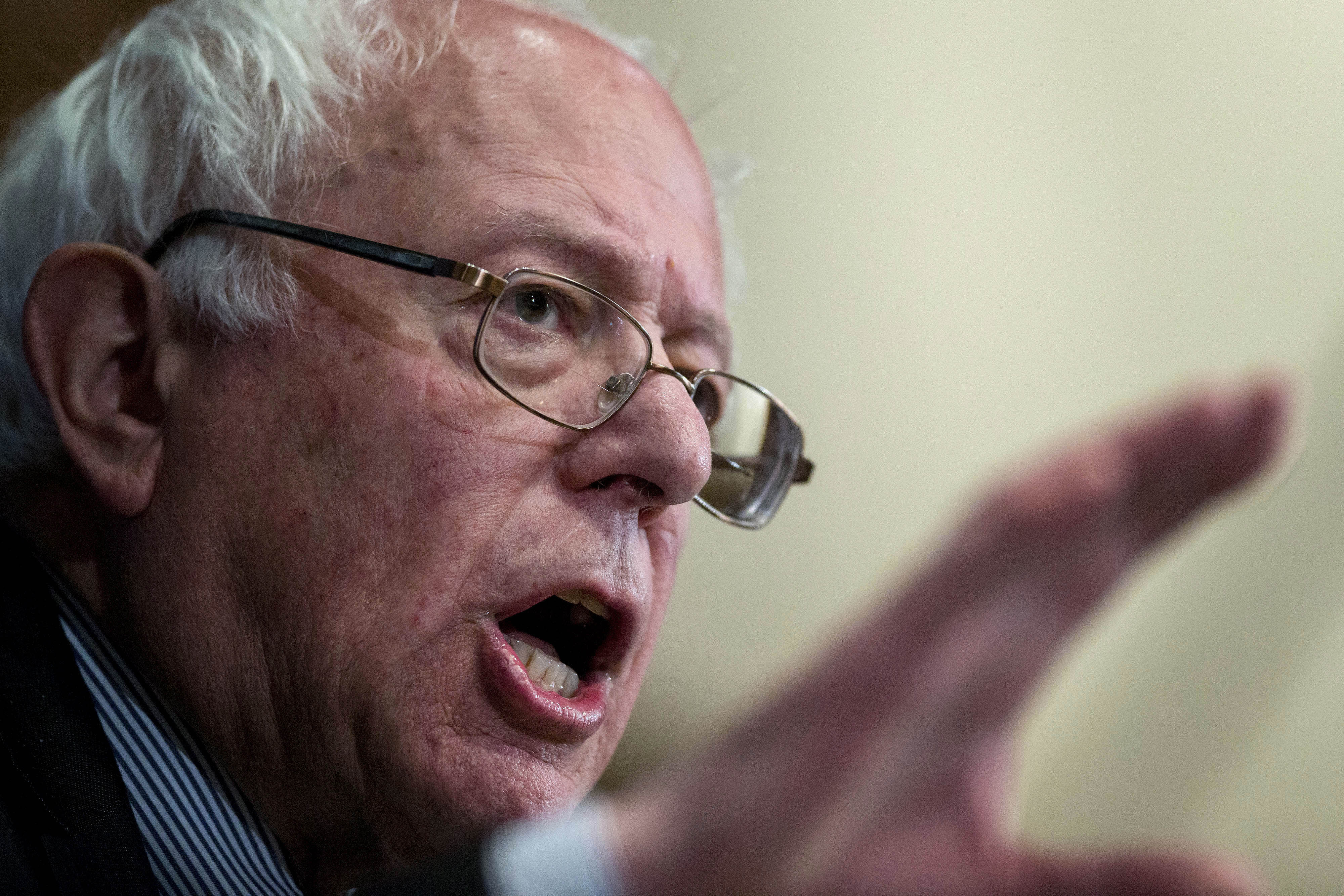 Sanders is unlikely to encourage any super-PAC effort on his behalf—that would involve full-on hypocrisy, since Sanders introduced a constitutional amendment to overturn Citizens United, the 2010 Supreme Court ruling that touched off an explosion of big spending.
At any rate, it's unclear who might be willing to write million-dollar checks to a Sanders super-PAC. One of the most likely money targets, Ben Cohen, better known as the first half of Ben & Jerry's ice cream, based in Vermont, is similarly appalled by millionaire sponsors of politicians. He's currently leading an effort to stamp money in New Hampshire in red block letters reading: "Not to be used for bribing politicians." It's a way to inject the unsexy issue of campaign finance into the presidential conversation in an important early primary state.
Asked if he'd ever write a big check to help Sanders, Cohen said he'd never really thought about it. In fact, he said, he can't recall the last time he gave even a small amount to Sanders, his favorite senator and longtime friend. (It was August 2011, $1,000.)
"He just doesn't call me about stuff like that," Cohen said. "I assume if he ever really needed money, he'd ask." Still, he said, a Sanders run for president would be "a wonderful thing for the country. He truly represents the interests of the everyday person on the street as opposed to big-money interests."
Despite his own antipathy toward super-PACs, Cohen said he's not ruling out writing a check to one that backs Sanders. "That's the current rules of the game," he said. "And, yes, I will financially support a guy who wants to get into office to get money out of politics."
The Bernie Sanders political life story plays well into his anti-donor narrative. Never a registered Democrat or Republican, he has held elected office for long stretches since 1981, when he successfully waged a $4,000 outsider campaign to become mayor of Burlington. As Cohen, who met him in those years, said, "Don't discount Bernie, man. He went up against the old cronies here in Burlington. Nobody thought he had a chance, and he won."
There's precedent, albeit on a much smaller scale, for Sanders' surprising power in a David and Goliath contest against a financial behemoth. In the 2006 Senate race, he was up against one of the wealthiest people in Vermont, Republican Rich Tarrant, who tapped his bank account and invested $7 million—three times what anyone had ever spent in the state—on his bid. Sanders' supporters urged him to get serious. He hired a professional fundraiser for the first time, Kimberly Taylor, who'd raised millions for President Bill Clinton and other Democrats and liberal causes such as gun control.
Taylor gave Sanders "call lists" of possible donors who might contribute if he rang them up directly, a standard chore for any politician. He waved them off, doing very little. Nevertheless, with Democratic leaders aware that he'd caucus with them and therefore supportive of his campaign, he managed to raise more than $6 million. Sanders ran TV ads, most closing with the slogan: "Experience that money just can't buy." He won.
In Vermont, Sanders has raised his money through direct mailings of his fundraising letters—which he apparently writes himself—that seem more like political tracts than pleas for cash. A 2,600-word letter he sent to supporters in April 2014 meanders through topics including Social Security, jobs and the middle class, but the thrust of it, highlighted by the use of all caps, is how much billionaire donors, namely his favorite nemesis the Koch brothers, are investing in political candidates. "It's not just about creating a health care system which guarantees health care to all as a right, or addressing the abysmally high rate of childhood poverty. THE STRUGGLE THAT WE'RE ENGAGED IN RIGHT NOW IS MUCH MORE THAN THAT. IT IS WHETHER WE CAN PREVENT THIS COUNTRY FROM MOVING TO AN OLIGARCHIC FORM OF SOCIETY IN WHICH VIRTUALLY ALL ECONOMIC AND POLITICAL POWER RESTS WITH A HANDFUL OF BILLIONAIRES."
He's augmented his mailing lists over the years by purchasing names from progressive magazines and liberal causes. And he has also taken care to assemble an online fundraising presence, and his social-media skills have put him just behind Warren in terms of Facebook interactions, the company's analytics show. Almost 1 million "like" his official Senate page, one of the most popular of any senator.
Sanders' campaign finance reports reflect his emphasis on small donations. Contributions of $200 accounted for 61 percent of his fundraising between 2009 and 2014, according to the Center for Responsive Politics. (By way of comparison, Republican Kentucky Senator Rand Paul's small-donor base was about 43 percent of his fundraising total in the same time period. Paul has similarly emphasized grassroots support and is likely to announce his presidential bid in a few days.)
Sanders didn't have much competition in 2012—he bought free meals for supporters and zero TV ads—and still has $4.4 million in his campaign account, which can be used for a presidential bid.
If Sanders announces he's moving ahead on 2016, he'll continue emphasizing his need for help from "the regular people," the younger voters sharing his Facebook content and the older set who have followed his career through direct mailers. He may set benchmarks, saying he would need a certain number of people to each chip in a few dollars by a certain date, his advisers said.
Joe Trippi, a Democratic strategist, saw the beginning of grassroots influence via the Internet when he was Howard Dean's campaign manager in 2004; the fellow Vermonter got 650,000 people involved online and raised $59 million. President Barack Obama, of course, wrote the next chapter in this movement. Sanders, Trippi said in an interview, is "the perfect kind of candidate to attract a big enough following to raise millions online" because of his made-for-an-Internet-audience stances decrying the influence of Wall Street, the depletion of the middle class and income inequality.
But does Sanders have a realistic shot at the Democratic nomination using a grassroots-only playbook? Trippi said that since he's not going to get major money from the typical Democratic Party donors who have coalesced around Clinton, he might as well try.
"Sooner or later super-PACs are going to get rolled," Trippi said, "and it's going to be by a candidate who doesn't take any of that kind of money."