U.S. ELECTION WRAP: Debate Miss Hampers Johnson's Alternate Pitch
Libertarian Gary Johnson didn't make the first debate cut, but vows to join Clinton and Trump on stage in October.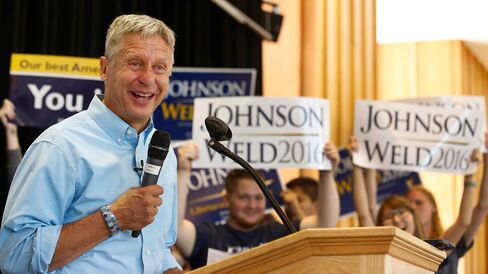 Libertarian candidate Gary Johnson, whose campaign has become an alternative for millions of voters who don't like Donald Trump or Hillary Clinton, won't get to make his case on the first presidential debate stage.
Only Clinton and Trump qualified for first presidential debate on September 26, Commission on Presidential Debates says in statement
Libertarian Johnson, Green Party's Jill Stein miss 15% polling threshold for inclusion

Johnson was at 8.4%, Stein 3.2% in polling average used by commission

Commission says it'll re-apply debate stage inclusion criteria ahead of 2nd and 3rd presidential debates
Johnson statement: "There are more polls and more debates, and we plan to be on the debate stage in October"

"The Commission on Presidential Debates ''may scoff at a ticket that enjoys ''only'' 9 or 10% in their hand-selected polls, but even 9% represents 13 million voters, more than the total population of Ohio and most other states; yet, the Republicans and Democrats are choosing to silence the candidate preferred by those millions of Americans"

Johnson's standing in polls may not be enough to get him into the debates, but it's enough to complicate an increasingly competitive race for the White House, Bloomberg's Arit John wrote

TRUMP REVISITS 'BIRTHER' ISSUE
Trump's return to the question of President Obama's birthplace unleashed a flurry of renewed ire as critics accused him blatant racism and crass hucksterism
African Americans are used to "dog whistles," said Democratic Representative James Clyburn of South Carolina during a Congressional Black Caucus press conference, but these are "howls"
Trump, speaking earlier from his new Washington hotel, publicly acknowledged for the first time that Obama was born in the U.S. after his years of questioning the president's birthplace helped lay the groundwork for his White House run

The GOP nominee also accused Clinton of starting the "birther" issue during her 2008 Democratic primary fight with Obama, a claim rated false by nonpartisan fact checkers

Clyburn, the top-ranking black Democrat in Congress, accused the GOP candidate of manipulating the media today by drawing them to his new namesake hotel to hear a "major announcement" about his views on Obama's birthplace

Trump began the event talking about his new hotel, then had veterans speak for almost 30 minutes; he then delivered a brief statement on Obama and left without taking questions

Clinton said Trump should apologize to Obama

"For five years he has led the birther movement to de-legitimize our first black president. His campaign was founded on this outrageous lie. There is no erasing it in history," Clinton said at a Black Women's Agenda event in Washington

Trump's latest take on Obama's 1961 birth in Honolulu made its way into a bipartisan meeting at the White House to promote the pending Trans Pacific Partnership trade deal

"I was pretty confident about where I was born," Obama said in response to a reporter's question at the start of the TPP meeting, which took place in the Oval Office and included Ohio Gov. John Kasich and former NYC Mayor Michael Bloomberg. "I think most people were as well"
NOTE: Bloomberg is founder and majority owner of Bloomberg, LP, the parent company of Bloomberg News

ON THE TRAIL
Clinton, following earlier event at the Black Women's Agenda Symposium, is fund raising in New York and taping an appearance on NBC's Tonight Show Starring Jimmy Fallon
First lady Michelle Obama made her first solo campaign appearance for Clinton today at a rally in northern Virginia, a hub of the kind of Democratic-leaning suburbanites that Clinton is working to galvanize ahead of November 8

The first lady didn't mention Trump by name today, but said there are people who question whether her husband was born in the U.S.
"Barack has answered those questions with the example he set by going high when they go low," she said in a nod to her popular Democratic National Convention speech in July
The crowd today in Fairfax, Virginia, chanted "four more years;" Obama, who had to quiet the audience, said Americans will have President Obama and herself working on their behalf "for the rest of our lives"
"We're going to be here," she said

Trump stumps tonight in Miami

POLLS
Clinton and Trump are virtually tied among likely voters, according to Fox News national poll released late yesterday
LA Times/USC tracking poll, which as been among most favorable for Trump in recent weeks, shows him up 6 ppts
MI: Clinton still leads Trump 38%-35% in Michigan, according to a poll by Lansing-based EPIC-MRA for the Detroit Free Press, the newspaper reported

The results are within the survey's 4 ppt margin of error, and marks a drop from Clinton's 11 ppt lead last month

TRUMP, OIL AND IOWA
Trump's foray into presidential politics is forcing him to dance around a long-standing conflict between Iowa corn interests and the oil industry, Bloomberg's Jennifer A. Dlouhy and Mario Parker wrote

A struggle to appease both industries was on display yesterday when Trump's campaign issued a fact sheet calling for the elimination of a scandal-marred system of buying and selling biofuel blending credits that some oil refiners hate
But if Iowa farmers—who back the required use of ethanol and the credits created to make that system work—were worried Trump was backing off his support of the corn-based fuel, they needn't be. Hours later the campaign re-issued the fact sheet with that language deleted and no explanation

Read full story here
NOTE: In a 4-way matchup, Trump holds a 4.3 ppt lead in Iowa, according to RealClear Politics average of polls

President Obama won the Hawkeye State by 5.8 points four years ago and by 9.5 points in 2008

ETC

CONGRESSIONAL ELECTIONS
SENATE RACES (Republicans hold 54-46 majority)
FLA: Democratic Rep. Patrick Murphy's campaign said in statement Republican Sen. Marco Rubio's legislation aimed at preventing suspected terrorists from purchasing guns "will do nothing to prevent gun violence"

Rubio said bill he calls Terror Intelligence Improvement Act is effort "toward consensus on common-sense measures that would help ensure criminals, terrorists and others seeking to take innocent lives are not able to acquire firearms"
Rubio in June voted against California Democrat Dianne Feinstein's proposal to limit suspected terrorists' access to firearms; he backed a competing proposal from Texas Republican John Cornyn
GA: Republican Sen. Johnny Isakson's campaign in TV ad compared Obama "paying ransom to Iran" to Isakson's legislative work to create fund for compensating American hostages held in Iran 1979-81

Isakson is opposed by Democratic businessman Jim Barksdale, whose campaign released statement attacking Isakson's votes on trade bills
IA: Republican Sen. Chuck Grassley in TV ad said as Judiciary Cmte chairman he's "worked on finding areas of agreement across party lines to help real people with real problems"

Grassley, seeking seventh term, opposed by Democratic ex-Lt. Gov. Patty Judge
IN: Democrat Evan Bayh's campaign released TV ad saying it's "time to fix Obamacare" and Bayh will "take on the extremes in both parties" to lower premiums and curb health-care taxes

Ad also accuses Republican Rep. Todd Young of voting to "increase prescription drug costs for Hoosiers"; refers to his 2011 vote for nonbinding budget blueprint crafted by Paul Ryan
Ryan raised campaign funds for Young today in Fort Wayne; Ind. Democratic Party in statement said Ryan is ''mastermind of budget to slash Social Security and Medicare benefits"
LA: ESAFund, a super-PAC promoting fiscal conservatism, in TV ad praised Republican John Kennedy's service as state treasurer, says he "fights for the middle class" and would "end bailouts and handouts"

Kennedy among 24 candidates, including nine Republicans, in single-ballot Nov. 8 election that probably will require Dec. 10 runoff to resolve
ESAFund's chairman is TD Ameritrade founder Joe Ricketts; donors also include billionaires Paul Singer, Ken Griffin
MO: Democrat Jason Kander's TV ad of him assembling rifle blindfolded while advocating for stronger gun-background checks is "one of the most memorable ads of the election" and example of how Democrats "are playing offense on the question of whether suspected terrorists should be able to buy weapons," according to Washington Post's James Hohmann

Kander, Missouri Sec/State who was Army intelligence officer in Afghanistan, opposing Republican Sen. Roy Blunt
PA: Bernie Sanders planned to campaign with Democrat Katie McGinty at Carnegie Mellon U. in Pittsburgh later today, according to McGinty campaign release

McGinty today proposed stronger clawback rules for recovery of improperly awarded executive bonuses
McGinty opposing Republican Sen. Pat Toomey, who planned to campaign beforehand in Pittsburgh against "extreme McGinty-Sanders agenda," according to campaign release
HOUSE RACES (Republicans hold 246-186 majority)
AZ-02: Republican Rep. Martha McSally in two TV ads called attention to her service as first female combat fighter pilot and work in Congress on border security, protecting A-10 aircraft, and "passing seven bills to strengthen national security"

McSally says in one ad she's "taking on my own party to fight for equal pay for women"
McSally opposed by Democrat Matt Heinz, a former state legislator, in competitive district that includes most of Tucson
CA-24: House Majority PAC, a Democratic super-PAC, aired TV ad attacking Republican Justin Fareed and Trump on women's health issues, using narrator who impersonates Republican presidential nominee

Fareed opposing Democrat Salud Carbajal, a Santa Barbara County supervisor, for seat held by retiring Democratic Rep. Lois Capps
IA-01: Democrat Monica Vernon's campaign released TV ad linking Republican Rep. Rod Blum to Tea Party movement and saying he would raise Social Security retirement age to 70

Ad references Blum's March 2015 vote for conservative Republican Study Cmte's budget blueprint calling for increasing retirement age by two months per year to 70 to account for increased life expectancy
District includes Cedar Rapids and Dubuque and gave 56% of its votes to Obama in 2012 election
IL-10: Republican Rep. Bob Dold's campaign in TV ad highlights his measure to expand access to naloxone, an opioid overdose reversal drug

Ad is narrated by suburban Chicago woman whose brother died of heroin overdose
Dold opposed by Democratic ex-Rep. Brad Schneider in Democratic-leaning district in suburbs north of Chicago
NJ-05: Campaign for American Principles, a super-PAC helping Republican Rep. Scott Garrett, reported spending $185k to promote Garrett on cable and digital media, per FEC filing

Super-PAC paid for TV ad referring to Democrat Josh Gottheimer as a "D.C. insider" and Garrett as a "lifelong New Jersyan" with good record on environmental, small-business, government spending policies
Super-PAC's donors include Sean Fieler, New York hedge-fund manager who also funded a political group that advocates for religious voters who oppose same-sex marriage, abortion rights
NY-19: Sanders, campaigning with Democrat Zephyr Teachout in New Paltz today, said the law professor and anti-corruption activist would be "leader in Congress at a time when we are in desperate need of bold leadership," Albany Times Union reported

Teachout and Republican ex-state Rep. John Faso debated yday and are seeking central Hudson Valley district of retiring GOP Rep. Chris Gibson
Before it's here, it's on the Bloomberg Terminal.
LEARN MORE