Texas Agrees to Looser Voter ID Rules for November Election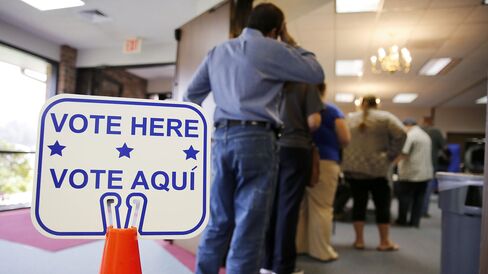 Voters without photo cards would be able to use utility bills

Compromise follows U.S. court ruling that state law was biased
Texas has agreed to let registered voters without proper photo identification vote in the November presidential election if they can provide voter registration cards, certified birth certificates, utility bills, government checks, pay stubs or bank statements with their names and addresses on them.
These proposed rules are significantly broader than the seven allowable forms of photo ID that Texas previously insisted voters show, a restriction that a federal appeals court declared last month was biased against minority and poor voters. Some voters would be required to sign sworn statements explaining why they don't have proper photo IDs.
The compromise follows an appeals court ruling last week that struck down North Carolina's restrictive photo ID voting law on grounds that it was passed with discriminatory intent, a major win for the Obama administration and voting-rights activists in a swing state less than four months before Election Day.
The Texas proposal was submitted Wednesday to U.S. District Judge Nelva Gonzales Ramos of Corpus Christi, who agreed to fast-track proceedings to help Texas election officials prepare for any rule changes before the November election. The agreement was signed by lawyers representing the Justice Department's civil rights section, Texas Attorney General Ken Paxton and the coalition of minority-rights activist groups that opposed the law.
The July federal appeals court ruling was the fourth to find Texas's law disenfranchised more than 600,000 registered voters because they lacked one of a handful of state-issued ID cards. Voting-rights activists claimed Republican lawmakers in 2011 intentionally selected IDs more likely to be possessed by whites, such as drivers' licenses and handgun permits, rather than the student IDs or state-employee badges acceptable under other states' voter ID laws. Activists succeeded in blocking Texas in court until 2013, when a Supreme Court decision in another case let Texas start enforcing its rules.
Registered Voters
Texas's voter ID law had drawn criticism for disenfranchising up to 600,000 registered voters who lacked acceptable photo identification, such as drivers' licenses, military IDs or concealed handgun permits. Student IDs and government employee badges, which are more widely held by minorities, didn't count under the original rules.
The appeals court also ordered the trial judge to investigate whether Texas lawmakers intentionally made it harder for poor and minority voters to cast ballots, a probe which won't be finished until after the upcoming election. If she finds that the Republican-controlled state legislature designed the law to limit the rising electoral power of blacks and Hispanics, who tend to vote more often for Democrats, Texas may be forced back under federal supervision for any future election changes.
The appeal case is Veasey v. Abbott, 14-41127, U.S. Court of Appeals for the Fifth Circuit (New Orleans).
Before it's here, it's on the Bloomberg Terminal.
LEARN MORE