Clinton Raised Almost $90 Million in July, Campaign Says
Donald Trump has struggled to close Clinton's fundraising lead.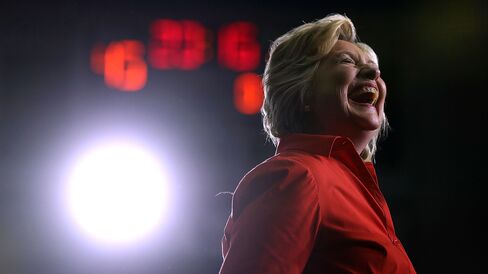 Hillary Clinton raised $63 million for her coffers in July, her biggest one-month haul to date, as the Democratic Party officially named her its nominee for the White House, her campaign said Tuesday.
About $8.7 million streamed in during the 24 hours starting Thursday night, when she spoke to the Democratic National Convention in Philadelphia, the campaign said. Clinton raised another $26 million last month for the national and state parties, according to the campaign, for an overall haul of almost $90 million.
Clinton's rival, Republican Donald Trump, largely self-financed his primary campaign and has ramped up fundraising since securing his party's nomination. Still, he's struggled to close Clinton's lead.
Trump said Monday he raised about $35.8 million last month in small donations, though he didn't specify the total amount he raised for his campaign and the party. A Trump spokeswoman didn't immediately respond to a request for comment Tuesday.
In comparison, 2012 Republican nominee Mitt Romney raised more than $101 million for his campaign and party in July of that year, beating President Barack Obama by more than $25 million.
As of the end of July, the Clinton campaign had about $58 million in the bank, the campaign said. Trump's current cash hasn't been disclosed; the campaign said it had $20.2 million in the bank at the end of June.
Both campaigns are due to disclose July monthly fundraising reports to the Federal Election Commission on Aug. 20.
Before it's here, it's on the Bloomberg Terminal.
LEARN MORE