Clinton Said Set to Announce Running Mate as Soon as Friday
Text message to supporters will be first indication of choice

Democrat is scheduled to campaign for two days in Florida
Hillary Clinton was set to unveil her choice of a running mate as soon as Friday via a text message to supporters, according to a person familiar with the plans, as she seeks to recapture the attention of voters following a week in which Donald Trump and the Republican Party dominated the news.
A leading contender for Clinton's running mate is said to be Virginia Senator Tim Kaine, according to several other people. Members of the Obama administration have been advocating for Kaine, who was considered for the vice presidential nomination by President Barack Obama in 2008, one of the people said. He's also gotten the ear of former President Bill Clinton, Hillary Clinton's husband.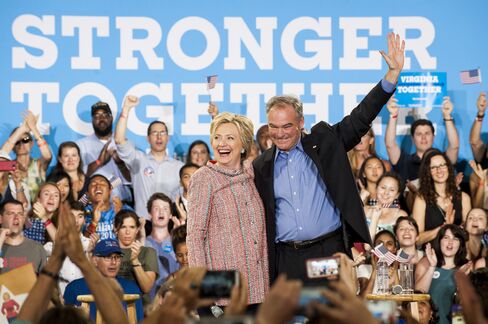 Agriculture Secretary Tom Vilsack and New Jersey Senator Cory Booker also are said to be high on Clinton's list, two people familiar with the selection process said. Other contenders who've been under consideration include Colorado Governor John Hickenlooper, Labor Secretary Tom Perez, and retired Admiral James Stavridis, a former supreme allied commander of NATO. She also has discussed the vice presidency with Massachusetts Senator Elizabeth Warren -- who told TV host Stephen Colbert in a sketch posted online Friday she is "probably not" Clinton's choice -- and Housing Secretary Julian Castro.
Clinton met with several candidates July 15 at her home in Washington.
The timing for the unveiling of her choice is unclear. All of those who spoke about the planning asked for anonymity because the discussions have been private.
Friday afternoon Clinton sat solemnly in an Orlando community center, engaged in a conversation about the aftermath of the June shooting at Pulse, a gay nightclub, in which 49 people were killed by a gunman who claimed allegiance to Islamic State. "It is still dangerous to be LGBT in America. I think it's an unfortunate fact but one that needs to be said," she said after meeting privately with the families of some of the victims.
As part of a swing through a key swing state, Clinton is scheduled to hold a rally in Tampa later in the day and another campaign event Saturday in Miami.
The announcement would come three days before Democrats open their national convention in Philadelphia, a chance for the party to showcase the themes and messages that will be the foundation of Clinton's campaign to win the White House in November.
The party conventions have served as deadlines for Clinton and Trump to round out their tickets. Trump and his running mate, Indiana Governor Mike Pence, were formally nominated by Republicans at their convention in Cleveland on Tuesday.
Trump's choice of Pence, a staunch conservative with a mild-mannered campaign style, may make it easier for Clinton to pick someone like Kaine or Vilsack, who are known for their even demeanor on the stump.
Clinton has declined to discuss individual potential running mates before her decision is announced. She said in an interview Monday with Charlie Rose for CBS News that she has met with a "bunch" of candidates and said, "I am blessed with a broad group of people to choose from." She previously has indicated she's is focused on selecting a candidate who could fulfill the responsibilities of being president. But even on that basis, political considerations will come into play.
Speculation that Clinton would choose Kaine created disgruntlement among the liberal Democrats who supported Senator Bernie Sanders in his drawn-out challenge to Clinton for the nomination.
Kaine is seen as more pro-Wall Street than others who Clinton considered, especially Warren. This week, as speculation about his selection built, Kaine signed two letters to regulators urging leniency on all but the biggest banks. One, to the Consumer Financial Protection Bureau, was signed by every Republican senator and 16 other Democrats.
He's also a supporter of free trade, including the Trans-Pacific Partnership that Obama's administration negotiated with 11 other nations, and which awaits ratification in Congress. Sanders opposes the trade deal, and during the primary campaign Clinton said she wouldn't support it in its current form.
Republicans during their convention have focused on national security and domestic unrest, accusing Clinton and the Obama administration of decisions that have weakened the U.S. and allowed its enemies to thrive. Although Clinton served as secretary of state for four years and Trump has no experience in government, recent polls have showed him pulling closer to Clinton on the question of who is better able to handle security and deal with terrorism.
Before it's here, it's on the Bloomberg Terminal.
LEARN MORE