Nostalgia Trip
Trump-Pence Is the Ultimate Throwback Ticket
The Republican presidential and vice presidential nominees evoke yearnings for a past era.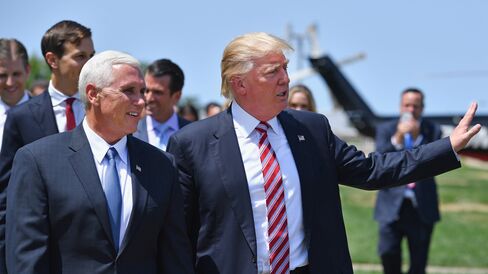 Donald Trump and Mike Pence are trying to win the White House for the next four years by pitching a throwback ticket to a bygone American era.
The vice presidential nominee, who delivered a prime-time speech on Wednesday evening, adds new layers to Trump's nostalgic pitch to "make American great again." While Trump invited those who want to bring back American jobs that have perished due to globalization and trade, and limit Mexican and Muslim immigration, Pence lures evangelical Christians who feel alienated in a nation of declining faith, increasing power for women and protections for the LGBT community.
"My fellow Americans, I believe we have come to another rendezvous with destiny, and I have faith—faith in the boundless capacity of the American people and faith that God can still heal our land," Pence told a roaring crowd at the Republican convention in Cleveland. "But we have a choice to make."
A deeply religious conservative, Pence's public service has been defined by his commitment to a decades-old culture war.
As Indiana's governor, he enacted new restrictions on abortion in March with a prayer "that God would continue to bless these precious children, mothers and families." It was a fitting moment for a candidate who has said he longs "for the day that Roe v. Wade is sent to the ash heap of history."
Last year, when same-sex marriage was on the verge of being ruled a constitutional right, Pence signed a religious freedom law that sparked an economic boycott of his state by businesses concerned that it allowed discrimination against LGBT Americans.
As a U.S. congressman, Pence led an assault on Planned Parenthood aimed at defunding the reproductive health services provider. In 2000, he supported groups seeking to change the "sexual behavior" of victims of HIV/AIDS, which catered to anti-gay sentiments, and wrote an op-ed claiming that "smoking doesn't kill" long after a body of research caused the government to warn about cigarettes' deadly effects.
"He's very big on social conservatism," said Laura Albright, a political science professor at the University of Indianapolis. "A lot of it is his personal religious values as a Christian... For the religious right, Pence is very attractive in that regard."
'A Christian, a Conservative and a Republican'
Pence brings a bounty of conservative bona fides to the ticket of a thrice-married New Yorker who used to be an avowed social liberal and seldom mentions his opposition to most abortions or same-sex marriage on the campaign trail. "I'm a Christian, a conservative and a Republican—in that order," as Pence often says.
Senator James Lankford, an Oklahoma Republican who served with Pence in the House of Representatives, said nostalgic yearning resulting from the complexities of modern American life were driving the 2016 election.
"I think people feel the frustration that things used to be simpler," he said, mentioning that Americans remember when starting a business and getting health insurance was less complicated. "People basically want time back, and they want things not to be so difficult in every area of their life... They may not know the source, they just feel it."
When it comes to whether abortion should be legal, Lankford said, conservatives also feel nostalgic for a period when "states used to make this decision."
In a recent trip to a suburb of Pittsburgh, Trump pledged to "put American-produced steel back into the backbone of our country." He rejects trade deals like NAFTA and the emerging Trans-Pacific Partnership. His hopes of victory on Nov. 8 hinge on winning Rust Belt states that are home to the country's formerly vibrant manufacturing sector.
'The Dark Nostalgia for a White America'
Jack Pitney, a political science professor at Claremont McKenna College, said prior nominees have evoked a sense of nostalgia, including Republican Bob Dole in 1996, who vowed to be a "bridge to a time of tranquility."
"Trump is playing to a very different kind of nostalgia," Pitney said in an e-mail. "He is evoking an economic nostalgia for smokestack America, when Pittsburgh rolled out steel and Detroit dominated the auto market. Of course, there is nothing that he can do to bring it back. He's lying when he says it can."
Trump's racial appeals have been explicit. His launch speech derided Mexican immigrants as "rapists" and later said a federal judge's Mexican ancestry makes him unfit to objectively oversee a Trump University fraud case. Trump's rise in the GOP can be traced back to his relentless questioning in 2011 of whether Hawaiian-born President Barack Obama, the country's first black president, is a natural-born American.
"And then there is the dark nostalgia for white America," Pitney said. "As a creature of television, Trump plays to the yearning for the America of 'The Andy Griffith Show.'"
'Drag Us Back 50 Years'
Democrats describe it as a yearning for the "Mad Men" era when white men called the shots, before the feminist and civil rights movements led to a more equal society. The longing is deep among many of the older, white conservatives who form the heart of the Republican base. And Democrats are confident it's a losing formula.
"The GOP platform would drag us back 50 years or more, and Trump's running mate is famous (or infamous) for his anti-women, anti-gay extremism," said Paul Begala, an adviser to presumptive Democratic nominee Hillary Clinton's super-PAC. "If the fictional Don Draper were real, he would be about 90 years old now. You can't build a political party on pissed-off 90-year-old white men."
Trump's demographic obstacles are steep in a country that is becoming younger and less white. Though the latest national polls show him trailing narrowly, he's losing to presumptive Democratic nominee Hillary Clinton by 62 points among Hispanics, 77 points among blacks, 23 points among voters under 30 years old, and 15 points among women, according to a NBC/Wall Street Journal survey released on Monday.
Meanwhile, Trump leads Clinton by 13 points among whites, and 7 points among men.
In a stark illustration of U.S. demographic shifts, Ronald Reagan won 56 percent of whites in 1980 and carried 44 states en route to a landslide victory; Mitt Romney won 59 percent of whites in 2012 and lost decisively. What happened? Whites fell from being 88 percent of the electorate in 1980 to 72 percent in 2012.
"Voters are smart, which is why Trump is at historic lows among people of color, young people and unmarried women," Begala said. "They will not stand for a retreat on women's rights or gay rights or civil rights."
Before it's here, it's on the Bloomberg Terminal.
LEARN MORE