Trump's VP Wears His Opposition to 2008 Bank Bailouts With Pride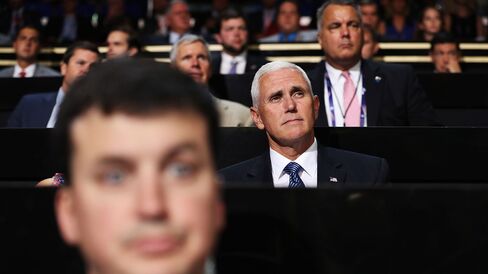 Pence fought losing battle against GOP leaders in Congress

VP nominee an unapologetic opponent of government intervention
Mike Pence wants to remind people that he is a proud and unrepentant opponent of the $700 billion Wall Street financial-rescue plan that as a member of Congress he worked to defeat in 2008, pitting himself against a Republican establishment Trump needs to win over.
Pence mentioned his role Saturday after being introduced by Donald Trump as his vice presidential running mate. And he raised it again while speaking at a luncheon at the Republican National Convention in Cleveland.
"I was one of the first to fight against the Wall Street bailout on Capitol Hill," Pence, now Indiana's governor, boasted Tuesday at an American Conservative Union Foundation event. He is scheduled to address the convention Wednesday night.
Trump has yet to lay out many details of his policies on banking matters. But in Pence, he has a running mate with a defined and unapologetic history of opposing government intervention. Pence similarly opposed a 2009 auto bailout, saying, "The American people know we can't borrow and spend and bail our way back to a growing economy or a healthy domestic automotive industry."
And Pence, who served in the House from 2001 to 2013 and rose to be the No. 3 Republican, voted against the 2010 Dodd-Frank financial overhaul, which Trump says he wants to dismantle.
In addition to scaling back Dodd-Frank -- which Republicans call the Democrats' "legislative Godzilla" -- this year's party platform calls for reinstating the Glass-Steagall Act, which long kept commercial lending separate from activities such as securities underwriting and trading. The stance is a switch: Almost all Republicans in Congress supported the decision to scrap the law in 1999.
To see a report on the 2016 Republican platform, click here.
Republicans like Pence who lined up against the financial-rescue measure were bucking their party's sitting president, President George W. Bush, and Treasury Secretary Henry Paulson. The 2008 Republican presidential nominee, Senator John McCain, also supported it, as did Democratic nominee Barack Obama and the future House speaker, Representative Paul Ryan. But Pence never did.
"Pence certainly was a leader" in working to defeat it, says John Berlau, an economist and senior fellow at the nonprofit Washington-based Competitive Enterprise Institute.
Trump was broadly positive about TARP at the time, saying that some action was needed to keep the banks functioning.
The rescue plan -- known as the Troubled Asset Relief Program, or TARP -- sought to get financial institutions lending again by letting the U.S. Treasury buy their troubled assets, most of which were linked to the housing market crash.
TARP's support to financial institutions and insurer American International Group Inc. wound up making a $9 billion profit, according to a report in March from the nonpartisan Congressional Budget Office. The program's total authority was reduced to $475 billion. The CBO put TARP's net cost at $30 billion, stemming largely from home-mortgage grants that were never intended to make a profit and aid to the automotive industry.
Pence was one of 133 Republicans who joined 95 Democrats to defeat an early version of the financial-rescue plan. That initial vote on Sept. 29, 2008, sent global markets plunging, including a 778-point drop in the Dow Jones Industrial Average. He also voted against the revised plan that was approved by Congress, with 108 House Republicans and 63 Democrats still in opposition, and signed by Bush.
'Dear Colleague'
On the day before the initial House defeat of the bill, Pence circulated a "dear colleague" letter on "Why I Oppose the Bailout."
"The decision to give the federal government the ability to nationalize almost every bad mortgage in America interrupts this basic truth of our free market economy," Pence wrote. "Republicans improved this bill but it remains the largest corporate bailout in American history, forever changes the relationship between government and the financial sector, and passes the cost along to the American people."
Pence instead promoted an alternative he said would set up an FDIC-style mandatory insurance program in which Wall Street firms would pay to insure their mortgage-backed securities. Doing so would have made Wall Street instead of Main Street pay the cost of this rescue, he said.
As worry and panic over Wall Street grew following the bill's initial defeat, Bush was able to rally more Republicans to his view. Pence would later lose the fight. On the day the House passed the revised version, Pence took to the chamber's floor to say that while House Republicans' efforts had led to improvements, he remained opposed.
'Bad Decisions'
"I did not come to Washington to expand the size and scope of government," he said. "I did not come to Washington to ask working Americans to subsidize the bad decisions of corporate America."
After leaving Congress to become governor, Pence has maintained ties to key conservative lawmakers, including those behind efforts to reshape Wall Street regulations.
"He's battle-tested. He's respected, liked and admired by all who ever worked with him," House Financial Services Chairman Jeb Hensarling of Texas gushed about Pence in a statement. Hensarling has met with Trump and announced some "common ground" on their mutual goal of pushing for replacement of the 2010 Dodd-Frank financial overhaul law.
How much the TARP program was needed to prevent a larger economic catastrophe continues to be debated.
Negative View
Today, the public holds a generally negative view of TARP.
In April, a Rasmussen Reports national telephone survey found that 55 percent of American adults believe it was a bad idea for the federal government to provide bailout funding for banks and other financial institutions, 23 percent said the government action was a good idea, and 22 percent were undecided.
Pence's efforts to remind people of his opposition to the Wall Street rescue may be an example of where his ideology meshes with a populist strain of thinking.
'Hoping Yes'
Representative Charlie Dent of Pennsylvania, a centrist Republican who said he initially opposed the financial rescue but eventually supported it, said he remembers "a lot of people," including Pence, being against it.
"What I recall more was Paul Ryan taking a very active role in support," Dent said, adding that adjustments in the proposal allowed him to back it. While many lawmakers "were hoping yes and voting no" on the bailout plan, Dent said didn't view that as the case for Pence, who he said was "clearly doctrinaire on many issues."
But Dent said, "We had to act to protect people who had nothing to do with this, to make sure they did not suffer catastrophic consequences."
Before it's here, it's on the Bloomberg Terminal.
LEARN MORE