Ryan's Angst Over Backing Trump to Get Prime-Time Audience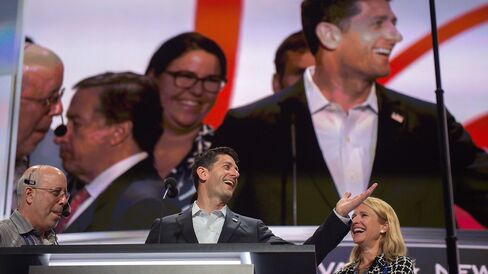 Speech looms as another test of speaker's uneasy Trump embrace

Ryan says he wants unity, but support for Trump is qualified
When House Speaker Paul Ryan addressed his home-state Wisconsin delegation Monday morning, there were two words that didn't cross his lips: Donald Trump.
That will be harder to do Tuesday night, when he addresses his party's presidential nominating convention in prime time -- the latest test of Ryan's uneasy embrace of the polarizing New York billionaire.
The speaker, who gave Trump a lukewarm endorsement, comes to the convention hall trying to balance competing aims: honoring that endorsement, while helping other Republicans win races in November.
Along the way, he's keeping the door open to a presidential candidacy of his own in 2020.
"'Awkward' surely understates the speaker's personal and political predicament in speaking to the GOP convention and a national audience," said Sara Binder, a congressional expert at the Brookings Institution in Washington.
"Speaker Ryan -- the standard-bearer for a conservative Republican party -- is poised to help nominate a reality TV star who has trashed the party's elites and used rhetoric Ryan has termed the 'textbook definition of a racist comment,'" Binder added.
Ryan managed to avoid being in the chair during the messy antics on the floor Monday, when anti-Trump delegates tried to demand a floor vote on the rules package. But he may still have to navigate other stunts during the convention, including during the roll call of states for the actual nomination.
Ryan is trying hard to tout the policy agenda he created for House Republicans to run on, but he did have to discuss Trump when he was asked directly by reporters about the nominee.
To see a news story on Ryan withholding his endorsement in May, click here.
"We are on the same page" in terms of core conservative politics, he said Monday at a lunch sponsored by the Wall Street Journal. Asked whether Trump is a "true conservative," Ryan declined to say yes or no.
"There are different kinds of conservatives, that's for darn sure," he said.
The Wisconsin Republican had held off initially endorsing Trump as his party's presidential nominee, saying he wanted to have real unity in the party, not just "fake" unity. Ryan told CNN on May 5 he wasn't ready to endorse Trump even though the real estate mogul's last remaining opponents had dropped out of the nomination race.
But after establishing a bit of daylight from the controversial candidate, Ryan eventually announced in a June 2 newspaper column that he would vote for him, after all.
The reason: Ryan said he was convinced Trump will advance House Republicans' policy agenda.
Ryan's comfort level with Trump has remained shallow, however.
'Racist Comment'
Ryan has maintained his endorsement of Trump even while criticizing many of the candidate's statements and stopping short of saying whether he believes Trump would make a good president. Less than a week after giving his endorsement, Ryan said Trump's verbal attack on a Mexican-American judge was "the textbook definition of a racist comment."
The Wisconsin Republican's continued discomfort was on display last week during a town hall meeting on CNN. He was pressed by an audience member on how he could justify his continued support for Trump, given his remarks on race and advocacy of blocking Muslims from entering the U.S.
Ryan replied that presidential elections are a "binary choice," and in this one, "It is either Donald Trump or Hillary Clinton." Electing a Republican president is important in terms of filling Supreme Court vacancies and enacting a Republican agenda, he said.
Change in Tone
Ryan also has said he believes Trump will try to change his tone and behavior in the general election campaign. In the meantime, Ryan is proceeding cautiously.
"This is always hard for a principled conservative like Ryan to deal with the outsider Trump," says national political pollster John Zogby of New York state.
Josh Huder, a senior fellow at Georgetown University's Government Affairs Institute in Washington, said, "I imagine Ryan will focus his energy on the one issue all Republicans agree on: opposing Hillary Clinton. Doing much more than that would be risky for a speaker trying to maintain his majority" in the House.
Ryan himself has indicated his speech Tuesday night may focus less on Trump than on his own six-part House Republican policy agenda.
"What I want to talk about is our ideas," Ryan told reporters in Washington last week. "I want to talk about the 'Better Way,' what we're offering and how we need to unify as a party."
Binder said, "I bet he doesn't mention Donald Trump by name."
Before it's here, it's on the Bloomberg Terminal.
LEARN MORE