NATO Allies Rally Behind Erdogan as Turkish Coup Splits Military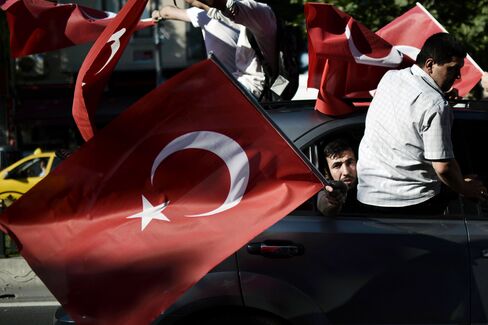 U.S. emphasizes 'absolute support' for democratic government

Turkey plays key role in coalition against Islamic State
The U.S. and other NATO allies threw their support behind Turkey's democratically elected government while cautioning President Recep Tayyip Erdogan not to use a coup attempt by a faction of his country's military to move further toward authoritarian rule.
Scenes From Turkey as Army Attempts to Seize Control
"As of this moment, Turkey's cooperation with us in our counterterrorism efforts, in our NATO obligations, and in our regional efforts with respect to Syria and ISIS have not been affected negatively," U.S. Secretary of State John Kerry said Saturday in Luxembourg. "All of that has continued as before."
President Barack Obama and German Chancellor Angela Merkel affirmed their support for the NATO ally on Friday after Turkish Army officers initially said they had seized power and Erdogan appeared on television urging people to take to the streets to defend his government. Clashes and explosions across the country's capital, Ankara, and its largest city, Istanbul, left almost 200 dead, including several dozen coup plotters, before the government regained control and arrested more than 2,800 military personnel.
Merkel, who met with Erdogan last week in Warsaw, echoed the U.S. support while NATO Secretary General Jens Stoltenberg called for "calm and restraint" in what he called a "vital" coalition ally.
The United Nations Security Council on Saturday was trying to agree on a statement condemning the coup after there were objections from at least one country, according to a diplomat.
NATO Ally
Turkey is viewed as a critical North Atlantic Treaty Organization ally given its strategic geographic position between Europe and Asia, a bridge that has served as an entryway for refugees fleeing violence in Syria. The country hosts about 1,500 American military personnel and aircraft at Incirlik Air Base, a staging point for the fight against Islamic State in both Syria and Iraq.
Operations at the air base were halted Saturday after the Turkish government closed its airspace to military aircraft and commercial power to the facility was cut off, Pentagon Press Secretary Peter Cook said in an e-mail. U.S. officials are adjusting flight operations to minimize disruptions in operations against Islamic State, Cook said.
"This is a NATO member whose image up to six hours ago was one of eroding democratic principles but nevertheless stable with strong hands at the wheel," said Aaron Stein, resident senior fellow at the Rafik Hariri Center for the Middle East at the Atlantic Council, on Friday. "That's been shattered today."
For a QuickTake explainer on Turkish politics, click here.
The Obama administration's backing comes despite concerns about a crackdown on civil liberties by Erdogan's government. Over the last three years, Erdogan had been tightening his grip on power, stifling debate while fighting accusations of corruption. That has polarized the nation and rattled investors. The military has engineered at least three takeovers of the country since 1960.
Kerry on Saturday called on the Turkish government to follow constitutional and legal processes in dealing with alleged coup plotters.
"There traditionally has been a high degree of tension between military leaders and political leaders," said David L. Phillips, director of the Program on Peace-building and Rights at Columbia University's Institute for the Study of Human Rights, in an interview on Bloomberg Television. "Obviously, the military felt like they were pushed to the end of their rope, which is why this was happening today."
With criticism of Erdogan's ruling style increasing, Obama this spring declined to have an official meeting with the Turkish leader, who was in Washington for a nuclear security summit. At the time, Obama said Erdogan's policies risked leading his nation down a "troubling" path.
Gulen 'Discussion'
As the attempted coup unfolded, Obama called Kerry in Moscow from the Oval Office and received updates Friday evening from Lisa Monaco, his homeland security and counterterrorism adviser, and Deputy National Security adviser Avril Haines. He had a conference call with his broader national security and foreign policy teams on Saturday.
Kerry said the U.S. anticipates having "some discussion" with Turkey about extraditing Fethullah Gulen, an exiled Islamic preacher living in Pennsylvania whom Ergodan and his government blamed for fomenting the coup attempt. Gulen denied having anything to do with the uprising.
"We invite the Government of Turkey, as we always do, to present us with any legitimate evidence that withstands scrutiny, and the United States will accept that and look at it and make judgments about it appropriately," Kerry said.
Instability provoked by the coup risks undermining NATO's joint efforts to combat Islamic State, which is actively seeking to destabilize the country, according to Blaise Misztal, national security director at the Bipartisan Policy Center in Washington.
"The ramifications of today's events remain uncertain, but given Turkey's significance as a NATO ally and member -- albeit an unconstructive one -- of the international anti-ISIS coalition, a coup could have widespread implications," Misztal said.
Before it's here, it's on the Bloomberg Terminal.
LEARN MORE