Trump Delays VP Announcement After Nice as Pence Deadline Looms
Donald Trump's planned unveiling of his running mate at a Friday event in Manhattan has been postponed for a deadly attack in Nice, France, he announced Thursday evening.
Donald Trump's planned unveiling of his running mate at a Friday event in Manhattan has been postponed for a deadly attack in Nice, France, he announced Thursday evening.
A truck drove into a late-night crowd in the seaside city, killing at least 77 people and injuring sores more, French President Francois Hollande said, as the nation celebrated its Bastille Day holiday.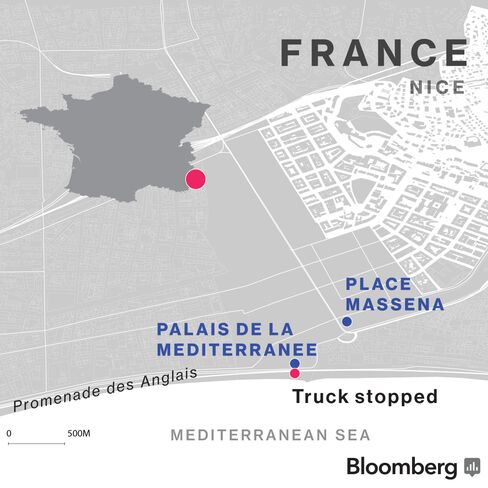 The incident took place after hours of reports that the presumptive Republican nominee had decided to pick Indiana Governor Mike Pence as his running mate, and pushback from the campaign saying no decision had yet been made. A Republican with direct knowledge of the decision said Trump had settled on Pence but other sources through the day said they believe Trump could change his mind.
On Fox News on Thursday evening, Trump declared that he had not made his "final, final decision." He also said he would be "making the announcement at the appropriate time."
Pence, meanwhile, arrived in New York City with another pressing deadline looming: he must decide whether to relinquish his spot on Indiana ballots before noon Friday in order for the Republican party to be able to choose a replacement.
"This creates an enormous complication," said James Bopp, an Indiana conservative activist and 30-year lawyer who specializes in election law. "Any vacancy on the ballot that occurs before noon can be filled by the party. If the vacancy is after noon on Friday, the vacancy cannot be filled by the Republican party. Absolutely cannot be filled."
Bopp described a cascading effect of confusion because Indiana does not allow candidates to run for two offices at the same time. If Pence does not withdraw by the deadline, then another elected Republican cannot withdraw in time to fill his spot on the ballot. And another Republican couldn't fill the resulting spot that opened lower down on the ticket.
Andrew Lang, a spokesman for the Indiana secretary of state's office, confirmed that Pence did not file to withdraw as a gubernatorial candidate Thursday. If Pence withdrew, the party could name him to fill the vacancy on the ballot if desired, Lang said.
Earlier Friday, the campaign released a statement saying the announcement would take place Friday at the New York Hilton Midtown at 11 a.m.
Pence is the pick and is dropping his re-election bid in order to join Trump's ticket, the Indianapolis Star reported. The Capitol Hill newspaper Roll Call and other outlets also reported that Pence was selected or that Trump and Pence allies were strongly signaling so.
A representative for Pence didn't respond to requests for comment. Two Trump officials who asked not to be named said that Roll Call's report was not based on information from inside the campaign, but did not deny the report either.
Pence, 57, is a former U.S. representative who could help Trump, 70, boost his standing with social conservatives and in midwestern states where Trump aims to build a line of defense against presumptive Democratic nominee Hillary Clinton. Trump and Pence have spent extensive time together on the campaign trail and with each other's families in recent days.
QuickTake How the U.S. Elects Its Presidents
Pence lauded Trump after meeting with him Wednesday, saying it was humbling for his family to meet the next U.S. president. "We will not rest until we elect" Trump, he said on Twitter July 12. He hasn't always agreed with the candidate, though, blasting Trump's proposed temporary ban on Muslim immigration in December as "offensive and unconstitutional."
The reports of Pence's selection were greeted positively by Senator Jeff Flake, an Arizona Republican usually critical of Trump, who said that if the Pence news is true as he assumes, it's the best thing Trump has done. Flake hopes Pence can get Trump to change his positions and statements about Hispanics, he said. Trump's promise to build a wall on the U.S.-Mexico border to curb illegal immigration—and his comments likening Mexican immigrants to rapists—have turned off many Hispanic voters.
Pence was also complimented Thursday at the White House, where press secretary Josh Earnest noted the governor had been doing "important work with the administration to expand Medicaid in his state."
Another possible Trump running mate, former House Speaker Newt Gingrich, took questions in a Facebook Live broadcast Thursday afternoon and didn't confirm whether he was out of the running, but seemed to suggest it had come down to Pence and him.
New Jersey Governor Chris Christie was the third person believed to be on Trump's short list. "I'm a competitive person so I'm not going to say it won't bother me if I'm not selected," Christie said on MSNBC in an interview that aired Thursday. If not chosen, "I'll just go back to work," he said.
Meanwhile, Pence is expected at the National Governors Association Meeting in Des Moines on Friday and Saturday. His staff haven't called to cancel plans to attend, so organizers are still expecting him, said Elena Waskey, a spokeswoman for the association.
—With assistance from Mark Niquette, Steven Dennis, Ben Brody, and Alex Wayne.
Before it's here, it's on the Bloomberg Terminal.
LEARN MORE