Lynch Spurns Republican Questions on Clinton E-Mail Decision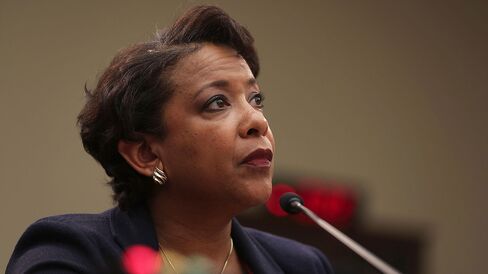 'It would be inappropriate for me to comment,' she tells panel

Clinton can't be trusted with U.S. secrets, Republican says
Attorney General Loretta Lynch rejected Republican demands to discuss her decision against prosecuting Hillary Clinton before a House panel whose chairman said the former secretary of state's careless handling of official communications may have jeopardized U.S. national security.
"She cannot be trusted with the nation's most sensitive secrets" if elected president, Representative Bob Goodlatte of Virginia, chairman of the House Judiciary Committee, said of the presumptive Democratic presidential nominee at the opening of a hearing Tuesday. He said the Justice Department's decision not to prosecute Clinton "defies logic and the law."
Lynch, the sole witness, said she stood by the "unanimous recommendation" of FBI Director James Comey and "career independent investigators" and lawyers that charges shouldn't be brought against Clinton or her aides for her use of a private e-mail server when she was secretary of state. Comey also said they had been "extremely careless in their handling of very sensitive, highly classified information."
The attorney general said repeatedly that "it would be inappropriate for me to comment further," and she stuck to that position despite repeated challenges from Republicans, who grew increasingly testy as the hearing went on for 4 1/2 hours with interruptions for House floor votes.
'An Abdication'
Goodlatte told Lynch it was "an abdication of your responsibility" to refuse to answer the committee's questions. Toward the end of the session, Representative Dave Trott of Michigan said he'd counted 74 examples of Lynch saying she wouldn't or couldn't do so.
Representative Louie Gohmert of Texas said Lynch hasn't given any indication that she'd reviewed the facts underlying the FBI's investigation or the bureau's interview with Clinton.
"I find it extraordinary that after a three-and-a-half hour interview so quickly a recommendation was made," Gohmert said. "Your oath was not to follow the recommendation of some team. Your oath is your own responsibility to our Constitution and those working under you."
'Investigated Thoroughly'
Lynch said she decided "to accept the recommendation of the team of agents and investigators who worked on this" and that "all of the relevant facts were considered and investigated thoroughly."
Representative Trey Gowdy of South Carolina questioned the assumption that a prosecutor would have needed to show that Clinton had a "specific intent" to break the law when that's not required in criminal prosecutions on charges such as reckless homicide.
Republicans also pressed Lynch on her meeting aboard her plane with former President Bill Clinton in the days before the e-mail investigation ended, a decision Lynch has acknowledged "cast a shadow" over her role.
She told the committee Tuesday that it was a "social conversation."
"Nothing of any relationship to the e-mail investigation was discussed," Lynch said of the meeting on the airport tarmac in Phoenix.
Several Republicans echoed the suggestion by Donald Trump, the presumed Republican presidential nominee, that Lynch cut a deal to let Clinton off the hook in return for keeping her job if the Democrat becomes president. Lynch denied any such motivation and said she hasn't discussed her future with the Clintons or their advisers.
Questioning Clinton
The dispute over Hillary Clinton's e-mails also persists in a civil suit by a conservative watchdog group. Clinton's long-time lawyer, David Kendall, told a U.S. judge Tuesday that the group, Judicial Watch, doesn't need to question her because of the surfeit of information already publicly available, including Comey's comments and a report in May by the State Department's inspector general.
The record "already answers those questions or makes clear that Secretary Clinton has no personal knowledge to provide," Kendall said in court papers. U.S. District Judge Emmet Sullivan has scheduled a July 18 hearing on the question.
In its Freedom of Information Act lawsuit, Judicial Watch wants to take a deposition from Clinton as it pursues information about top aide Huma Abedin's overlapping employment by the State Department, the Clinton Foundation and an outside consulting firm.
Perjury Question
On Monday, Goodlatte and a fellow House Republican, Oversight Committee Chairman Jason Chaffetz of Utah, asked federal prosecutors to open an investigation into whether Clinton committed perjury before Congress.
"The evidence collected by the FBI during its investigation of Secretary Clinton's use of a personal e-mail system appears to directly contradict several aspects of her sworn testimony," states the letter, which is addressed to Channing Phillips, the U.S. attorney for the District of Columbia.
For a QuickTake Q&A on the Clinton e-mail controversy, click here.
The lawmakers' letter doesn't specify any alleged incidents of perjury, instead referring to Comey's testimony last week before the Oversight Committee that the truthfulness of Clinton's remarks to Congress wasn't within the scope of the FBI's previous investigation.
Clinton has long maintained that she never sent or received e-mails "marked classified," a position she asserted during her almost 11 hours of testimony in October before a special House committee investigating the deadly 2012 attacks in Benghazi, Libya.
"That's not true," Comey said of the assertion when he was questioned at a hearing of Chaffetz's committee last week.
In a television interview last week, Clinton modified her standard answer on whether she had sent or received classified information on her private account, now saying she didn't "believe" she had done so.
"As I have said many times, I certainly did not believe that I received or sent any material that was classified," she told CNN.
Before it's here, it's on the Bloomberg Terminal.
LEARN MORE