U.S. ELECTION WRAP: Bayh's Belated Senate Bid Buoys Democrats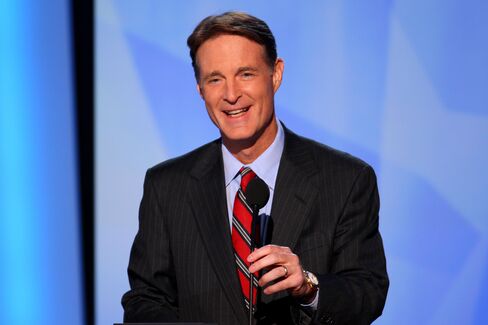 In a campaign season full of surprises, the Democratic bid to control the U.S. Senate provided the latest twist: the 11th-hour entry of Evan Bayh in the fight for an open seat in Indiana.
Bayh, a well-known former governor and one-time senator, will take the Nov. Democratic ballot slot vacated by Baron Hill, a former congressman who had been distinct underdog against Republican Rep. Todd Young
Bayh, governor of Indiana from 1989-97, was a committed centrist as a senator from that state from Jan. 1999 to Jan. 2011

With political polarization intensifying—and 2010 looming as a bad year for Democrats—he declined seeking a third term and was succeeded by Republican Dan Coats, himself an ex-senator who then returned to the chamber and now is retiring

Bayh kept his Senate campaign account open and ended March with $9.3m cash-on-hand; Young's campaign said he had more than $1.2m cash-on-hand at end of June after winning contested GOP primary in May
Hill said in exiting race he didn't want to "stand in the way of Democrats winning Indiana and the U.S. Senate"
Bayh said in statement he and Hill believe "we must send leaders to Washington who will put Hoosiers' interests ahead of any one political party"
Young campaign manager Trevor Foughty said in statement that Bayh cast "deciding vote" for 2010 health-care overhaul and then became "gold-plated lobbyist" in Washington
Cook Political Report and UVA's Center for Politics changed rating of race to "toss up"; Rothenberg/Gonzales Political Report rates race as ''toss up/tilts Democrat''

''A race that was shaping up to be an easy retention for Republicans has now become one that will be extremely competitive,'' Cook Political Report's Jennifer Duffy wrote

Republicans, who control the Senate by 54-46, are the defending party in 24 of this year's 34 races
This Senate race development comes as Donald Trump considers Ind. Gov. Mike Pence as his running mate on the GOP presidential ticket

Click here to subscribe to the U.S. Election Wrap



VEEPSTAKES
Trump expects to make his vice presidential decision by end of week, Washington Post's Chris Cillizza reports

Trump says he is leaning toward a ''political" pick rather than a "military one"; five people reportedly in the running, including retired Army Lt. Gen. Michael T. Flynn
Separately, unidentified "Trump sources" say their consensus Trump VP short list is: 1) Pence; 2) N.J. Gov. Chris Christie; 3) former House Speaker Newt Gingrich, Washington Post's Robert Costa says in Twitter post
Pence expected to attend fundraiser and rally in Ind. with Trump tomorrow, according to a campaign aide

Trump has told donors Gingrich would have "issues" as a running mate; on prospect of picking former Sec. of State Condoleezza Rice, Trump cites differences over Iraq war, New York Times reports

ON THE TRAIL
Christie helped introduce Trump earlier today at rally in Virginia Beach, Va., where presumed GOP presidential nominee spoke on Dallas police shootings, Clinton's e-mail controversy, treatment of veterans, overall mental health access

Trump declared himself the "law and order candidate," as well the "candidate of compassion"
Vows to put a 24-hr phone "hotline" in White House to help ensure that veterans' complaints don't fall between the cracks

Clinton has no public rallies today
Challenger Bernie Sanders set to make his first 2016 election campaign appearance with Clinton tomorrow in Portsmouth, N.H.



POLLS
Clinton holds 4-ppt lead over Trump in Nevada, 45%-41%, according to Monmouth University Poll; 5% of respondents in the July 7-10 survey back Libertarian candidate Gary Johnson, 4% plan to choose the state's "none of these candidates" ballot option

Margin of error +/- 4.9 ppts
Obama carried Nevada in 2012 against Mitt Romney, 52% to 46%; also in 2008 against Sen. John McCain, 55% to 42%

A majority of Americans disapprove of FBI's recommendation not to charge Clinton over her private e-mail server, an ABC News/Washington Post poll shows

56% disapprove of FBI's decision, 35% approve
57% say the incident makes them worried about how Clinton would perform as president; 39% say issue unrelated to how she would perform



ENDORSEMENTS
KKR's Alexander Navab, who supported Republican Jeb Bush for president, is now backing Clinton, Bloomberg's Amanda Gordon reports
Communications Workers of America labor union endorses Clinton
Students at Wharton School of the University of Pennsylvania pen open letter denouncing Trump, saying they are "deeply disappointed" in his candidacy
Trump graduated from Wharton in 1968 after attending Fordham University for two years


CONVENTIONS
Clinton says the political climate fuels low approval ratings

"When I have a job, I have really high approval ratings," Clinton says in interview with Vox
Clinton says that when she's a candidate, "all of the discredited negativity comes out again, and all of these arguments and attacks start up"

Says she won't commit to more short-term deficit spending
Ohio Gov. John Kasich's advisers know the former GOP presidential candidate is in the spotlight as he prepares to help oversee the GOP convention in his home state, Washington Post reports

Kasich's team, led by political adviser John Weaver, has eye on 2020 election
Kasich, who hasn't endorsed Trump, isn't planning to speak at convention and may not even step foot in the arena; on July 19, he plans to throw big party at Cleveland's Rock and Roll Hall of Fame for his supporters

Trump brought on Steven Cheung to his campaign team to serve as director of rapid response; Cheung's most recent job was head of communications for the Ultimate Fighting Championship
Actor Bryan Cranston, who recently played ex-President Lyndon Johnson on stage and TV, tells NBC's "Today" show he would like to play Trump at some point

"He's huge. He's this Shakespearean character," Cranston says. "Who wouldn't want to take a bite out of that?"
See Cranston's Trump imitation here



CONGRESSIONAL RACES
ENDORSEMENTS: Business-Industry Political Action Committee (BIPAC) endorsed Ark. Republican Sen. John Boozman for re-election and Republican Rep. Charles Boustany for open Senate seat in La., according to release

Boustany on Nov. ballot vying with Rep. John Fleming, other Republicans—as well as several Democrats—for seat of retiring Republican David Vitter
If no one gets more than 50% of vote in Nov., top two finishers face off in Dec. 10 runoff
BIPAC also endorsed Democratic Reps. Collin Peterson in MN-07, Brad Ashford in NE-02, Henry Cuellar in TX-28; GOP Reps. John Katko in NY-24 and Elise Stefanik in NY-21

CA-SEN: Vice President Joe Biden "expected to endorse" Democratic state Atty. Gen. Kamala Harris over Democratic Rep. Loretta Sanchez, Los Angeles Times reported, citing source familiar with Biden's thinking

Harris, with more liberal record than Sanchez, had 40% compared with 19% for Sanchez in all-candidate, "Top 2" primary last month; they now face off in Nov. election

IL-SEN: GOP Sen. Mark Kirk's campaign released TV ad calling Democratic Rep. Tammy Duckworth "partisan pawn," linking her to ex-Gov. Rod Blagojevich and the "Democratic machine"

Ad cites workplace retaliation lawsuit against Duckworth stemming from when she led the Ill. Dept of Veterans Affairs; lawsuit was settled last month

WI-SEN: Democrat Russ Feingold released TV ad in which he's surrounded by college students and says GOP Sen. Ron Johnson "doesn't believe there should be federal student loans" and also voted "to keep interest rates high"

Feingold's ad cites Johnson's votes in 2012 against legislation to postpone doubling of interest rates for new loans; legislation would also have changed requirements for how S corp. shareholders report income for tax purposes
Johnson said in statement that measure amounted to "taxing job creators" and used "students as political pawns"

CA-17: Democratic Rep. Mike Honda said he's in "completely new race" with fellow Democrat Ro Khanna, who outran Honda in state's all-candidate primary last month, San Francisco Chronicle reported

Honda said presidential and Senate races "should bring out my base"; Khanna spokesman said ''we feel good about our consolidation of the anti-incumbent vote, and we'll likely attract more independents"
Democratic-leaning district includes Sunnyvale, part of San Jose

FL-09: Democratic Rep. Alan Grayson narrated TV ad for his wife, medical doctor Dena Grayson, saying she's "treated poor people for free" and would fight in Congress for affordable health-care and an expansion of Medicare benefits

Orlando-area district is strongly Democratic; Rep. Grayson leaving seat open to run for Senate
Under her maiden name, Dena Minning, Dr. Grayson announced her candidacy last July; she married Rep. Grayson in May and changed last name

FL-23: Democrat Tim Canova released 60-second TV spot saying he's running for Congress to "reclaim our democracy"

Canova, law professor/liberal activist challenging Democratic National Cmte chairwoman Debbie Wasserman Schultz in primary, doesn't mention her name; an image of her briefly appears on screen as Canova criticizes "career politicians," including Republicans

MN-03: Democratic state Sen. Terri Bonoff raised $620k since entering race in mid-April, Star Tribune reported

Bonoff challenging GOP Rep. Erik Paulsen, who has $3.2m cash-on-hand, in competitive district that takes in Twin Cities suburbs including Bloomington, Plymouth, Brooklyn Park

WI-08: Republican Mike Gallagher says in TV ad he'll "say no to tax hikes" in Congress and will support "no budget, no pay" legislation that would delay lawmakers' salary if Congress doesn't adopt budget resolution

Gallagher, Marine Corps veteran, among three Republicans seeking to succeed retiring GOP Rep. Reid Ribble in Green Bay-area district
Before it's here, it's on the Bloomberg Terminal.
LEARN MORE