Homeland's Johnson Says 5,000 Syrians Approved to Resettle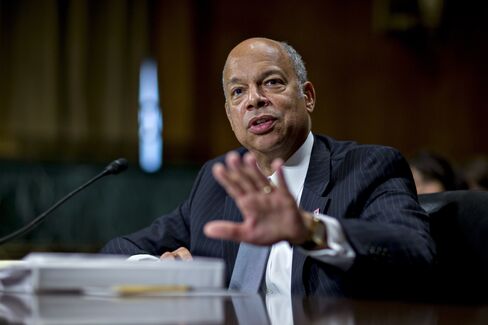 Jeh Johnson tells senators goal to resettle 10,000 to be met

Trump says 'tens of thousands' will come, including terrorists
About 5,000 Syrian refugees have been approved for resettlement in the U.S., Department of Homeland Security Secretary Jeh Johnson said, with another 5,000 to 6,000 on the way if they pass security checks.
That would meet President Barack Obama's pledge to resettle 10,000 Syrians who are refugees from the civil war in their country by the end of the year, up from 2,000 last year, Johnson told the Senate Judiciary Committee on Thursday.
Johnson was asked about the resettlement effort by Senator Amy Klobuchar of Minnesota, who's among Democrats who have said the pace for admitting refugees has been too slow.
At least 15 U.S. companies including Goldman Sachs Group Inc. and Alphabet Inc. have pledged money to help the Obama administration resettle refugees fleeing the Syrian civil war and other international conflicts. The White House is leaning on companies to commit money and other assistance to resettlement programs ahead of a Sept. 20 summit that Obama will host at the United Nations.
But Republicans have largely criticized the administration's policy toward refugees, citing the possibility that Islamic State terrorists may slip into the country.
Presumptive Republican presidential nominee Donald Trump, who has campaigned on barring Muslim immigrants from the U.S. at least temporarily, said Wednesday on Fox News that "they are letting tens of thousands of people come in from Syria, and nobody knows who these people are."
"A lot of these people are ISIS," Trump said, using an acronym for Islamic State.
Before it's here, it's on the Bloomberg Terminal.
LEARN MORE