U.S. ELECTION WRAP: North Carolina Again Spotlighted in Presidential Race
Narrow wins by Obama in 2008 and Romney in 2012 confirm the state's status as a battleground.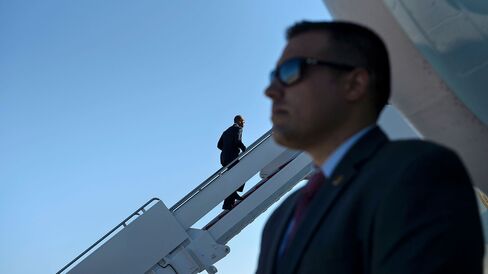 The pick of North Carolina as the site for Hillary Clinton's first joint campaign appearance with President Obama this year underscores the shifting demographics that have turned a once-conservative stronghold into one of the handful of competitive political battlegrounds.
The change in the home of late GOP Sen. Jesse Helms—a conservative icon—was highlighted by Barack Obama's narrow win there in 2008
N.C. returned to the GOP fold in 2012 when Mitt Romney claimed its 15 electoral votes—but again, the margin was razor-thin
"Left alone, North Carolina has tended to go Republican, but if Democrats put a lot of effort into it, as Obama did in 2008, it can pay off," Ferrel Guillory, director of the Program on Public Life at Univ. of North Carolina at Chapel Hill, said in an interview
Clinton's July 5 event with Obama in Charlotte—which hosted the '12 Democratic convention—shows Democrats "want to put North Carlina in play"
Trump's populist message focused on reviving U.S. labor conditions has strong appeal in a state that saw its textile and furniture industries decimated by the recession: Guillory
"There's a core of people in the state ready to listen to Trump's message, but it's also a state that has become much more multi-ethnic, with substantial growth in Latinos"
"And there is a core of moderate professional women who aren't culturally conservative and are looking for a high quality of life. Trump's degradation of women won't play well with this rising cohort"
Guillory doesn't see the N.C. contest hinging on any one issue, including the transgender bathroom controversy that has roiled the state
There's no "silver bullet" for either Trump or Clinton, he says. "It's the whole debate on the direction of the country. Do you want an inflammatory figure like Trump? Or a bruised and battered, but competent, figure like Clinton in the White House?"
N.C. is seen as so competitive that FiveThirtyEight's Nate Silver has two different outcomes projected
Trump has a 52.3% chance of winning N.C. if polls, historical data and the economy are all taken into account
Silver's forecast based on polls only gives Clinton a 60.5% chance of carrying the state
The Atlantic says the Clinton's camp decision to have the first Clinton-Obama rally in N.C. demonstrates the presumptive Democratic nominee's growing confidence
The duo were to appear together early in June in Wisconsin, but that event was scuttled after the Orlando mass shooting

ON THE TRAIL
Clinton has no scheduled events today; Trump holds afternoon rally in N.H.
Trump, fundraising yesterday in New England, raised the possibility of making Massachusetts—which hasn't voted for a GOP presidential candidate since 1984—competitive in November, Boston Globe reports
Trump tells radio host Mike Gallagher that the Supreme Court ruling earlier this week overturning Texas restrictions on abortion clinics shows importance of election, according to CBS News

ENDORSEMENTS /HOLD OUTS
Republican Sen. Mike Lee of Utah stands firm in his decision to not yet endorse Trump
"He accused my best friend's father of conspiring to kill JFK," Lee tells radio host Steve Malzberg, referring to Trump's prior comment about Sen. Ted Cruz's father
Lee also cites Trump's "religiously intolerant" comments
"I hope I can get over this because I can't vote for Hillary," Lee says
Trump can still win over conservatives if he gives adequate assurances he won't be "authoritarian" and will be a "vigorous" defender of the Constitution: Lee
French President Francois Hollande backs Clinton; says Trump's rhetoric puts him on same level as Europe's extreme right
The election of Trump would "complicate relations between Europe and the U.S.," Hollande tells Les Echos newspaper, Bloomberg reports

POLLS AND POLLSTERS
Clinton leads Trump 48%-34% in first Iowa statewide poll since the two became the presumptive nominees, according to Loras College Poll
Yik Yak, social network used primarily by millennials, gives Clinton a 16-point lead over Trump among their user base, the Hill reports
Clinton has 23-point lead over Trump, or 59% to 36%, among people who used to watch "The Apprentice," the NBC reality show starring the businessman, the Hill reports, citing a SurveyMonkey Election Tracking Survey
Trump will expand his stable of pollsters, with plans to add three as his campaign works to ramp up operations for the general election, New York Times reports, citing unidentified person familiar with matter

VEEPSTAKES
Republican National Cmte has filed 27 requests to government agencies for records on potential Clinton running mates, including Sen. Elizabeth Warren of Massachusetts and Rep. Xavier Becerra of California, Bloomberg's Ben Brody reports
Potential Clinton running-mate pick Sen. Tim Kaine reported more than $160k in gifts from 2001 to 2009, Politico reports
Gifts were legal, though could become campaign issue if Kaine is selected
New Jersey Gov. Chris Christie has emerged as one of Trump's most influential advisers and is among leader contenders to be his running mate, New York Times reports
Indiana Gov. Mike Pence is "in play" as possible Trump pick, NBC reports, citing unidentified people familiar with matter

ADVERTISING
Clinton considers expanding ad buys to Pennsylvania, Politico reports

ENERGY POLITICS
Pollution/fuel-efficiency standards for light-duty passenger cars/trucks are at least partly in the hands of the next president, Bloomberg Intelligence analysts Rob Barnett and Cheryl Wilson write in note
Clinton is seen strengthening standards, which could be finished by 2018, with pledge to cut oil consumption by >30% in 10 years
Trump says he would scrap some of Obama administration's pollution goals, including those for vehicles

ETC
Remember when Trump promised to save Ed McMahon's house? Read this story by Bloomberg's Zachary Mider for a look at one of the billionaire's charitable pledges
Romney said he still gets requests to run as an independent presidential candidate, and that one of his sons this week told him he needed to get in the race
Romney, speaking yesterday to CBS News' John Dickerson at the Aspen Ideas Festival, also said he can't see himself voting for either Trump or Clinton
"I'll either write in my wife's name, who I think would be an ideal president, or I'll write in the name of a 3rd party candidate"
Cities including Costa Mesa, in Southern Calif., find that a visit from Trump doesn't come cheap, Bloomberg's Kate Smith reports
Opposition research group American Bridge is gathering research on Trump for Democrats, New York Times reports
The group, founded by a Clinton ally, led campaign against Missouri GOP Senate candidate Todd Akin over "legitimate rape" comment in 2012
Former Obama aide David Axelrod says in Twitter post that Attorney General Loretta Lynch's meeting with Bill Clinton created "foolish" optics, as Justice Dept. continues its investigation of Hillary Clinton's private e-mail use
Trump has hired Rep. Sean Duffy's chief of staff to run his campaign in Wisconsin, AP reports

CONGRESSIONAL RACES
FUNDRAISING: Today marks the end of the second-quarter fundraising period; House and Senate candidates will file updated reports by July 15 that detail receipts and spending
Look for fundraising solicitations to swell inboxes until midnight and some financially successful campaigns to leak bottom-line numbers in coming days
IA-SEN: GOP Sen. Chuck Grassley has 46% vs 45% for Democratic ex-Lt. Gov. Patty Judge in Loras College Poll
Survey by school based in Dubuque, Iowa, conducted June 24-28 of 600 likely voters, with error margin of +/-4 points
Grassley, Judiciary Committee chairman seeking seventh term, has won every re-election with at least 64% of vote
OH-SEN: Fighting for Ohio Fund, GOP super-PAC supporting Sen. Rob Portman, aired TV ad saying "we couldn't agree more" with Democratic ex-Gov. Ted Strickland, who's shown saying "my record is mixed and spotty"
Video of Strickland came from editorial board interview during Democratic primary in which he was referring to his shift to supporting some gun-control measures after opposing them when he served in U.S. House
FL-18: Democratic businessman Randy Perkins in TV ad talks about growing up in working-class family, getting married at 19, becoming a father at 20, being on WIC nutrition assistance program; vows to "get Congress working hard for the American people"
Democratic Rep. Patrick Murphy leaving open politically competitive southeastern district to run for Senate
NY-01: Democrats Anna Throne-Holst and David Calone preparing for paper ballot count after Throne-Holst led Tues. primary by 29 votes in unofficial count, Newsday reported
NY-13: Keith Wright, the main opponent of Democratic state Sen. Adriano Espaillat conceded Tues.'s primary to him and offered his congratulations at a press conference today
Espaillat led Wright by about 3 percentage points with a few precincts not yet reporting, according to Associated Press vote tally
In heavily Democratic district that Charlie Rangel has represented for almost 46 years, Espaillat is set to become first Dominican-American congressman in what would be victory for predominantly Hispanic Washington Heights/Inwood neighborhoods and loss for Harlem, long associated with black political power, the Observer reported
Before it's here, it's on the Bloomberg Terminal.
LEARN MORE