Nadler Primary an Iran Deal Test in Pro-Israel New York District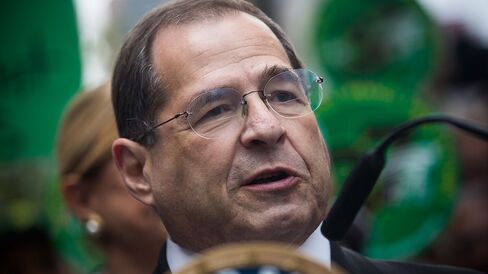 Congressman faces first Democratic opponent in 20 years

Election will test endurance of Iran deal as a political issue
Jerrold Nadler, New York City's only Jewish Democratic U.S. House member to support President Barack Obama's Iran nuclear deal, faces his first primary challenger in two decades on the basis of that vote.
Tuesday's Democratic primary will be a test of the 2015 deal's potency as an electoral weapon, and of whether dissatisfaction among Jewish voters could rise high enough to take down a long-established congressman. Nadler, 69, sits on the House Transportation & Infrastructure Committee and the Committee on the Judiciary. His vote on the Iran deal was the most controversial of his long tenure.
"The whole matter was divisive in the Jewish community," said Rabbi Robert Levine, who leads reform Congregation Rodeph Sholom in Nadler's district. "Imminent nuclear threat was posed."
Nadler's primary opponent is Oliver Rosenberg, a 30-year-old Yeshiva University graduate who once worked for JPMorgan Chase & Co. Rosenberg, an orthodox Jew, says the congressman, first elected in 1992, is out of touch with voters -- especially millennials. And he argues that any support for the Shiite Islamic theocracy means an existential threat to the Jewish state.
'Fearless and Principled'
Rosenberg's campaign has endorsements from comedian Jackie Mason and Brooklyn Democratic Assemblyman Dov Hikind, an outspoken critic of Nadler's Iran vote at the time. The New York Daily News backed Rosenberg on the basis of Nadler's Iran vote. Nadler has endorsements from the party establishment, including President Barack Obama, as well as the New York Times, which called him "a fearless and principled liberal."
There is little reliable polling in the district, which includes Manhattan's liberal Upper West Side and Brooklyn's Orthodox congregations. and has the largest Jewish population in the U.S., according to the Berman Jewish Databank. The candidates have raised similar amounts, with Nadler raking in slightly over $372,000 and Rosenberg slightly over $314,000 as of June 8, according to Federal Election Commission filings. Still, Rosenberg's campaign is primarily self-funded and Nadler has more than $1 million in cash on hand from previous election cycles.
Safe District
The winner Tuesday is almost certain to prevail in November given the district's heavily Democratic electorate. Nadler received almost 79 percent of the vote in 2014's general election, and didn't face a Republican challenger in that contest.
To be sure, unseating a House incumbent is difficult. Of the three congressional incumbents to lose primary elections so far this year, one was indicted during his campaign, and the other two lost due partly to redistricting. The attempt to unseat Nadler is a long-shot -- but one that highlights the political repercussions of the Iran deal.
The pact relieved sanctions on Iran while curtailing its nuclear program, capping its uranium enrichment and limiting its stockpile for 15 years. The American Israel Public Affairs Committee, better known as AIPAC, and other pro-Israel groups lobbied against the agreement. Israel Prime Minister Benjamin Netanyahu derided the deal as "a stunning historical mistake."
5,000-Word Essay
Nadler weighed his decision carefully, expecting it may result in a primary challenge. He wrote an essay of more than 5,000 words on his vote, published on the blogging site medium.com in August, saying it would make "both the United States and Israel safer."
For his part, Rosenberg, who isn't backed by any particular pro-Israel group, says he's "in favor of a deal with Iran, but not this deal with Iran."
Rosenberg, who is gay, also said Nadler's support for a country that persecutes gay people couldn't be squared with the congressman's backing of the LGBT community. Nadler is a founding member of the House's LGBT Equality Caucus. He recently spearheaded the movement to create a national monument at the Stonewall Inn in New York's Greenwich Village, site of the 1969 uprising that sparked the modern LGBT civil rights moment.
"He is oblivious to what is going on," Rosenberg said. "He's stale, he is resting on a record from decades ago."
'Ridiculous' Attacks
Nadler campaign manager Daniel Schwarz called Rosenberg's comments "ridiculous" given Nadler's history on LGBT issues and support for Israel. "The congressman has a long and distinguished record," Schwarz said. "It's a record that we're proud of."
Still, said Schwarz, the Nadler campaign is "not taking anything for granted."
Although Rosenberg is outspoken in his criticism, the Iranian issue seems to have less bite than it did a year ago, when Nadler was the subject of full-page ads, protests, and even Holocaust comparisons on his social media.
"I would be surprised if it were a credible threat" to Nadler's re-election, Kenneth Sherill, a professor emeritus of political science at Hunter College, said of Rosenberg's campaign. As Levine puts it, "the fever has effectively diminished."
Early Primary
The June 28 election date could also play a role, as the district typically holds its primary in September. The likelihood of low turnout favors the incumbent, said Nathan Gonzales, editor and publisher of the Rothenberg & Gonzales Political Report.
"Usually challengers benefit from having more time to ramp up their campaigns," Gonzales said. "I'm not convinced a low-turnout primary benefits the challenger."
Before it's here, it's on the Bloomberg Terminal.
LEARN MORE