Lenders Rejected by Supreme Court on State Interest Caps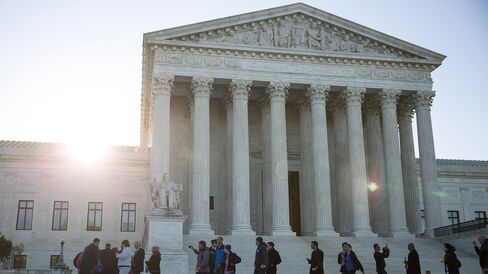 Justices turn away company's effort to avoid class-action suit

Decision seen as blow to firms offering consumer loans online
Rejecting calls from across the financial-services industry, the U.S. Supreme Court let stand a ruling that gives borrowers more power to enforce state limits on interest rates.
The justices turned away a company's effort to avoid a class-action lawsuit over efforts to collect credit-card debt from New York consumers.
The rebuff leaves intact a federal appeals court ruling that lenders say is already having far-reaching effects by undercutting the burgeoning internet lending business and raising questions about debt-backed securities that contain high-interest loans.
The appeals court decision is a blow to LendingClub Corp., Prosper Marketplace Inc. and other companies that arrange consumer loans online. It may prevent those marketplace lenders from bypassing usury laws by originating loans in states without rate caps.
The ruling was largely expected and doesn't indicate the end of debate around the issues raised in the case, according to Issac Boltansky, an analyst at Compass Point Research & Trading. The industry is likely to continue fighting in the courts to clarify how some loans are treated after they are sold, he said.
"Our sense is this will be reversed in a broader, clearer case in the long term," Boltansky said in a telephone interview. "There can be cleaner cases for assessing these issues."
Explosive Growth
The court's decision also raises uncertainty as U.S. regulators consider new rules to address the explosive growth of an industry that is threatening to upend traditional lending models. The Securities and Exchange Commission, Office of the Comptroller of the Currency and the Consumer Financial Protection Bureau are among agencies studying the online lending industry, including around whether companies should retain a stake the loans they make.
The practical effects "are difficult to overstate," the debt collector, Encore Capital Group Inc.'s Midland unit, argued in the appeal.
The 2nd U.S. Circuit Court of Appeals in New York said borrowers in some circumstances can invoke their state's usury laws, as the interest-rate caps are known, even if the loan originates elsewhere.
The ruling gave new life to a lawsuit by Saliha Madden, a New York woman who says she shouldn't have to pay the 27 percent interest Midland says she owes on credit-card debt. New York caps rates at 25 percent.
Debt Collector
Midland argued that the U.S. National Bank Act blocked New York's usury law because the debt collector bought the lead plaintiff's loan from a Bank of America Corp. unit that is regulated under the federal law. The appeals court said the federal statute didn't apply because Midland isn't a national bank itself and wasn't acting on behalf of one.
Ahead of the ruling some marketplace lenders already have stopped lending at rates above state rate caps. In February, LendingClub said it was changing its relationship with its issuing bank. The issuing bank will maintain an economic interest in all loans after they are sold, the company said. Marketplace lenders, also known as peer-to-peer lenders, match up people seeking consumer or small-business loans with investors such as hedge funds.
Shares of LendingClub fell 7.8 percent to $4.33 at 11:42 a.m. in New York. The Standard & Poor's Financials Index declined about 2.6 percent, as the broader S&P fell 1.7 percent.
"While we are confident that the facts of the case do not directly apply to our business, we look forward to a decision by the lower courts which will reduce unnecessary uncertainty for investors on our platform," Richard Neiman, head of regulatory and government affairs at LendingClub said in a statement.
'Narrow Segment'
The lawyers pressing Madden's suit told the Supreme Court that critics of the ruling were exaggerating its significance. They called marketplace lending "a new and narrow segment of the lending industry that has nothing to do with this case."
"The decision below will not have a substantial impact on secondary markets going forward -- and certainly will not impede national banks' ability to issue credit," Midland argued.
President Barack Obama's administration took a middle position, urging the Supreme Court not to hear the Midland appeal even while saying the 2nd Circuit decision was wrong.
Almost a dozen business trade associations joined Midland in urging Supreme Court review. Five groups led by the Clearing House Association pointed to the longstanding "cardinal rule" that a legal loan doesn't become illegal because of a sale.
"The cardinal rule is critically important to the functioning of the multitrillion-dollar U.S. credit markets," the trade associations argued.
The case is Midland Funding v. Madden, 15-610.
Before it's here, it's on the Bloomberg Terminal.
LEARN MORE