Trump's Accidental Foreign Policy Tour Pauses for Brexit
British voters had stunned the world, yet Trump did not appear eager to seize a moment that he himself called "historic."
Minutes after British Prime Minister David Cameron delivered a resignation speech in front of 10 Downing Street, presumptive Republican nominee Donald Trump landed in his private helicopter on the front lawn of his Turnberry golf course in Scotland.
British voters had stunned the world by voting to exit the European Union, yet Trump did not appear eager to seize a moment that he himself called "historic" and "one of the big votes in the history of Europe."
Indeed, Trump's trip was purely dictated by the ground's re-opening, not the Brexit vote, campaign aides said.
The grand re-opening of the golf course went on as scheduled as financial markets rattled into a panicked state of uncertainty: there were two bagpipers; a ribbon cutting ceremony, even hotel employees wearing "Made Turnberry Great Again" hats.
After the opening ceremonies, Trump presided over a nearly 20-minute advertisement for his golf course, featuring remarks from one of the property's top executives and comments from each of his three eldest children: Don Jr., 38; Ivanka, 33; and Eric, 32.
Even American cable news networks, never ones to shy away from Trump coverage, cut away from the press conference once it became clear that a hefty portion would be spent on discussing the actual property itself.
"It'll be one of the best golf courses in the world," Trump predicted.
It was the ninth time he has campaigned at one of his properties, events which the campaign is required by law to pay for, prompting critics to suggest he's profiting off his own presidential run.
The event, of course, was weeks in the making, and is his first on foreign soil since he became the presumptive nominee. Yet there were no dignitaries. No photo-ops with foreign leaders. No one-on-one sit-downs with major international media figures.
"We were landing and we had just heard the results," Trump said, referring to the referendum.
It was foreign policy, Trump style, complete with a protestor who disrupted the opening of the event with red golf balls emblazoned with swastikas. "Get him out of here," Trump said, as security officials removed him.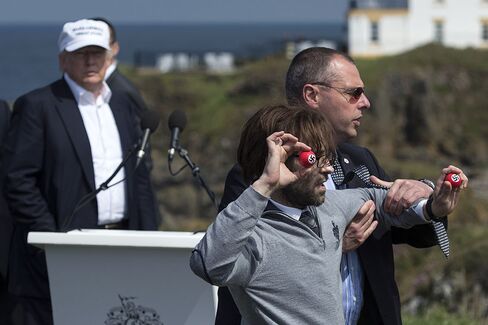 For Trump, it was par for the course. Speaking against a backdrop of calm seas and blazing sun, Trump compared the U.K.'s historic vote to quit the EU to his renegade presidential campaign.
"I really see a parallel between what is happening here and in the U.S." Trump said, wearing his signature white hat. "It will end up being a very good thing but it will take time.''
And yet there were continued signs of a maturing campaign. Trump's rapid-response team released a statement on the UK's decision so fast it beat both the White House's and his rival Hillary Clinton's. "I hope America is watching," Trump said in the statement.
Still, he maintained the appearance of speaking off the cuff. There were no teleprompters, and he bragged about barely consulting any foreign policy advisers.
"I've been in touch with them, but there's nothing to talk about," Trump said.
"They're advisers, they're like everybody else. You know, they probably know less. Every one of these advisers—somebody said, 'Gee you should use advisers that have been really hot for the last five years.' I said, 'Really? I think I want to use ones that haven't been involved. Take a look at what's happened in the world.'"
As for the resignation of Cameron, who had lambasted him publicly and refused to meet with him? Trump shrugged. "That's too bad," he said. "I think David Cameron is a good man. He was wrong on this."
For a moment, he appeared to forget where he was, calling the lighthouse looming behind him on a rocky cliff "a very important building in Florida, I mean Scotland'' before extolling the penthouse suites he'd created inside the tower.
Trump also compared running a golf course to running the country. "You'd be amazed at how similar it is,'' he said. Why? "It's a place that has to be fixed."
With kilted bagpipers standing behind him, Trump brushed off a question about whether he was at odds with the majority of Scots, who cast their votes to remain in the EU. Despite club members in the front row grumbling "No! No!," Trump refused to back Scottish First Minister Nicola Sturgeon, who had announced that another referendum on Scottish independence is "on the table" in the wake of Brexit.
"That's up to the people of Scotland,'' he said.
Trump had come under criticism for leaving the U.S. in the middle of his presidential campaign to promote his business interests, with a plane full of political reporters in tow.
As the pound plunged along with stock markets around the world, Trump predicted it'd be good for business.
"Look if the pound goes down, they're going to do more business,'' he said "When the pound goes down, more people are coming to Turnberry."
He reiterated his intention to put his businesses in a blind trust run by his family should he win in November, and said criticism that he'd be running his properties behind the scenes was unwarranted.
"I'll be making great deals with China,'' he said. "I wouldn't even be thinking about the business."
Before it's here, it's on the Bloomberg Terminal.
LEARN MORE