Post-Orlando Gun Measures Squeeze Vulnerable Senate Republicans
Ohio's Portman faces pressure to back compromise gun proposal

Gun curbs aimed at terrorists would need Republican backing
Ohio Senator Rob Portman is facing a tough choice in the wake of the Orlando massacre: Stick with the National Rifle Association, or sign on to a compromise gun-control bill the NRA hates.
Like several Senate Republicans in tight re-election contests, Portman is weighing the cost of backing a proposal from fellow Republican Susan Collins to bar anyone on the government's no-fly list from buying firearms.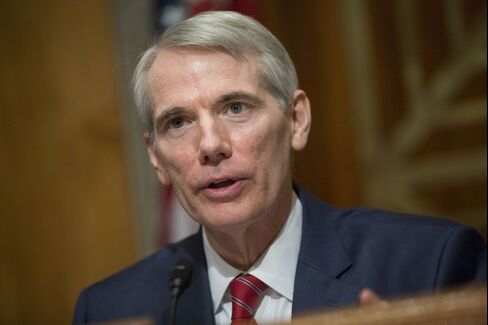 Whatever Portman and other vulnerable Senate Republicans decide on the Collins gun plan could determine their fates in the November election, with voters galvanized by the June 12 mass shooting that killed 49 people in an Orlando gay nightclub. The fallout may even factor into whether Republicans retain majority control of the Senate.
The issue is also roiling the House, where Republicans remained largely spectators as Democrats on Wednesday launched a lengthy, unprecedented sit-in on the floor of the chamber aimed at forcing votes on two gun-related measures.
Portman, one of his party's most endangered lawmakers this cycle, is mostly quiet on his views on the compromise bill.
"I need to look at it and see where she ends up," he told reporters Tuesday, referring to Collins.
Portman, the best-funded of this year's crop of endangered Republican incumbents, faces headwinds in what polls have shown is a tossup race in one of the nation's critical battlegrounds.
Last Chance


Keeping guns out of terrorists' hands is an issue that has overwhelming support among the public following the massacre in Orlando. Siding with the NRA against the Collins plan would risk ending what's likely to be the last chance for meaningful action by Congress this year on gun laws.
Portman, who at times has flirted with a White House bid, needs the NRA's reliable, motivated supporters to turn out for him in November. On Monday he voted with his party for Republican proposals backed by the NRA but against a Democratic plan to bar people on the terrorism watch list from getting a gun. Afterward, he put out a press release saying he voted to keep terrorists from getting guns without mentioning his "no" votes.
The Republican plan, defeated in a procedural vote, would have required the government to get a court order within three days to block a gun sale. The plan was intended to provide due-process protections for people who are legally entitled to buy a firearm. The Collins proposal would take the opposite approach, banning anyone on the "no-fly" list or another narrow list of possible terror suspects from buying guns, but giving people the right to appeal.
"I think the burden should be on the government," said Portman, who touts his "A" rating from the NRA on his campaign website.
House Sit-In
While the Orlando attack has revived efforts in Congress to advance gun restrictions, those proposals would need support from a significant number of Republicans to clear the 60-vote threshold in the Senate. So far, those measures have fallen short.
Democrats are determined to unseat Portman as part of their quest for the majority this fall. His Democratic challenger, former Ohio governor and congressman Ted Strickland, has been hammering him on the issue for days. The pair are currently tied at 42 percent each in the Senate race, according to the latest Quinnipiac University poll released Wednesday.
"I believe there can be no reasonable disagreement about commonsense gun safety measures like banning suspected terrorists from buying weapons, but Senator Portman disagrees -- and in the process Portman has shown once again how out of touch he has become with the people of Ohio," Strickland said in a statement after Monday's votes.
While the Orlando shootings will put pressure on Portman in the Senate race, Strickland also could be affected because of his past support from the NRA and opposition to gun restrictions, said John Green, a political science professor at the University of Akron.
A+ Rating
Strickland had an "A+" rating from the NRA when he ran for re-election as governor in 2010 and boasted about his opposition to the assault-weapon ban in 1994 when he was in Congress. He has said he changed his views after the 2012 shootings at the elementary school in Newtown, Connecticut.
Urban voters in Ohio tend to favor gun restrictions more than rural or suburban residents, and it's unclear what role gun control will play in the Senate race besides the economy, terrorism and other issues, Green said. It might depend on whether there are other mass shootings between now and the election, he said.
"What really matters is what about the people who don't feel strongly about the issue," Green said. "They're the ones that are much more likely to be swayed by events or by the campaigns themselves."
Portman may be vulnerable to be defined by Democrats because despite his long political career serving in Congress, the administration of President George W. Bush and in the Senate since 2011, he still isn't well known among Ohio voters.
The new Quinnipiac University poll showed that while only 25 percent of voters surveyed had an unfavorable opinion of Portman, 34 percent said they hadn't heard enough about him.
Republicans Breaking Ranks
Several of Portman's fellow vulnerable Republicans have already broken ranks on the issue.
Mark Kirk of Illinois was the first, voting in December to advance the amendment by Democratic Senator Dianne Feinstein of California to bar people on the terror watch list from buying a gun. Next was Senator Kelly Ayotte of New Hampshire, already under pressure in a tough race of her own after she voted to kill a bipartisan universal background check compromise in 2013. Ayotte voted with the Democrats on Monday to advance the latest version of the Feinstein amendment and helped co-author the Collins plan, calling the "no fly, no buy" bill a chance to get something enacted instead of playing politics.
The next to break was Pat Toomey of Pennsylvania, under fire from Democratic challenger Katie McGinty as an all talk, no-action pol after he voted the party line on Monday. Toomey, whose co-authoring of the failed universal background check amendment after Newtown is one of his major nods to bipartisanship, announced Tuesday afternoon he would back the Collins amendment. His own proposal, which would have required a court order putting people on the no-buy list, was widely panned by Democratic leaders last week and appeared to be going nowhere.
Ron Johnson of Wisconsin, who also faces a tough re-election race, said Wednesday he is still looking at the Collins proposal. He faces a similar dilemma to Portman, as both represent states won twice by Barack Obama and came to power in the 2010 Republican wave.
Marco Rubio of Florida will also come under intense pressure, particularly now that he has decided to run for re-election in the same state where the Orlando shooting occurred.
NRA Push
All of the Republicans rely on the support of NRA members for votes, and the NRA's preferred route is to boost gun rights, not add new restrictions on buying guns. The NRA Tuesday afternoon urged its followers to ask senators to instead back a proposal to allow anyone with a concealed carry permit in their state to use it in any state that hasn't banned concealed carry.
That, the NRA said, would allow people to protect themselves from terrorists.
"Since the Obama administration's failed foreign policy won't protect you from radical Islamic terrorists, it's critical we pass national concealed carry reciprocity so the law-abiding can protect themselves," the NRA told its supporters.
A Collins cosponsor, Senator Jeff Flake of Arizona, said the NRA's decision would probably affect some Republicans, but insisted, "they don't control the agenda here."
Collins was still revising her proposal to try to find more votes late Wednesday.
'Watershed Moment'
Democrats meanwhile, held out at least some hope for a breakthrough. Senate Democratic leader Harry Reid of Nevada, after earlier expressing some reservations about Collins' amendment, said in a statement Wednesday he would vote for it. "Even though it may be a small step forward, at least it is a step forward," he said.
Senator Chris Murphy of Connecticut, who held the Senate floor for nearly 15 hours last week to demand gun votes, called the Collins amendment "encouraging," though he told reporters he was still considering it.
"We are watching a watershed moment in this place where the NRA may no longer have veto power over gun policy," he said.
Senator Martin Heinrich of New Mexico, a Democratic cosponsor of the Collins amendment, in an interview before the NRA announced its opposition, predicted the NRA would lose credibility if they did so.
'Tough on Members'
The Democrat said every Republican faces a similar calculus. "Somebody like Kelly Ayotte, she's got a lot of NRA members in her state," he noted. "That's going to be tough on members," he acknowledged.
But, he said, the decisions shouldn't be about politics.
"It should be about saving lives," he said.
Michael Bloomberg, the founder and majority owner of Bloomberg LP, is an advocate of assault-weapon restrictions and serves on the advisory board of Everytown for Gun Safety, a gun-control group.
Before it's here, it's on the Bloomberg Terminal.
LEARN MORE