Gun-Curb Compromise Loses Steam in Senate Even With GOP Aid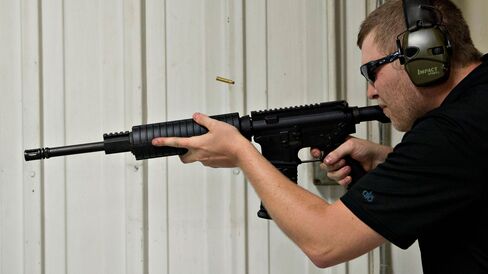 Republican leaders offered alternative that siphoned support

Votes put vulnerable Senate Republicans on record on guns
An effort to craft a new compromise aimed at blocking suspected terrorists from buying guns faltered Thursday after an initial test vote in the U.S. Senate Thursday showed the effort lacked enough support to ensure Senate passage.
The result left the chamber with no clear path forward on the emotionally charged issue on the same day that House Democrats wrapped up a 25-hour sit-in to demand gun-related votes.
Republican Senators Susan Collins of Maine and John Cornyn of Texas were unable to bridge the differences between his plan, backed by the National Rifle Association, and her bipartisan bill backed by a handful of Republicans and Democratic leaders, which the NRA had labeled unconstitutional.
A Collins amendment narrowly survived a test vote in the Senate, but fell well short of the 60 votes needed to advance it in the Senate, garnering only 52 votes in support. The Senate also voted to kill a Republican alternative, offered by Senator Ron Johnson of Wisconsin, who is facing a tough re-election.
'On the Cusp'
A disappointed Collins told reporters that the decision by Republican leaders to put up the Johnson amendment against hers made it harder for her to line up backers for her amendment.
"People who were on the cusp now have another place to go," Collins said before the vote. Eight Republicans joined Democrats in backing her proposal, and she said about 10 additional Republicans had been on the verge of backing her plan, enough to potentially get it to the 60-vote threshold. She also said the Democratic takeover of the House floor hurt because it made the issue partisan.
Still, she told reporters after the vote, "This is the first time in a very long time there has been a significant bipartisan vote on an issue that would limit access to guns for those who are on terrorist watch lists." She said she would continue to reach out to Republicans.
The hastily arranged votes Thursday had senators clutching paper copies of the Johnson and Collins amendments and grumbling that they were expected to vote with very little time to review the details.
An hour before the vote, senators facing tough re-election races, including Marco Rubio of Florida and Rob Portman of Ohio, told reporters they still hadn't decided how to vote. Portman and Rubio ended up voting to kill the Collins amendment.
Portman applauded Collins in a statement and said he was disappointed the votes were called Thursday instead of continuing negotiations.
"There is a consensus that we should stop suspected terrorists from buying guns, and a consensus that every American should receive due process if they are mistakenly placed on a government watch list," he said. "We should continue to work together to find common ground and reach an agreement on this issue."
Seven Republicans defied the NRA along with Collins by voting against killing her amendment: Lamar Alexander of Tennessee; Kelly Ayotte of New Hampshire; Dan Coats of Indiana; Jeff Flake of Arizona; Lindsey Graham of South Carolina; Mark Kirk of Illinois; and Pat Toomey of Pennsylvania.
Targeting Terror Suspects
On the floor, Collins argued passionately for her proposal, which would bar anyone on the "no-fly" list and another related terror suspect list from buying a weapon. It also would have notified the FBI when anyone on the terror watch list over the past five years tried to buy a weapon.
"If our proposal had been in effect, perhaps that massacre would have been prevented," Collins said.
Senate Minority Leader Harry Reid called for Majority Leader Mitch McConnell to set up a "real vote" on the Collins amendment.
Under the Collins amendment, any prospective buyer who is denied the ability to purchase a gun would be able to get a court decision within 14 days and the government would have the burden of proving to a court that the person should not have a gun.
Cornyn had pushed to require a court to issue an order within three days to block the sale and required probable cause that the person was a terrorist -- a standard critics said would be so high that the person could be arrested anyway.
Warrantless Surveillance
Cornyn, meanwhile, expressed a desire to pivot away from guns to things like an expansion of the FBI's warrantless surveillance powers.
"I think we need to be engaged in something more constructive that would have actually stopped shooters like the Orlando shooter," Cornyn told reporters.
A test vote on an amendment expanding those powers failed narrowly earlier this week, but could get reconsidered because several senators missed the vote.
Before it's here, it's on the Bloomberg Terminal.
LEARN MORE