Clinton Built General-Election War Chest During Primaries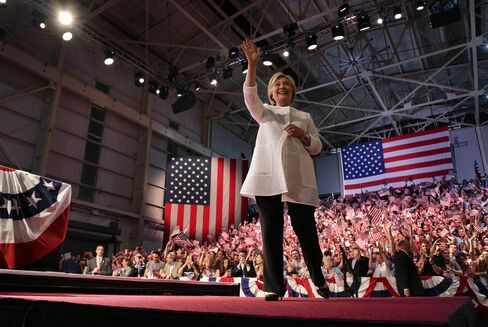 Created political organization that raised $232.1 million

Campaign had $42.6 million in the bank plus staff of 670
In the primary season, Hillary Clinton wasn't just racking up the delegates she needed to win her party's nomination. As new Federal Election Commission filings make clear, she was building a general-election war chest to take on presumptive Republican nominee Donald Trump.
Clinton's campaign raised a total of $232.1 million through the end of May, according to FEC records, spending $195.7 million of that in her battle with Vermont Senator Bernie Sanders. After refunds and rebates from vendors, that left her with $42.6 million in the bank.
But it also left her with something more valuable, a campaign organization with a team of more than 415 fund-raisers ready to raise money for the general election and a staff of 670 employees.
"Campaign 'hard' dollars are key for a presidential campaign because they can be used for the cheapest advertising rates, so over $42 million cash on hand is a strong number for Hillary," said Charles Spies, who ran Mitt Romney's super-political action committee in 2012, referring to donations in amounts of $2,700 or less. "Of more importance is the money that she and the DNC have already invested in political organization in target states."
Managing Budget
Through the end of May, her campaign spent $74.9 million on media, $51 million on salaries and consultants, and $11.3 million on direct marketing. It paid another $3.8 million renting office space across the country.
Clinton's challenge during part of her primary battle with Sanders "was that she might have had too much of an infrastructure and was burning through too much money," said David Schultz, a political science professor at Hamline University in St. Paul, Minnesota, who studies campaign organization.
Ultimately, though, her campaign managed its budget well, he said. "It's a strange way to say it, but she's running a profit," said Schultz.
Clinton's campaign has already announced a $23 million ad blitz in eight battleground states: Colorado, Florida, Iowa, Nevada, New Hampshire, North Carolina, Ohio and Virginia. Priorities USA Action, the main super-PAC supporting her, is spending another $22 million on ads attacking Trump.
Contact List
Her campaign has also spent $1 million developing a voter file and contact list, critical to get-out-the-vote efforts. That could be critical, given some of the voters she's targeting.
"The segments she's going after, the ones that Trump has probably alienated the most, Latinos and millennials, are not the most reliable voters," said Jason Cabel Roe, a California-based Republican strategist . They may pay attention and stay engaged, but they don't necessarily turn out on election day."
Clinton's campaign has a conventional structure, similar to the one that President Barack Obama used in his re-election bid in 2012. That effort also relied heavily on a big media footprint and in-house personnel. Through the 2102 primary season in which Obama was uncontested within his party, his campaign spent $176.6 million on advertising -- both positive spots touting his administration's accomplishments and negative ads attacking Romney -- and $44 million on payroll, its top two expenses.
Obama's campaign and Priorities USA then launched a post-primary, pre-convention battleground-state air war against Romney, hitting him hard when his campaign was low on cash.
Clinton's campaign, though, won't have one advantage enjoyed by Obama four years ago.
"Priorities and the Obama campaign objectively, empirically, did a much better job of introducing Mitt Romney to the American people than Mitt Romney did," said Ken Goldstein, a professor of politics at the University of San Francisco and an ad analyst for Bloomberg Politics. But noting that much of the public knew little about Romney's business background and character, he said, "That's not true of Donald Trump."
Trump's campaign has relied more on earned media than paid advertising, as well as on the candidate's ability to drive the news cycle.
Justin Barasky, communications director for Priorities USA, said Democrats are well aware of how Trump can change a news cycle just by using Twitter, or dominate airtime with his presence. "We learned in the primaries that Donald Trump isn't a conventional presidential candidate and we need to be ready to pivot quickly at times," he said.
Before it's here, it's on the Bloomberg Terminal.
LEARN MORE