Ryan Stands by Trump Despite Reservations, Citing Unity
Says he has responsibility as speaker to back party's nominee

If Trump gives conservatism bad name, Ryan plans to speak up
Paul Ryan said he has a responsibility as U.S. House speaker to back Donald Trump and prevent a Democratic win in November, while promising to challenge the presumptive Republican nominee if he doesn't abide by conservative principles.
"I have certain responsibilities, as not just Congressman Paul Ryan from the first district of Wisconsin, but as speaker of the House," Ryan said in an interview that aired Sunday on NBC's "Meet the Press."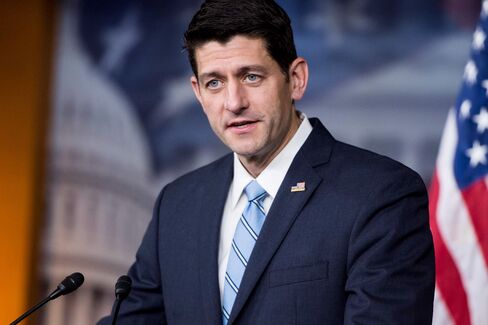 "Imagine the speaker of the House not supporting the duly elected nominee of our party, therefore creating a chasm in our party to split us in half," Ryan said.
Still, he acknowledged the Republican Party is divided and added, "I'm not going to tell somebody to go against their conscience."
Ryan said he would speak out against Trump if the real-estate developer puts a bad label on conservatism. "I'm going to speak out on it as I have, and I will continue to do, and I hope I don't have to keep doing," he said.
Ryan has backed Trump despite rebuking the candidate for questioning the impartiality of a federal judge of Mexican heritage. Ryan has also opposed Trump's plans to temporarily ban Muslims from entering the country and deport millions of undocumented immigrants. His main motivation, he said, is to prevent "another Democrat in the White House."
How the U.S. Elects Its Presidents
"I know Hillary Clinton won't agree with anything we want to do," Ryan said of the presumptive Democratic presidential nominee, adding that the former secretary of state would "put a bad judge on the Supreme Court."
Under Fire
Trump came under under fire last week after he accepted congratulations for "being right about Islamic terrorism" in the wake of the killing of 49 people a gay nightclub in Orlando, Florida, the deadliest mass shooting in modern U.S. history.
Democrat Clinton has opened a double-digit lead nationally over Trump, according to a Bloomberg Politics poll released last week. Clinton has the support of 49 percent of likely voters in November's election, compared with 37 percent for Trump, according to the survey. A RealClearPolitics average of recent surveys puts Clinton up by 6.8 points.
Separately, Ryan said lawmakers shouldn't "rush to judgment" with new restrictions on gun purchases after Orlando. Despite having been investigated by the FBI for terror ties, the Orlando gunman legally bought an AR-15-style semi-automatic rifle this month, days before the attack on the club.
"People have a constitutional right to bear arms," Ryan said. "People have a constitutional right to have semi-automatic rifles."
The Senate is setting up to vote on Monday on several gun-related amendments to a spending bill, the chamber's first response to the Orlando massacre. Ryan warned of acting "in the haste of the moment."
Before it's here, it's on the Bloomberg Terminal.
LEARN MORE