Obama Calls for Protection of National Parks, Envy of the World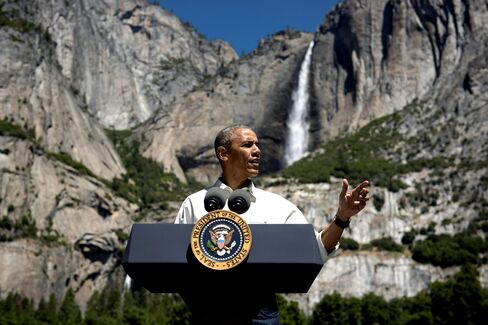 At Yosemite, president says parks investments pay dividends

Father's Day weekend visit to the jewel of Sierra Nevadas
President Barack Obama, standing before the backdrop of the iconic Yosemite Falls cascading from soaring mountains, extolled the virtues of the country's national parks on Saturday and urged Americans to cherish and protect the country's natural beauty.
"We have to have the foresight and the faith in the future to protect our parks and to protect our planet for the generations to come," Obama said at Yosemite National Park in California's Sierra Nevada mountains, where he is spending Father's Day weekend with his family. "Let's make that happen."
The president's visit to Yosemite, following a stop at Carlsbad Caverns National Park in New Mexico on Friday, comes as the National Park Service prepares to celebrate its 100-year anniversary in August. The service, which Obama called "the envy of the world," was established by President Woodrow Wilson in 1916 as an agency within the Department of the Interior.
For the centennial, "we're asking all Americans to find your park, so that everyone, including those from under-served communities, can experience these wonders," Obama said, noting that every dollar invested in the parks generates $10 for local economies.
Obama was celebrating one of the federal government's most popular programs -- the nation's park system had a record 307 million visitors in 2015. The president, first lady Michelle Obama and their teenage daughters, Sasha and Malia, got a glimpse of the parks' appeal as they toured an underground cave at Carlsbad and took a helicopter ride into Yosemite Valley on Friday.
At-Risk Wonders
Obama said many natural wonders are at risk from climate change, echoing warnings he made on a visit to Alaska in September. Rangers at Yosemite had relayed a list of impacts that a changing climate was already having, from drying meadows to disappearing habitats for the pika, a small, round mammal.
"Rising temperatures could mean no more glaciers in Glacier National Park. No more Joshua trees in Joshua Tree National Park," said Obama. "The idea that these places that sear themselves in your memory could be marred or lost to history should be taken seriously."
The more immediate challenge for the parks is a growing budget shortfall. There's a record $12 billion in deferred maintenance across the parks system, leaving leaky toilets, crumbling roads and unsafe bridges at various sites, Interior Secretary Sally Jewell told reporters on a June 16 conference call.
Corporate Funding
While Obama's last two budget requests included more money for the parks in anticipation of a surge of interest for the centennial celebration, Congress hasn't approved his request. As the maintenance backlog has grown -- up $440 million just last year -- the park service has sought alternative funding options, including corporate sponsorships.
Congressional funding for the parks service fell about 8 percent between 2005 and 2014, adjusted for inflation, according to a report released in December by the Government Accountability Office. Fees, donations and other funding sources increased 39 percent during the same period.
Some Republicans have criticized Obama for expanding the National Parks Service by designating new monuments and protected lands, even as existing facilities face budget challenges.
265 Million Acres
Obama has protected more than 265 million acres of federal lands and waters from development, more than any other president, according to the White House.
At a House Oversight Committee hearing on June 14, Representative Paul Gosar, Republican of Arizona, said the NPS had been "careless'' in managing its backlog and that the administration "continues to pile on more acres of land to the problem,'' Gosar said.
The Obamas spent part of Saturday morning meeting children at Yosemite and talking about the "Every Kid in a Park" initiative that aims to get all U.S. fourth graders and their families to a national park or historical site for free. Obama also spent time meeting vacationers, and plans a family hike later in the day.
In his remarks, the president recalled the wonder of his first visit to Wyoming's Yellowstone National Park as an 11-year-old who then lived in Hawaii:
"The first time I saw a moose in a lake. The first time we drove over a hill and suddenly there was a field full of deer. The first time I saw an bear and her cub. That changes you. You're not the same after that. And I want to make sure every kid feels like that."
Before it's here, it's on the Bloomberg Terminal.
LEARN MORE