Christie's Position Stage-Right to Trump Brings Harsh Spotlight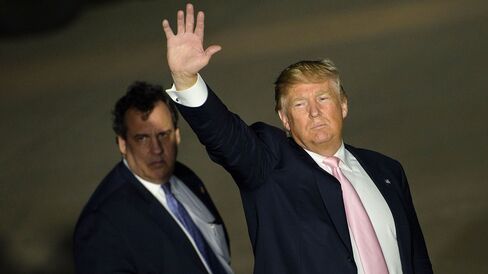 New Jersey governor on defensive over Trump's judge comments

His approval is at an all-time low after endorsing billionaire
Chris Christie's June 10 walk along a Jersey Shore boardwalk to kick off the tourism season didn't deviate much from his annual pilgrimages. Visit local businesses. Take selfies. Shake hands. Hold a baby or two.
But the woman who poked her head out of a shop in Asbury Park was new. So were the F-bombs she dropped. And so was the cause of her protest: Christie's decision to line up with Donald Trump, the presumptive Republican presidential nominee.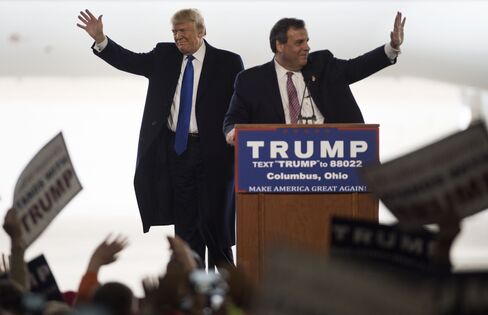 In the months since Christie endorsed Trump following his own failed campaign, the second-term governor hasn't had it easy. He's been heckled at home and on the trail, and been mocked on social media. He's lost favor with voters in his own party. He's been urged to resign by Democrats already eyeing his job. Even Christie, with 19 months left in office, has referred to his tenure in the past tense.
His approval, already at a record low after spending more than half of 2015 out of state, has slid even further since his surprise Trump endorsement in February. Still, Christie hasn't wavered. He holds frequent phone calls with Trump, who at 70 is 17 years his senior. He was one of the few who defended the bombastic billionaire's comments about a Mexican-American judge that have been derided as racist.
"Anyone who tries to defend Trump's comments is as disturbing as the comments themselves," said New Jersey Assemblyman Jack Ciattarelli, a Republican from Somerville.
In May, after Christie was named to lead the team planning Trump's transition to the White House, the governor said the role would allow him to shape the administration behind the scenes.
"He's one of Donald's most trusted and helpful advisers," said Bill Palatucci, a Christie ally.
Old Pals
He's been a shield as well. Christie stepped in when Trump provoked a massive backlash from Republicans after saying that a federal judge overseeing lawsuits against his defunct real-estate school is biased because of his Mexican heritage.
The governor dismissed the uproar as a "kerfuffle" and said voters care about bigger issues. Outside his Mendham polling place on June 7, the governor said it was an inopportune comment rather than one that revealed an inherent bias. He cited a 14-year friendship with Trump and said he's never known him to harbor racist thoughts.
"I am sure, if I sat back and thought about it, that there would be times that I would think that there were things that he said that he shouldn't have said," Christie told reporters. "That happens to anybody in politics that speaks their mind."
Christie, like Trump, prides himself on being a tough talker. He built a national image during his first term as a bipartisan leader capable of negotiating with Democrats, taking on unions, cutting pensions and benefits and blocking tax increases, a slashing and garrulous figure who could needle or bulldoze an opponent.
But Christie's day-to-day utility to Trump has become a matter of debate. On Monday, a New Yorker story referred to the governor as Trump's "manservant," and included an account of his picking up the candidate's McDonald's orders for him. Brian Murray, a spokesman for the governor, called the report "trash" and a "ridiculous, completely invented scenario."
In March, a picture of Christie and Trump leaving his plane made the rounds online after Trump didn't share his umbrella during a rainstorm. And during a news conference celebrating Trump's seven Super Tuesday primary victories, Christie appeared with a glazed, expressionless look on his face. The image later appeared on billboards calling on him to renounce Trump and his rhetoric.
In any event, Christie's support of Trump has proved useful. Trump appeared in May at a $200-per-person rally in New Jersey that helped Christie pay off debt from his aborted campaign.
Trenton Trouble
Many of Trump's proposals don't sit well in New Jersey, an ethnically diverse state where Democrats outnumber Republicans by more than 700,000 registered voters. Some of Trump's most controversial ideas include building a wall along the Mexican border and halting Muslim immigration, In a May 19 New Jersey poll by Quinnipiac University, presumptive Democratic nominee Hillary Clinton led Trump 45 percent to 38 percent.
As Christie has become ever-more-identified with Trump, his home-state sway has ebbed. A growing group of Republican lawmakers has stopped acting in lockstep with him. Just this week, the faction backed a gas-tax increase as part of a bipartisan roadwork-funding plan.
Ciattarelli, the assemblyman, says Christie should be advising Trump to tone it down.
"If Chris Christie has Donald Trump's ear, the best way to help him is by conveying the message that he needs to be more inclusive," said Ciattarelli, who's considering a 2017 run for governor. "Otherwise, November could be lost."
Assemblywoman Holly Shepisi, a Republican from Westwood, said Trump must be reined in.
"A lot of the Republicans I speak to want our upper leadership, if they are in any position of influence with our candidate, not to apologize, but maybe guide our candidate," she said.
Radio Refuge
Since endorsing Trump, Christie has limited his press conferences and hasn't returned to the town-hall meetings that helped him grab news coverage in his first term. He appeared twice this week on WFAN sports radio, a venue where he's usually safe from criticism about matters other than his love of the Dallas Cowboys and New York Mets.
But on June 9, Christie found himself in a lengthy debate with the hosts over his endorsement. Christie said he and Trump frequently criticize each other in private.
"He did this when I was governor," Christie said, referring to his tenure in the past tense. "He'd call and say when he didn't like something or didn't agree with something. He'd call and tell me, but would never go public."
In Asbury Park, Christie downplayed the two or three hecklers who upbraided him for his endorsement.
"If I don't get at least one colorful person yelling at me, I'd feel like they all must be tourists here," Christie said. "People can say whatever they want to me."
Christina White, the 43-year-old Bernie Sanders supporter who popped out of the shop, said she relished the opportunity to unleash a torrent of invective.
"Christie was deplorable prior to his endorsement of Trump," she said in an e-mail. "After that, well you and the rest of the boardwalk heard what I think."
Before it's here, it's on the Bloomberg Terminal.
LEARN MORE