Christie's Ex-Aides Face Trial After Losing Dismissal Bid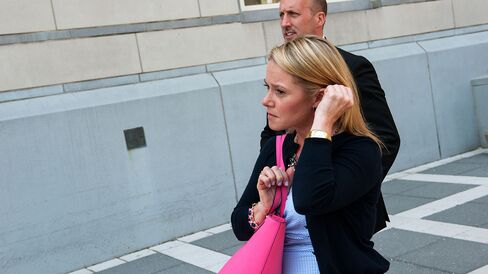 Baroni, Kelly claimed prosecutors twisted law to fit facts

Judge says political payback not a reason to stop traffic
Two former allies of New Jersey Governor Chris Christie must face a criminal trial after failing to persuade a judge to dismiss an indictment blaming them for creating traffic jams near the George Washington Bridge to punish a local mayor.
U.S. District Judge Susan Wigenton on Tuesday rejected requests by Bridget Anne Kelly and Bill Baroni to dismiss charges of misappropriating resources of the Port Authority of New York & New Jersey, which owns the bridge. They are also accused of defrauding the Port Authority of property rights and depriving people in Fort Lee, New Jersey, of civil rights to travel without unreasonable government restriction.
Kelly and Baroni had argued that U.S. Attorney Paul Fishman twisted the law too much to find a crime to match the unusual, four-day gridlock created in Fort Lee, after the mayor refused to back Christie's re-election in 2013. They claimed that motorists have no constitutional right to be free of inconvenience and traffic.
But the judge disagreed, saying a prior appellate decision forced her to rule that public officials may restrict to travel within a state only "for legitimate purposes." Instead, the gridlock known as Bridgegate was for an illegitimate political end, Wigenton ruled.
"Political payback is not a significant government interest," wrote Wigenton, who has set a trial for Sept. 12.
The judge also declined to dismiss fraud charges accusing Kelly and Baroni of conspiring with David Wildstein, a former Port Authority executive who pleaded guilty and is helping prosecutors. Kelly and Baroni argued they couldn't have defrauded the Port Authority because Baroni and Wildstein had "unfettered power and authority" to block traffic.
A jury, and not the judge, should answer the question of whether Baroni and Kelly "were acting within the bounds of the powers granted to them," Wigenton ruled.
Trump Transition
The scandal hurt Christie's image through his failed bid for the Republican nomination for the White House. He dropped out in February and backs Donald Trump, the presumptive Republican nominee. Trump said last month that if he wins, Christie will lead his post-election transition team.
The judge must resolve a rancorous dispute over whether Baroni and Kelly should have access to Christie's mobile phone. They seek the phones used by Christie and his former chief of staff, Regina Egea, to exchange texts during testimony to a state legislative committee on Dec. 9, 2013, about the gridlock.
Baroni and Kelly are seeking access through subpoenas to Gibson Dunn & Crutcher LLP, the law firm hired by the governor's office to investigate. Taxpayers paid more than $8 million to Gibson Dunn, which Wigenton criticized last year for using "opacity and gamesmanship" in generating a 360-page report that cleared the governor of wrongdoing.
Brazen Demands
On April 28, the firm filed court papers urging the judge to limit the subpoena. Gibson Dunn claimed Baroni and Kelly "brazenly" and "shamelessly" made demands beyond what the judge authorized, saying they were only entitled to the same documents that prosecutors received.
Gibson Dunn claimed Baroni and Kelly made demands "far beyond the scope" of what the government sought, including all phones, tablets and computers inspected by the law firm; all documents reviewed by the law firm; and all files relating to Kelly and her predecessor in the governor's office, Bill Stepien.
Kelly's attorney, Michael Critchley, said in a filing Tuesday that Gibson Dunn's "glaring failure" to produce "obviously relevant text messages" between Christie and Egea raises "serious questions" about the firm's production of documents.
Critchley also referred to a confidential list given by prosecutors to Kelly and Critchley of employees who "allegedly were aware of, and in some instances allegedly approved of, the criminal conspiracy." This group failed to follow the state's ethics code and report misconduct, the lawyer wrote.
Sensitive Information
"Given the highly sensitive nature of this information," Critchley wrote, he "would be happy" to give the list to the judge privately.
In a filing Monday, Baroni's attorney, Michael Baldassare, said Fishman's office secretly consulted with Gibson Dunn about Christie's phone. He posed a series of questions.
"Why doesn't the government want to see the governor's phone?," Baldassare wrote. "Why doesn't the government want Mr. Baroni to have access to it? Why is the government consulting in secret with the governor's lawyers regarding a subpoena for his phone?"
Fishman spokesman Matthew Reilly said in a statement: "The governor's telephone was never in the possession of federal authorities. As is typical in grand jury investigations, where an institution is represented by outside counsel, those lawyers review records, including those contained on mobile phones and computers, to identify and provide material that is responsive to subpoenas. That procedure was followed in this case."
The case is U.S. v. Baroni, 15-cr-00193, U.S. District Court, District of New Jersey (Newark).
Before it's here, it's on the Bloomberg Terminal.
LEARN MORE