Donald Trump Mocks Romney on 'Trickle-Down Racism' Comment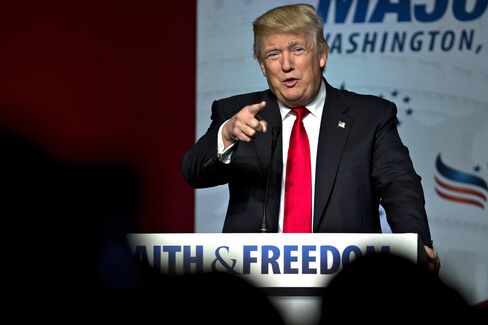 Republican says he's 'the least racist person' after criticism

Wants party to stick together, win with 'better ideas'
Donald Trump returned to the combative form that helped him win the U.S. Republican presidential nomination, slamming Democrats, calling for his party to unite behind him, and responding to Mitt Romney's suggestion that his election could lead to "trickle-down racism."
At a rally Saturday in Tampa, Florida, the presumptive Republican nominee termed himself "the least racist person that you have ever met" and knocked Romney, as he's done before, for losing to President Barack Obama as the Republican nominee in the 2012 election. Later, in Pittsburgh, he stirred the crowd by saying that Hillary Clinton, the presumptive Democratic nominee, plans to limit access to guns.
Romney said on CNN Friday that electing Trump could fundamentally change the nature of the U.S. "Trickle-down racism, trickle-down bigotry, trickle-down misogyny, all these things are extraordinarily dangerous to the heart and character of America," Romney said.
"Don't forget, this guy let us down. He choked and he let us down," Trump said in Tampa of Romney, the former Massachusetts governor and private equity firm executive.
'Ideas Are Better'
After enduring days of criticism from Republican congressional leaders including House Speaker Paul Ryan for his complaints that a U.S. judge of Mexican heritage was biased because of ethnicity, Trump said it was time for the party to get behind him.
"The Republicans have to stick together and they have to be smart," he said. "The Republicans have to be tough because we have the better ideas. And my ideas are better than any of them."
The weekend events -- including a rally Friday night in Richmond, Virginia, and a second event on Saturday at Pittsburgh International Airport -- were Trump's first since he spoke in more measured terms about his campaign platform on Thursday, using a teleprompter.
Gun Control
The billionaire political novice needed no prompting to deliver barbs at Clinton, whom he termed "very crooked" at the Tampa rally. In Pittsburgh he told supporters that Clinton wants to repeal the Second Amendment, the right to keep and bear arms.
"On that issue alone, I think we win the election. I really do," Trump said. Clinton supports gun-control measures, none involving the Second Amendment.
Trump also revisited his primary-season attack on Jeb Bush, noting that the former Florida governor had been an also-ran in the party's nominating contests. "I was at center stage at every debate," said Trump, while Bush was 'falling off the ends" of the stage.
"I don't think he's going to endorse me," Trump said in Tampa. "Who the hell cares?"
Tieless in a business suit, and having swapping his usual red "Make America Great Again" cap for a black version, Trump was feeling the heat at the campaign stop at Pittsburgh International Airport, where temperatures reached 88 Fahrenheit (31 degrees Celsius).
"It's 140 degrees up here. That's the end of this suit. It's soaking wet. Does anybody want my jacket?" The crowd cheered, and one fan yelled "Happy birthday, Mr. Trump," ahead of the New Yorker's 70th birthday celebration on Tuesday.
Before it's here, it's on the Bloomberg Terminal.
LEARN MORE