New Jersey's Suspension of Cost-of-Living Pension Boosts Is Upheld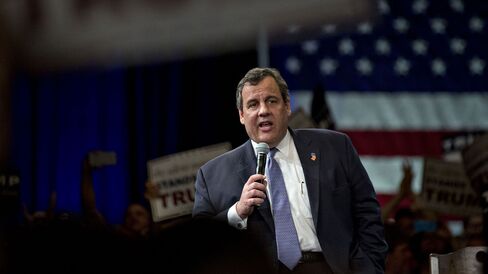 State Supreme Court rules Christie acted lawfully in 2011

Moody's estimated restoring COLAs might have cost $13 billion
Governor Chris Christie and the state Legislature acted legally in suspending cost-of-living adjustments on pensions for retired public workers, New Jersey's Supreme Court ruled, preventing a multibillion-dollar hit to a budget already facing a shortfall.
Christie and lawmakers halted the payments in 2011 as part of legislation that forced hundreds of thousands of employees to pay more into the underfunded system and raised their minimum retirement age. State workers sued, arguing that the adjustments had the same protections as the pensions. Moody's Investors Service said a ruling in favor of workers would have increased the unfunded pension liability by $13 billion.
"For the finances of the state, it's beneficial," said Dan Solender, who oversees $19 billion as head of municipals at Lord Abbett & Co. in Jersey City, New Jersey, including bonds from state issuers.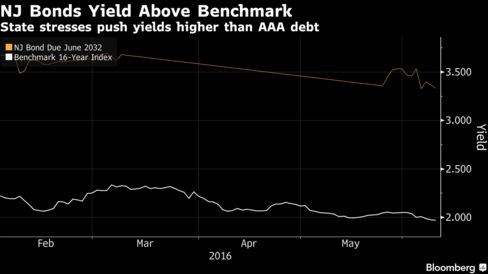 The 6-1 ruling on Thursday followed one last June by the state's highest court that Christie could skip a $1.6 billion payment for retired police officers, firefighters, teachers and office workers. New Jersey lawyers argued the state can't afford the full $2.25 billion due under the 2011 law to shore up pension systems.
"When we did it, we were very confident that it would withstand legal muster," said Senate President Steve Sweeney, a Democrat and sponsor of the pensions package.
New Jersey is one of many states grappling with underfunded pensions. At the end of 2015, state and local government retirement systems had $1.7 trillion less than they will eventually need, up from a $293 billion shortfall eight years earlier, according to Federal Reserve Board figures. New Jersey confronts an $83 billion pension liability that is growing.
Christie, a Republican who unsuccessfully ran for president this year, became a national figure in his party after his battles with unions. Democrats, who control the legislature, have refused to negotiate more benefit changes after he reneged on promised payments.
The state's credit rating has been downgraded a record nine times under Christie because of rising pension costs and missed revenue targets. His administration is laboring to close a budget hole that has been projected at $1.1 billion over the next two fiscal years.
Retired Lawyers
A group of 26 retired attorneys sued over the COLA suspension, arguing they had a contractual and constitutional right to pension payments and increases pegged to the Consumer Price Index. They cited a 1997 law that established "certain non-forfeitable" contractual rights to a "benefits program" that would not be reduced.
In 2014, a state appellate panel upheld the workers after a trial judge rejected them. The state and one of the retired lawyers, Charles Ouslander, appealed the case to the Supreme Court. In oral arguments on March 14, the justices sought to determine whether the Legislature intended in 1997 to create a contract relating to COLAs.
State lawyers said the benefits program didn't specifically cite COLA payments. Lawyers for workers said it also didn't explicitly protect base pension payments.
"The non-forfeitable right statute does not even mention COLAs, much less create an unequivocal contractual right to them," Assistant Attorney General Jean Reilly argued at a hearing in Trenton.
Retire Early
Justice Barry Albin asked what the state would say to "thousands of employees who say that they relied on this statute to retire early, believing that they would receive COLA benefits?"
Reilly replied, "there's no misrepresentation of material fact because there's no unequivocal promise here."
Ouslander argued that the justices must analyze the Legislature's intent in passing the bill. He also argued that it was "inherently unfair" to change the law "in the middle of the game" for workers.
"Someone who was a policeman for 30 years, who was promised a pension and a cost-of-living adjustment, and has been duly receiving them for many years, maybe a decade or more, is all of sudden being told, you're not entitled to it, we're going to take it away," he said. "It's manifestly unjust, it's fundamentally unfair. These people can't rerun the race. They can't go back and get these years of their lives back."
Patrick Colligan, president of the state Policemen's Benevolent Association, said retired officers "held up their end" on pension contributions.
"The burden caused by the state skipping pension payments should not fall on the backs of our retirees," Colligan said in an e-mailed statement. "We need a full-time governor moving forward to deal with the state's growing problem with regard to unfunded pension liabilities."
Christie said in an e-mailed statement that he's urging legislators to work with him on a solution.
"Our constitution and public pension system must work for all New Jerseyans, not just the special class of public union employees who represent just 8.9% of New Jersey's population," he said.
Before it's here, it's on the Bloomberg Terminal.
LEARN MORE