Puerto Rico Governor Candidate Favors Debt Talks to Court Fight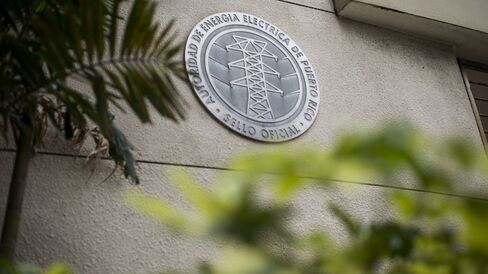 Opposition candidate Rossello seeks bondholder negotiations

'Puerto Rico doesn't win in a default,' he says in interview
Puerto Rico should avoid a potentially prolonged legal battle with bondholders by negotiating a reduction to its $70 billion debt, said New Progressive Party gubernatorial candidate Ricardo 'Ricky' Rossello, who criticized the current administration's push to use the courts if such talks fail.
In an interview in Manhattan, Rossello said the Puerto Rico Electric Power Authority's December deal with creditors -- under which bondholders consented to a 15 percent loss -- is a model for how the U.S. territory can reduce what it owes. Governor Alejandro Garcia Padilla, a member of the opposing political party, has advocated for such a voluntary reduction, though he has pushed for power to cut the debt in court to put pressure on creditors.
"Puerto Rico doesn't win in a default and creditors don't win in a default," Rossello, a political commentator, said after speaking at Tuesday's Debtwire conference. "There's space for renegotiation of the terms, but it should be a good-faith renegotiation of the terms."
The Caribbean island is advancing toward what may be its most consequential default yet as $2 billion of debt payments come due on July 1, including $805 million on general obligations, which its constitution states must be repaid before other bills. Garcia Padilla, who isn't running for re-election and will leave office in January, has said the island doesn't have the money to make that payment in full.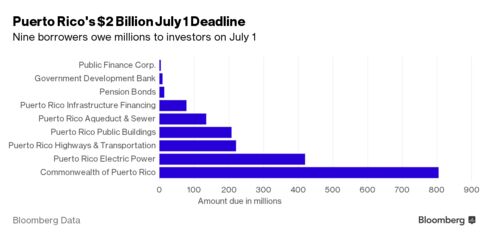 During a panel discussion at the conference, Rossello said the commonwealth's debt "can be paid." Afterward, he clarified to say the government should work on a "reasonable" payment plan once there's a clearer picture of its finances. Garcia Padilla's administration has yet to file audited statements for the fiscal year that ended June 30, 2014.
"On the basis of that reality, we can then push forward to see how we can do a reasonable payment schedule, potential haircuts and so forth," Rossello said.
The current administration has made little headway toward that goal over the past year, and the path to resolving the crisis may already be set by the time the next governor is sworn in. The U.S. House of Representatives may vote as soon as this week on a bill, called Promesa, to create a federal control board that would oversee the commonwealth's budgets and manage any debt restructurings.
Rossello, who will face David Bernier of the governor's Popular Democratic Party in November, has spoken out against the federal legislation because it doesn't provide a path to statehood and allows the control board to force a restructuring in court if needed. He's criticized the administration's attempts to work with creditors while lobbying for such power in Congress. Garcia Padilla also enacted a law that would extend bankruptcy-like protections to some commonwealth agencies, whose fate now rests with the U.S. Supreme Court.
"You can't sit down with creditors in the morning and say you want better terms and then take a flight to Washington in the afternoon and ask for instruments to not pay," Rossello said during Tuesday's panel discussion, which brought a loud applause from the nearly 150 conference participants.
Changing Perspectives
Garcia Padilla's view on repaying debt changed during his tenure. When he took office in January 2013, Garcia Padilla pledged full and timely repayment. After the commonwealth was shut out of the capital markets following years of economic contraction, Garcia Padilla in June 2015 said the commonwealth couldn't repay all it had borrowed to pay its bills.
Puerto Rico bond prices have since tumbled. General obligations with an 8 percent coupon and maturing 2035 changed hands Tuesday at an average price of 65.5 cents on the dollar, down from 93 cents when the bonds were first sold in 2014, data compiled by Bloomberg data show. The average yield Tuesday was 12.9 percent.
Rossello's party wants Puerto Rico to become a U.S. state while the PDP prefers to keep the island's current status. His opponent, Bernier, also opposes the Promesa bill because the control board would take powers away from the governor and the island's legislature.
Rossello proposes cutting spending by gradually reducing the number of island agencies to about 35 from 119. He doesn't support laying off public employees to reduce the commonwealth's payroll. Instead, workers in departments or agencies with too many employees would be moved to other government jobs, he said.
Before it's here, it's on the Bloomberg Terminal.
LEARN MORE