Puerto Rico Bill Set to Pass House, Needs Senate Approval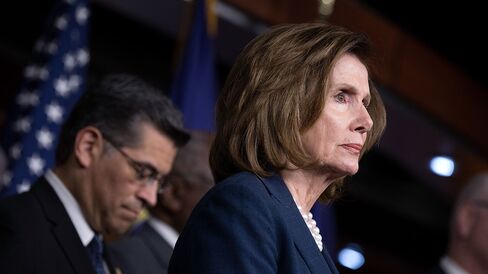 Obama, Ryan, Treasury secretary made the case for passage

Still unclear whether measure will reach Obama before July 1
The House is nearing bipartisan passage Thursday of a long-anticipated bill to address Puerto Rico's deepening debt crisis that has the backing of Republican and Democratic leaders who are expecting it to pass.
"It has overwhelming support" among rank-and-file Republicans, said Representative Raul Labrador of Idaho, co-founder of the conservative Freedom Caucus. He said he has no doubt the measure will pass in a vote scheduled to occur after 5 p.m. Washington time. House Democratic leader Nancy Pelosi told reporters, "I feel pretty good about its passage."
The legislation would create a seven-member financial control board to manage a restructuring of Puerto Rico's $70 billion debt and oversee the island's finances. The commonwealth and its agencies racked up the debt after years of borrowing to cover operating costs. The island faces a $2 billion principal and interest payment on July 1, including $805 million for general-obligation bonds, which Governor Alejandro Garcia Padilla has said it cannot pay.
Some Puerto Rico bonds gained in price Thursday on speculation that the House would pass the bill. Commonwealth general obligations with a 5.25 percent coupon and maturing in 2037 traded Thursday at an average of 62.1 cents on the dollar, the highest since Jan. 29, to yield 9.4 percent, data compiled by Bloomberg show.
President Barack Obama, Treasury Secretary Jacob J. Lew and House Speaker Paul Ryan, a Wisconsin Republican, lobbied lawmakers to support the measure. They sought to overcome opposition from some Republicans who call the plan a bailout although it includes no federal funds, and many Democrats who oppose the plan's lower minimum wage for younger workers in Puerto Rico and limits on overtime pay.
The most persuasive closing argument for many lawmakers may be one articulated by, among others, Alabama Republican Bradley Byrne: "What really worries me is that if Congress doesn't act on this legislation, then we will at some point find ourselves facing serious pressure to vote on a true, actual bailout of Puerto Rico. That would be a grave mistake."
For a Q&A on why Puerto Rico's debt became a national issue, click here.
The measure still needs to go to the Senate, where many members appear resigned to going along with the House bill after months of wrangling over how to help the territory's agencies, which can't file for bankruptcy as state and local governments can. The economically stressed island also is coping with the Zika virus and numerous residents moving to the U.S.
"This is the only alternative I know of," second-ranking Senate Republican John Cornyn of Texas said earlier this week.
The financial control board could ask a judge to order a forced restructuring if the island's government can't reach a deal with bondholders, and it could enforce balanced budgets for Puerto Rico's government and recommend sales of assets.
The bill may need to be carried by Democratic votes, because a number of Republicans oppose it. A failure to pass the bill would leave Puerto Rico and its bondholders in limbo with no clear road ahead on how to keep the island's government functioning ahead of a likely July 1 default on a $2 billion debt payment.
'It Is Reality'
"It is regrettable that we have reached this point, but it is reality," Puerto Rico's non-voting delegate, Pedro Pierluisi, said during debate on the House floor. "Absent this bill, almost nobody wins and nearly everybody loses."
Bill opponent Luis Gutierrez called it "outrageously undemocratic" and told fellow lawmakers, "you are imposing a junta" on the island's residents.
A group of unions led by the AFL-CIO urged House Democrats to vote against the bill because of the minimum-wage and overtime pay provisions. The conservative group Heritage Action for America opposes the measure because it allows debt restructuring and temporarily shields Puerto Rico's government from lawsuits filed by creditors.
The commonwealth's fiscal crisis has been escalating since last June, when Garcia Padilla said the administration couldn't afford to repay $70 billion of debt left by years of borrowing to cover budget shortfalls as the economy contracted and residents left at record pace for the U.S. mainland. It has since failed to cover $370 million due on bonds sold by the Government Development Bank and $150 million for two other agencies as it conserved cash.
Negotiating With Bondholders
While awaiting action by Congress, Puerto Rico has been negotiating with bondholders and insurance companies to escape from some of its debt. Garcia Padilla has said he will choose to keep essential government services in place over covering debt bills.
The federal oversight board would be virtually impossible to set up before the July 1 deadline, and Puerto Rico bonds are already trading with the expectation that they won't be repaid on time and in full. General obligations maturing in 2035, one of the most frequently traded securities, changed hands Thursday at an average 65.8 cents on the dollar to yield 12.8 percent, data compiled by Bloomberg show. That price has tumbled from 93 cents in March 2014, when they were first sold to investors.
Representative Rob Bishop, the chairman of the Natural Resources Committee that has been overseeing the Puerto Rico legislation, has said he doesn't view July 1 as a crucial time limit to pass it as long as Congress acts soon after then.
Separately, the U.S. Supreme Court is due to rule by the end of June on the fate of a local law that would let the island's public utilities restructure more than $20 billion in debt. A decision backing the law could give new leverage to Puerto Rico's advocates in Congress.
Eight Amendments
Before final passage Thursday, House members plan to vote on eight amendments, including a Democratic proposal to strip out a provision to lower the minimum wage on the island. Others would give priority to protecting federal taxpayer assets in Puerto Rico, such as "transportation assets," and move up the date by which the president needs to make appointments to a new federal control board for the island.
The bill is H.R. 5278. To expedite action in the Senate by cutting out a procedural hurdle, the measure would be sent to that chamber as an amendment to a separate measure, S. 2328.
Before it's here, it's on the Bloomberg Terminal.
LEARN MORE