French Says Trump's Racial Divisiveness Ups Need for Third-Party Candidate
After opting to forego his own presidential bid, he says there is still hope for another candidate.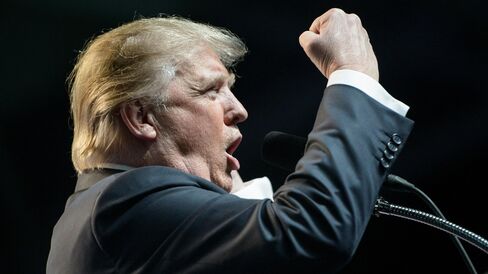 Donald Trump's racial divisiveness is amplifying the need for a third-party candidate to take on the presumptive Republican presidential nominee and the Democrat opposing him, according to a conservative lawyer who nearly launched such a bid himself.
"To this day, I am convinced a large number of high-quality GOP politicians literally do not know how possible it is to run a credible and potentially winning third-party campaign," said David French, a military veteran and a staff writer at the National Review who had been courted by Weekly Standard editor Bill Kristol to mount a challenge in the general election.
French on Sunday revealed he had opted against running, saying it would be better for someone with transformational political talent and either independent wealth or immediate access to a substantial fundraising network to accept the call.
In an interview on Monday, he declined to identify names of those being recruited in his stead, saying he'd like any potential contenders to have time to privately mull it over. But the campaign framework that the third-party movement spent "an enormous amount of time" building—with a ballot access plan, a fundraising plan, polling research commissioned by the third-party effort, and a team of top-notch operatives—is ready to go, he said.
People he met with prior to his announcement, according to National Review, included former Jeb Bush aide John Noonan, former Carly Fiorina aide Sarah Isgur Flores, and former Mitt Romney aide Stuart Stevens.
"The barrier for entry is far lower than people think," said French, who joked that he just underwent a seven-day post-graduate course in independent candidacy. (A Libertarian ticket is already in place: The party nominated two former Republican governors, Gary Johnson of New Mexico and Bill Weld of Massachusetts, last month.)
There are multiple scenarios for a path to victory for an independent candidate, but all depend on the candidate earning a spot on the debate stage and turning the race into a true three-way contest, French said. A deep dive into polling shows that a generic third-party candidate comes in well above the 15 percent or so needed to qualify for debates, he said.
Another promising fact: Almost 90 percent of millennials are open to such a candidate, he said.
The polling shows interest starts to drop once the word "senator" or "representative" precedes a name, but governors seem to be an option for those with an appetite for an outsider candidate, French said. The best candidate might be a well-regarded governor with a good fundraising network from a classic swing state, he said.
And there's still a path, even after House Speaker Paul Ryan made "a grievous mistake" by saying last week that he will support Trump, French said. "My first thought was: Will the last one out of the party of Lincoln turn out the lights? Because that's not the party of Lincoln anymore," he said.
French said Trump changed the calculus for Republicans when he asserted that Judge Gonzalo Curiel, a man who spent time hiding from a drug cartel when he was a prosecutor, is incapable of giving Trump a fair hearing because his parents were born in Mexico.
"How do you give him the benefit of the doubt now, when he's had every opportunity to say, 'I'm sorry, that didn't come out correctly'? This strikes me as blatantly racist and I've not heard a convincing argument otherwise," said French, a recipient of the Bronze Star and an author of several books who lives in Tennessee with his multi-racial family. "The wall wouldn't have kept that judge out because the judge was born in Indiana. I mean, it's absurd. This starts to not look like his typical confusion on any given matter; it starts to look like malice."
French said it's clear that not all Trump supporters are racist, but the candidate has attracted the online following of some of the most vicious racists he has seen in the Internet era.
"There are decent and good people who are under incredible pressure to endorse him, but they will regret it the rest of their lives, well after their political careers have ended, if they use one ounce of their God-given abilities to rationalize or justify that man," he said.
On Tuesday, Kristol tweeted without elaborating: "Now it's up to" Romney, Fiorina, Lindsey Graham "et al."
Before it's here, it's on the Bloomberg Terminal.
LEARN MORE