Clinton Clinches Democratic Presidential Nomination, AP Says
She makes history as the first woman to become the presumptive nominee of a major U.S. political party.
Hillary Clinton secured the delegates required to claim the Democratic presidential nomination Monday, according to the Associated Press, putting further pressure on Bernie Sanders to exit the race.
The milestone came one day after President Barack Obama spoke to Sanders in a bid to unify the party ahead of the general election against Republican Donald Trump. Sanders has vowed to stay in the race and force a contested convention, and remained defiant after the news was reported Monday.
"Secretary Clinton does not have and will not have the requisite number of pledged delegates to secure the nomination," Sanders said in a statement. "She will be dependent on superdelegates who do not vote until July 25 and who can change their minds between now and then."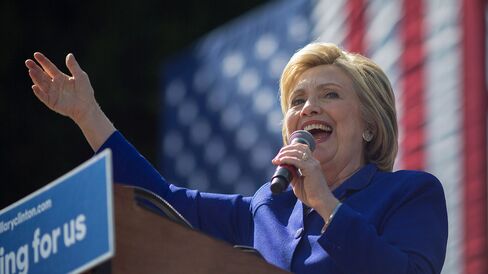 With wins over the weekend in the Virgin Islands and Puerto Rico, Clinton had continued to inch toward her ultimate goal, and when all the votes were tallied and superdelegate commitments were factored in, she crossed the final threshold, making her the first woman in U.S. history to secure the nomination of a major political party. She's poised to take on Trump, the presumptive Republican nominee, in November.
"It's been an incredible journey," the former secretary of state, senator, and first lady told reporters earlier in the day in Compton, California. "Having a woman president will make a great statement, historic statement about what kind of country we are and what we stand for. It's really emotional."
Her supporters have been ready for the historic moment.
"It's just time for a woman president. Frankly, it's past time. I have nieces. I have a mother. I want to see this happen now," said John Smart, 53, a Los Angeles resident who works in the film business, last month. Clinton is "absolutely the most experienced and qualified candidate we have, possibly by far in the last 50 years," he said.
Party Unity
For the Clinton campaign, while attaining the delegates required to secure the nomination was a cause for celebration, the timing of the announcement on the eve of the California primary caused some concern that her supporters might skip Tuesday's primary.
"According to the news we are on the brink of an historic, historic, unprecedented moment. But we still have work to do, don't we?" Clinton said in Long Beach on Monday evening. Her campaign manager, Robby Mook, called it "an important milestone," but added that "there are six states that are voting Tuesday, with millions of people heading to the polls, and Hillary Clinton is working to earn every vote."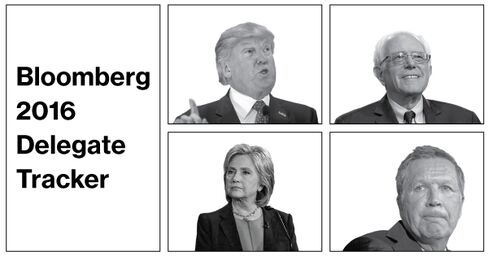 Both candidates campaigned in California on Monday, the largest delegate prize in the nation, where polls show a tight race.
Obama spoke by phone with Sanders on Sunday as Obama prepares to endorse Clinton, according to a person familiar with the matter. They talked for about 30 minutes about the state of the race, the campaign's tone and the path forward, the person said.
Obama could endorse Clinton as early as this week, though the timing hasn't been set, according to another person, who asked for anonymity to discuss deliberations. The endorsement would come sometime after Clinton obtained enough delegates to win the nomination, the person said. Obama and Clinton aren't scheduled to appear together this week. The president is speaking at a Democratic fundraiser Wednesday in New York, a day after the last six states hold nominating contests.
Obama's plans suggest he, as the putative head of the party, is eager to ratify the choice of Clinton as nominee and head off any attempt by Sanders to drag the fight all the way to the Democratic nominating convention in July, as Sanders has threatened to do.
Obama has so far remained on the sidelines of the race to replace him, prompted by what aides describe as a desire not to meddle in the Democratic nominating contests and a respect for the unexpected success of Sanders. The president's aides have previously said he planned to campaign vigorously for the Democratic nominee, who will face an unconventional opponent in Trump.
Making History
Eight years after Clinton boasted she put 18 million cracks in the toughest glass ceiling of all for women, she finally broke it.
Clinton's hard-fought victory comes eight years after she dropped out of the 2008 primary to endorse Obama, touting the "18 million cracks"—one for every voter—she put in the "highest, hardest glass ceiling." It comes a day before the delegate-rich primary in California, the biggest prize on the calendar, and five other states Tuesday.
QuickTake How the U.S. Elects Its Presidents
Clinton has crisscrossed the country campaigning on a center-left platform seeking to marry progressive ideals with political pragmatism, emphasizing kitchen-table issues like raising the minimum wage, tackling pay inequity for women, lowering health-care and child-care costs, reducing student debt, mitigating gun violence, and giving undocumented immigrants a chance to get right with the law.
"The economy does better when we have a Democrat in the White House. I know that gets my Republican friends a little agitated. But the truth is the truth," Clinton said at a recent stop near Los Angeles, praising the jobs created under her husband, former President Bill Clinton, and under Obama. Last week, she stepped up her attacks on Trump, portraying him in a nationally televised speech as dangerously unfit to be commander-in-chief.
The remaining primaries won't change the outcome of the race, but will determine how much leverage Sanders has to influence the Democratic Party's agenda at the convention in Philadelphia. The pledged delegates and superdelegates that put Clinton over the 2,383 marker will formally cast their votes in July.
Long Race
Clinton towered over the field last summer, leading her rivals by as many as 60 points in one major national survey. Sanders—who until last summer was a little-known democratic socialist from Vermont and self-identified independent in the U.S. Senate—gradually closed the gap and gave Clinton an unexpectedly strong challenge by inspiring millions of progressives and young voters with his campaign against income inequality, Wall Street malfeasance, rising college costs, and money's corrosion of the democratic process.
Three other candidates never got off the ground. Former Rhode Island Governor Lincoln Chafee and ex-Virginia Senator Jim Webb ended their quixotic bids in October. Former Maryland Governor Martin O'Malley dropped out after failing to reach 1 percent in Iowa.
After barely eking out a win in Iowa, Clinton was crushed in New Hampshire and won narrowly in Nevada. Then things began to look up. She built up a large delegate lead on March 1 by walloping Sanders in South Carolina the Southern states on Super Tuesday, thanks to overwhelming support from black Democrats. Her ability to win as many as four in five of those voters—who made up one-fifth of the Democratic electorate in 2012—proved to be her secret weapon after she narrowly lost the 2008 race to Obama.
Sanders often won young voters by similarly large margins and outshone Clinton in many states among whites and men. While he continued to win contests, doing particularly well at low-turnout caucuses in heavily white states, he was never able to challenge her lead in pledged delegates, which are awarded proportionally.
Even as his prospects of victory vanished with a ravaging defeat on April 19 in New York, where Sanders grew up and campaigned his heart out, he remained defiant, refusing to drop out and vowing to fight until the convention. But with victory out of reach, his aim now is to negotiate the terms of his surrender. He has made clear he wants to prevent Clinton from moving to the center in the general election, and to influence the Democratic Party platform and rules for future nominating contests, setting up a showdown in Philadelphia.
Sanders' posturing poses a challenge for Clinton to unify the party.
He has fed a perception among his supporters—many are young and self-identified independents who aren't reliable Democratic voters—that the system was rigged against him by railing against superdelegates and so-called closed primaries (in which registered independents cannot vote). But Sanders' case for the nomination was revealed as weak when his campaign resorted to arguing that superdelegates—elected officials and party leaders who are free to support whichever candidate they want—ought to support him even if he loses the popular vote.
"Pledged delegates are pledged to the candidates, superdelegates may change their mind," Sanders said Sunday on CNN's State of the Union, staying open to the idea of taking his fight to the convention.
On the same program, Clinton make a plea to Sanders supporters.
"I am much closer in the goals that I think we should be pursuing with Barack Obama than I am with the Republicans. The same is true with Senator Sanders and myself," Clinton said Sunday on the same program. "We both want to raise the minimum wage. We both want to get to universal health care coverage. We both want to make sure Wall Street never wrecks Main Street again. We share so many of the same goals."
—With assistance from Jennifer Epstein, Margaret Talev, and Justin Sink.

Before it's here, it's on the Bloomberg Terminal.
LEARN MORE