Campaign Wrap: New Jersey Results Could Clinch Clinton Nomination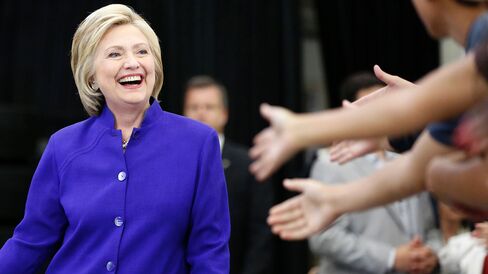 Hillary Clinton stands just 23 delegates shy of clinching the Democratic presidential nomination, according to the Associated Press, which means the wire service and TV networks could declare her the presumptive Democratic nominee just as polls close in N.J. at 8 p.m. Tuesday.
Latest poll in New Jersey, from CBS News/YouGov, gives Clinton a 27-point lead over Bernie Sanders in battle for the 126 Democratic convention delegates up for grabs in the state's primary

The N.J. results likely will put her over the top and render as largely symbolic the tight primary race in California, one of five other states with Democratic presidential contests tomorrow

The CBS News/YouGov California poll showed Clinton with 49%, Sanders 47%
Worth watching is whether Clinton speaks to supporters after N.J. polls close but before California result is known

Sanders is urging media outlets to resist anointing Clinton the presumptive nominee unless and until she passes the threshold with pledged delegates, rather than including the Democratic superdelegates who aren't bound by primary results
He insists she is unlikely hit that mark tomorrow, and he's has been pulling out all the stops to win California, which would fuel his promise to keep on keeping on

Democratic leaders, though, are signaling they're ready to be done

President Obama is ready to endorse Clinton as early as this week, the New York Times reports
The White House is "in active conversations" with Clinton campaign on how to use Obama in the race against Donald Trump, the New York Times says, citing senior aides to the president
White House spokesman Josh Earnest, asked at daily press briefing about the prospect of Obama making an endorsement on Wednesday, responds: "I don't know, maybe he will"

Clinton hinted today she will reach out to Sanders to end his campaign after tomorrow's results

Focusing on the need for party unity, she tells reporters while campaigning in California that "I certainly am going to be reaching out to Sen. Sanders and hope he will join me in that because we've got to be unified going into the convention and going out of the campaign to repudiate" Trump

Other states to vote tomorrow: Montana, New Mexico, North Dakota, South Dakota
AP delegate count, which includes commitments made by superdelegates, gives Clinton 2,360 and Sanders, 1,567, with 2,383 needed for the nomination

ON THE TRAIL
Headline of NBC report, driving the day: "Donald Trump does not have a campaign"

Report: "Republicans working to elect Trump describe a bare-bones effort debilitated by infighting, a lack of staff to carry out basic functions, minimal coordination with allies and a message that's prisoner to Trump's momentary whims"

Trump responds in posts on Twitter by taking a shot at reporter Katy Tur, whom he says has "zero access"

Another post: "I am getting bad marks from certain pundits because I have a small campaign staff. But small is good, flexible, save money"

On a conference call with surrogates, Trump encouraged supporters to step up attacks on U.S. District Judge Gonzalo Curiel and on members of the media covering his campaign, Bloomberg reports. "The people asking the questions—those are the racists," Trump said. "I would go at 'em."
Bernie Sanders to hold concert rally in San Francisco tonight featuring Dave Matthews, Fantastic Negrito, Fishbone
Democratic primary and caucus results over the weekend:

Hillary Clinton wins Puerto Rico; U.S. Virgin Islands

TRUMP U. FLAP
Sen. Susan Collins of Maine joined chorus of GOP officeholders blasting Trump for questioning whether a judge of Mexican heritage and those who are Muslims could rule fairly in cases involving him

Collins says Trump's statement that Judge Gonzalo Curiel, overseeing cases against Trump University, "could not rule fairly because of his Mexican heritage does not represent our American values"

Ohio Gov. John Kasich said Trump should apologize for his remarks

POLLS
CA: Sanders, Clinton both lead Trump by double digits in hypothetical head-to-heads in Nov.: CBS News/YouGov

Sanders runs ahead of Trump by 23 points, 55%-32%; Clinton leads him by 15 points, 48%-33%

NJ: Same poll shows Sanders, Clinton with wide leads over Trump in Garden State

Sanders leads Trump, 52%-34%; Clinton ahead, 49%-34%

STAFF SALARIES
Men on Trump's campaign staff make about 35% more in salary than women, according to Boston Globe analysis

Women comprise 28% of Trump's total staff
Women make up 53% of Clinton's total staff; make about 1.3% less than men
Trump campaign staff salaries, for both men and women, are higher than Clinton's

ETC.
BuzzFeed cancels RNC ad deal and says it won't accept Trump campaign ads

Founder and CEO Jonah Peretti in staff memo: "We don't run cigarette ads because they are hazardous to our health, and we won't accept Trump ads for the exact same reason"
RNC spokesman Sean Spicer says ad space "was reserved on many platforms," but party "never intended to use BuzzFeed"

Roger Clinton, Bill Clinton's half-brother, arrested on suspicion of drunken driving in Redondo Beach, Calif., last night, AP reports

59-year-old Clinton released from jail this morning after posting $15,000 bail

CONGRESSIONAL RACES
AZ-SEN: Republican Sen. John McCain "finds himself on treacherous terrain" as he seeks 6th term at age 79, Associated Press reported

"There's a degree of political turmoil that we have not seen before," said McCain, who faces Aug. 30 primary challenge from ex-state Sen. Kelli Ward; Rep. Ann Kirkpatrick is Democratic nominee
Arizona is more than 30% Hispanic, 4th-highest among the 50 states

CO-SEN: Senate Conservatives Action aired TV ad promoting Republican Darryl Glenn, retired Air Force officer "running to take back Washington from the insiders and career politicians"

Glenn among those seeking nomination in June 28 primary to oppose Democratic Sen. Michael Bennet

FL-SEN: 77% of state's GOP voters want Marco Rubio to un-retire and run to keep his Senate seat, according to Mason-Dixon poll: Washington Post

Of Republicans currently running in Aug. 30 primary, no candidate tops 20% support; Carlos Beruff at 17%, Rep. David Jolly at 13%, Rep. Ron DeSantis at 10%, Lt. Gov. Carlos Lopez Cantera at 9%, Tod Wilcox at 2%
49% undecided
Candidate filing deadline June 24

IA-SEN: Republican Sen. Chuck Grassley's campaign in TV ad issued "report card" giving him "A+" grades for his Senate attendance, visiting all of Iowa's 99 counties each year, promoting bipartisanship, staying physically fit running 3 miles four days a week

Grassley, seeking seventh term, will face winner of four-candidate Democratic primary tomorrow
Ex-Lt. Gov. Patty Judge had 17-point lead over state Sen. Rob Hogg in Selzer & Co. survey conducted May 30-June 2 of 542 likely Democratic primary voters

OH-SEN: Super-PAC aiding GOP Sen. Rob Portman spent $100k on digital ads opposing Democratic ex-Gov. Ted Strickland, according to FEC filing

Super-PAC Fighting for Ohio Fund has spent more than $2.5m

IA-04: Sioux City Journal editorial page endorsed state Sen. Rick Bertrand over Rep. Steve King
NV-03: Main Street Advocacy, a 501c4 group, spent $250k to aid GOP state Sen. Michael Roberson in June 14 primary, according to FEC filing

Main Street Advocacy is operated by Republican Main Street Partnership, which says it believes in "governing in a thoughtful and pragmatic manner"
Roberson's six primary opponents include Danny Tarkanian; Roberson released TV ad attacking Tarkanian as perennial candidate linked to "corruption" and "fraud"

WI-08: Republican Mike Gallagher's campaign aired TV ad in Green Bay area calling attention to his seven years of service in Marine Corps, including two tours in Iraq

Gallagher seeking nomination for seat of retiring GOP Rep. Reid Ribble
Before it's here, it's on the Bloomberg Terminal.
LEARN MORE