Clinton Urges Unity After Voting on Tuesday That May Be Decisive
The Democratic presidential front-runner, likely to clinch the nomination within days, also weighed in on gun control.
Hillary Clinton, who's almost sure to gather enough delegates on Tuesday to become the presumptive Democratic presidential nominee, said Bernie Sanders must help her unify the party when the dust settles after their extended battle.
"After Tuesday, I'm going to do everything I can to reach out, to try to unify the Democratic Party," Clinton said Sunday on CNN's State of the Union. "I expect Senator Sanders to do the same and we will come together and be prepared to go to the convention in a unified way, to make our case to leave the convention and go into the general election to defeat Donald Trump."
Clinton stopped short of saying that the Vermont senator, who has suggested he could take his fight to the convention and try to sway superdelegates who now support Clinton, should withdraw after Tuesday. She said, however, that the pair have more in common than either has with Republicans.
Sanders said on the same program that he would work to defeat presumptive Republican nominee Trump no matter who the Democratic nominee was. He said his campaign could win significant victories Tuesday, when New Jersey, Montana, New Mexico, North Dakota, and South Dakota vote as well as California.
QuickTake How the U.S. Elects Its Presidents
Surveys show California is a toss-up between Clinton and Sanders. A CBS News poll released Sunday showed Clinton leading with support from 49 percent of likely Democratic primary voters to Sanders' 47 percent, well within the margin of error of 5 percentage points. That echoes at least at least two others in recent days, according to an average compiled by RealClearPolitics.
In two interviews on Sunday, Clinton focused her attention on Trump, blaming his heated rhetoric for recent violence by anti-Trump protesters in California.
"He created an environment in which it seemed to be acceptable for someone running for president to be inciting violence," she said on CNN. "Trump has lowered the bar. And now is it a surprise that people who don't like him are stepping over that low bar? I don't think it is."
Clinton also rejected an accusation by Trump, who was endorsed by the National Rifle Association's Institute for Legislative Action, that she, who has made several gun-control measures central to her campaign, wanted to abolish the Second Amendment.
"Once again, you have Donald Trump just making outright fabrications, accusing me of something that is absolutely untrue," Clinton said on ABC's This Week With George Stephanopoulos.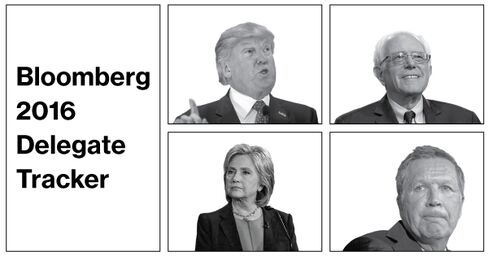 A policy adviser to her campaign had told Bloomberg Politics in May that the candidate believed the 2008 Supreme Court ruling that held that the Second Amendment protected an individual's right to own a firearm for lawful purposes was "wrongly decided" and "may open the door to overturning thoughtful, common sense safety measures in the future."
Clinton on ABC said that if an individual's right to bear arms "is a constitutional right, then it, like every other constitutional right, is subject to reasonable regulation."
She also said she would not commit to a 25-percent sales tax on hand guns and on automatic weapons, which in 1993—her first year as first lady during her husband Bill Clinton's administration—she said she was "all for" and felt "very strongly about."
"I was speaking personally then," Clinton said when asked on ABC about the comments. "I would have to consider any proposal in light of how it interacted with all the others that we want to continue to advocate for, particularly, as I said, comprehensive background checks."
Clinton won the U.S. Virgin Islands caucuses on Saturday and the Puerto Rico primary on Sunday. By early Monday, Clinton had 2,357 pledged delegates and superdelegates to Sanders' 1,566, putting her 26 delegates away from the 2,383 necessary to secure the nomination, according to the Associated Press.
—With assistance from Alex Wayne.
Before it's here, it's on the Bloomberg Terminal.
LEARN MORE