Campaign Wrap: Ryan Finally Climbs on Trump Bandwagon
After about a month of public equivocation and private meetings, House Speaker Paul Ryan revealed that presumptive Republican presidential nominee Donald Trump will get his vote in the general election.
In an op-ed for his hometown newspaper, the Janesville Gazette in Wisconsin, Ryan writes that he delayed endorsing Trump because he wasn't sure the businessman Trump would back his legislative agenda

Now, he feels "confident he would help us turn the ideas in this agenda into laws to help improve people's lives"

Ryan made clear he wasn't entirely embracing Trump, who effectively clinched the nomination with his May 3 win in Indiana's primary

"It's no secret that he and I have our differences. I won't pretend otherwise," Ryan writes
His announcement comes as America Speaks PAC, a super-PAC supporting "closed and secure borders," reported spending $8k on radio ads hitting Ryan for not having endorsed Trump yet, according to a press release
The ads promote Ryan's primary opponent, Paul Nehlen
Ryan also released his op-ed just as Democratic frontrunner Hillary Clinton was giving a major speech on foreign policy, diverting some media attention
Clinton targeted Trump, calling his foreign policy ideas "dangerously incoherent"
Some prominent GOP officeholders plan to remain on the sidelines, including Mich. Gov. Rick Snyder
"I've stayed out of the whole thing, and I'm going to continue to" and not endorse Trump, he said in an interview with the Detroit News editorial board
Our GOP Unity Tracker is a running list of who's supporting who

ON THE TRAIL
Bernie Sanders plans to introduce his own Puerto Rico bill ahead of territory's primary on June 5, AP reports
The bill would:

Let the Fed give the island emergency loans and broad bankruptcy protections
Increase Medicaid and Medicare payments to Puerto Rico, and allocate $10.8b for infrastructure
Create a seven-member public corporation, with most members chosen by Puerto Rico's legislature and governor
Sanders campaign manager Jeff Weaver said on MSNBC that the Vermont senator would release his tax returns before the Democratic Natl Convention in late July
Clinton praised the CFPB's payday lending rule, saying it's "an important point of contrast in this campaign" between her and Trump
Rule would restrict payday lenders from extending credit unless they can ensure customers are capable of repaying
Clinton supports the death penalty for Dylann Roof, according to the Huffington Post
Roof is the accused shooter of nine parishioners at an historically black church last year in Charleston, S.C.

TRUMP U.
Trump tweeted that after the ligation filed by disgruntled students at Trump University "is disposed of and the case won," he plans to re-open the school that offered real estate seminars
Trump says here's "so much interest in it!"
The school was "just a scam," N.Y. Attorney General Eric Schneiderman said today on ABC
Trump "bilked people out of millions of dollars," Schneiderman said; "We're going to make sure he pays it back"

POLLS
Only 24% of U.S. voters say they believe Trump will succeed in building a wall on the U.S.'s southern border and getting Mexico to pay for it, according to a Quinnipiac University poll
Just 19% say he'd succeed in his call to deport an estimated 11 million undocumented immigrants in the U.S.
29% say he'd succeed in temporarily banning Muslim immigration
According to the Hill, pollsters are concerned about correctly modeling the turnout in the general election, due in part to both candidates' high unfavorables and widespread name recognition
Pollsters need to identify not just firm and likely supporters for Trump and Clinton, but how strongly some voters oppose one or the other
The intensity of those negative attitudes toward high-ID candidates could skew previous turnout rates, making it hard to predict which voters will come out on election day
A Fox News poll conducted in May showing Trump leading Clinton by 3 ppts faced criticism about its turnout predictions -- it implied turnout where self-declared Republicans outnumbered Democrats by 1 ppt, but Democrats held a 6-point advantage among actual voters in 2012

STAFF MOVES
RNC's head of Hispanic media relations, Ruth Guerra, is resigning, the New York Times reports
Guerra is leaving for the American Action Network, a GOP-aligned super-PAC
Clinton campaign hired Glen Caplin, who formerly served as communications director for Sen. Kirsten Gillibrand and former Rep. Anthony Weiner, as senior national spokesman, Politico reports
Caplin has been helping the Clinton campaign informally since April

CAMPAIGN FINANCE
Intel CEO Brian Krzanich planned to host a fundraiser for Trump today in Atherton, Calif., but the company said the event was canceled, the New York Times reports
The fundraiser was to include "a full exchange of views," an unidentified Intel spokeswoman initially said

CONGRESSIONAL RACES
SENATE
AK-SEN: Republican Dan Sullivan, former Anchorage mayor, told KTUU his primary challenge of Sen. Lisa Murkowski is "not based on anything other than wanting to make sure that conservative voters have a choice"
Sullivan, who has the same name as Alaska's other Republican senator, entered the Aug. 16 primary yesterday about 10 minutes before the qualifying period ended
Murkowski, who leads the Energy and Natural Resources Committee, was re-elected in a write-in campaign in 2010 after losing the GOP primary to Tea Party-aligned lawyer Joe Miller
FL-SEN: The five Republicans seeking Marco Rubio's Senate seat will debate today in Boca Raton, the Associated Press reported
IA-SEN: Democrat Patty Judge "found herself on the defensive several times" during a televised debate yesterday with three other candidates in the June 7 primary, the Des Moines Register reported
Winner to face GOP Sen. Chuck Grassley, who leads the Judiciary Committee and released a TV ad noting 26 pieces of bipartisan legislation his panel advanced in the current Congress
NV-SEN: U.S. Chamber of Commerce aired 15-second Spanish-language TV ad promoting GOP Rep. Joe Heck, noting his background as a military veteran and doctor
The ad first aired this morning on Telemundo in Las Vegas, the biggest city in a state that's 28% Hispanic; likely Democratic nominee is ex-state AG Catherine Cortez Masto
OH-SEN: The United Mine Workers of America's PAC endorsed Republican Sen. Rob Portman for re-election over Democratic challenger Ted Strickland, The Hill reported
PA-SEN: Democratic nominee Katie McGinty's brother "graduated from college eight years before she entered," contradicting her previous claims that she was the first member of her family to "go to college," BuzzFeed reported
McGinty's campaign website has a refined version of her statement that says she's the first in her family to "go to a four-year-college"; her brother started at a community college and transferred two years' worth of credits to the school where he ultimately received his bachelor's degree
McGinty is challenging Republican Sen. Pat Toomey
HOUSE
NC-02: GOP Rep. George Holding's campaign aired a TV ad attacking rival Greg Brannon, a departure from its previous tack of focusing on Rep. Renee Ellmers
All three seek the June 7 GOP nomination in a Raleigh-area district substantially revised by a new congressional map enacted under court order
Conservative group Americans for Prosperity has spent more than $200k against Ellmers, according to FEC filing
NC-09: GOP ex-Rep. Sue Myrick is "doing all she can these days" to help unseat Republican Rep. Robert Pittenger, her successor and former political ally, the Charlotte Observer reported
Myrick backs pastor Mark Harris, who's opposing Pittenger in June 7 primary
NY-19: GOP businessman Andrew Heaney says in TV ad "political correctness is killing our country" and that people should say the Pledge of Allegiance and continue to have the right to bear arms
Heaney running in primary against ex-state Rep. John Faso for Hudson Valley-area district of retiring GOP Rep. Chris Gibson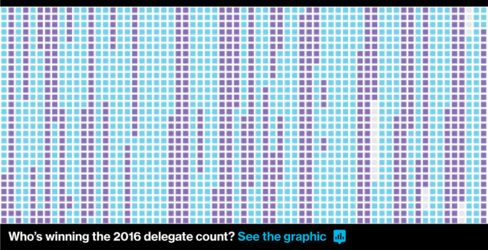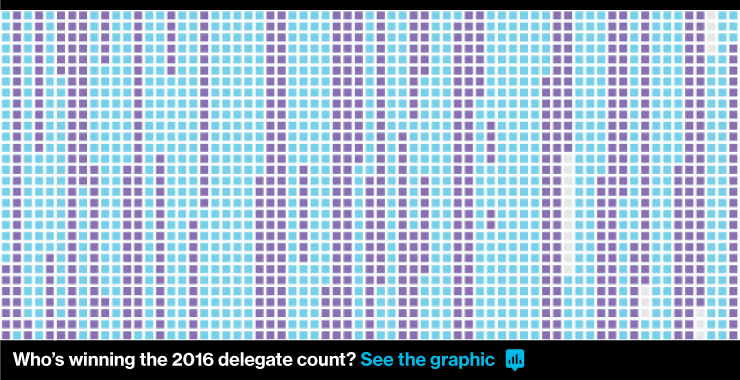 Before it's here, it's on the Bloomberg Terminal.
LEARN MORE