812 Handshakes in Two Hours for Obama's Final Commencement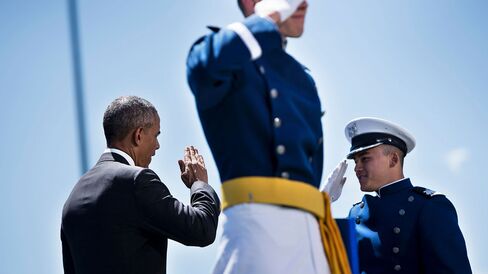 President personally congratulates Air Force Academy grads

Obama meets with Thunderbird pilot after emergency ejection
Barack Obama has shaken lots of hands in his political career. But at Thursday's commencement address at the U.S. Air Force Academy outside Colorado Springs, Obama's last such speech as president, he's got a handshake marathon: personally greeting each of the 812 graduates.
The president blocked off more than two hours of his schedule for the grip-and-grin session, a tradition during his annual graduation speech at one of the nation's service academies. The 84 cadets graduating at the top of their class were the first to receive their diplomas and a handshake from the commander-in-chief. After a short break, the president worked his way through a procession of the remaining 728 graduates.
Before departing Colorado Obama shook one more hand. At Peterson Air Force Base, he met an Air Force Thunderbird pilot whose plane crashed earlier in the day. According to local news reports, the pilot, whose name was not released, ejected before the plane hit the ground following a flyover during the commencement ceremony. The Thunderbirds are an Air Force demonstration squadron of F-16 fighter jets painted red, white and blue.
Obama "thanked the pilot for his service to the country and expressed his relief that the pilot was not seriously injured," said White House press secretary Josh Earnest.
Diverse Graduates
In an address to the graduating class, Obama spoke nostalgically about his final opportunity to speak at a service academy commencement while in office, and about his presidential aircraft, Air Force One.
"Sometimes I spend more time with the Air Force than my own family," Obama said, jokingly thanking the service for never losing his luggage or making him remove his shoes when boarding.
The Air Force Academy's class of 2016 is diverse, including 182 female cadets. A quarter of graduates are minorities, and 17 were international students, from countries including Ecuador, Rwanda, and Kazakhstan. The cadets included a set of twins from Jordan, and 60 second-generation graduates of the elite academy.
Heads and Hearts
Under U.S. law, each service academy graduate entering active duty incurs a five-year military commitment. In the Air Force, the new officers' training choices can lengthen their service. The majority of the 2016 class will go on to aircraft pilot training. Sixty graduates will seek training in piloting drones, a weapon of choice under the Obama presidency.
Obama urged graduates to be "hard-headed and big-hearted" in a speech that also defended his approach to foreign policy. He said the nation often found itself in the most danger when it was overextended or acted hysterically, and that U.S. power was limited.
"When we panic, we don't make good decisions," Obama said.
The president defended his reliance on diplomacy with hostile countries, arguing that he wouldn't have secured a nuclear deal with Iran or won the removal of chemical weapons from Syria without the threat of U.S. military action. Congressional resistance to treaties and trade deals shortchanges a history of such international accords helping to promote commerce and increase security, Obama said.
Isolationism's 'False Comfort'
In a jibe at Donald Trump, the presumptive 2016 Republican presidential nominee, Obama cautioned graduates that isolationism is a "false comfort." Trump has said the U.S. should reassess its alliances, including the North Atlantic Treaty Organization. Obama said the U.S. would continue to lead the world, including with unilateral military action when necessary.
"Even as we celebrate the courage of our troops that serve in war, even where we do not hesitate to act on behalf of our security, we should never celebrate war itself," Obama said.
Thursday's address was Obama's third commencement speech of his final year in office. In May he spoke at graduation ceremonies at Rutgers University in New Jersey and Howard University, a historically black university in Washington.
Before it's here, it's on the Bloomberg Terminal.
LEARN MORE