Pfizer and Merck Join $500 Million California Ballot Stampede
Spending soars as voter initiatives reach a two-decade peak

As many as 18 issues projected to qualify for November vote
As California voters prepare to consider the most ballot measures in almost two decades, companies such as Merck & Co. Inc. and Pfizer Inc. and other interests have already plowed $160 million to sway the outcomes, a sum that could more than triple before the Nov. 8 election.
Proposals to cap prescription-drug costs, raise cigarette taxes, limit gun ammunition sales, legalize recreational marijuana and overturn a ban on plastic bags are among those likely to draw big-money donations. Eight have already made it on to the ballot.
"We're expecting at least 15, maybe as high as 18, depending on what qualifies," said Rob Stutzman, president of Sacramento-based Stutzman Public Affairs and a consultant on ballot measures. "It's possible we can see ballot-measure spending go as high as $500 million this fall."
California's glut of measures was fueled by record-low voter turnout in 2014 that reduced the threshold for signatures needed to qualify an initiative for the ballot. Proponents must gather names equal to at least 5 percent of the ballots cast in the last gubernatorial election. The state's surfeit is common, with more than half of U.S. states relying on referendums this year to sidestep gridlock in Washington on issues ranging from hunting to the death penalty.
The $108 million raised so far in the current California election cycle is the highest in the six months ahead of an election since 2001, according to MapLight, a Berkeley-based nonpartisan research group that tracks money in politics. That's in addition to $47.2 carried over from the previous cycle.
'Outsized Role'
"The initial intent of the ballot-measure process was to give people direct control," said Daniel G. Newman, MapLight's president. Now, "groups that can afford to spend millions of dollars have an outsized role in deciding which of these laws get passed and which fail."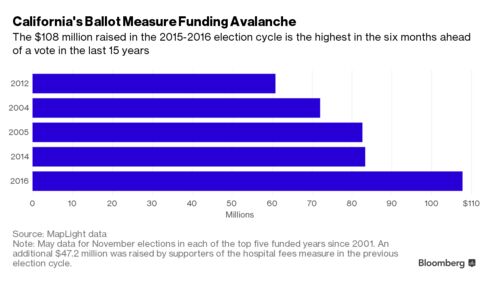 California's most expensive campaign is taking shape over a proposal to cap and tie the amount state agencies pay for prescription drugs to what's paid by the U.S. Department of Veterans Affairs. California spent more than $4.2 billion on drugs in fiscal 2015, according to the state Legislative Analyst's Office.
Opponents, mostly pharmaceutical companies based outside California, have poured $68.4 million to defeat the measure. Merck, Pfizer and Johnson & Johnson gave about $6 million each, according to state campaign finance data. The AIDS Healthcare Foundation, the measure's proponent, raised $4.4 million.
"It's just a very crowded ballot this time around and California is a big state," said Kathy Fairbanks, a spokeswoman for the coalition fighting the measure. "So to educate voters, it's expensive."
Another measure would make it more difficult for lawmakers to divert fees that hospitals pay to secure federal matching funds for Medi-Cal, the health-care program for the poor. The legislature has siphoned some of the money into the general fund. Donors, mostly hospitals, have contributed $59 million to win passage, with the highest from the California Health Foundation & Trust, Dignity Health and Sutter Health.
Drive Attention
Nationwide, two groups from opposite sides of the political spectrum are helping promote or oppose initiatives and that's driving interest and spending, said Wendy Underhill, program director of elections and redistricting at the National Conference of State Legislatures in Denver.
The Washington-based Ballot Initiative Strategy Center has guided more than 30 organizations and campaigns so far this year on issues including minimum wage and rights for gay, lesbian and transgender people, spokeswoman Kellie Dupree said.
The Center for Conservative Initiatives is mostly fighting against measures pursued by Democrats and groups seeking to bypass Republican-controlled legislatures, said Matt Walter, president of the Republican State Leadership Committee, which helped create the center. It's homing in on a couple of dozen measures involving taxes, regulation and redistricting, he said.
The November 1914 election in California featured 48 ballot measures, the largest ever, according to the secretary of state. There were 20 measures on the March 2000 ballot. The most expensive single ballot campaign since 2002 was $179.3 million raised on an Indian gaming compact referendum.
Death Penalty
Other measures that could make it to the ballot include replacing the death penalty with life imprisonment without parole, requiring background checks for most people buying ammunition and extending by 12 years a temporary income tax enacted in 2012 on individuals earning more than $250,000 annually to fund schools and healthcare.
Sean Parker, the billionaire founding president of Facebook Inc. is backing a proposal to legalize recreational marijuana and environmentalist and hedge-fund billionaire Tom Steyer is supporting a proposal to raise the cigarette tax by $2.
"It's likely that the money spent will be a record because ballot-measure sponsors are going to have to work hard for attention," said Jack Pitney, a politics professor at Claremont McKenna College in Claremont, California. "The presidential race is going to consume a lot of media oxygen, and with so many measures on the ballot, each one is going to have to work harder to get the attention of voters."
Before it's here, it's on the Bloomberg Terminal.
LEARN MORE