Campaign Wrap: Trump May Move to Make California Battleground
Donald Trump is back in Calif. today, raising questions about whether he can put the state in play in Nov. as part of his pledge to widen the electoral battleground.
Earlier in the week, he was in Los Angeles to raise money, but he returned today for rallies in Fresno and San Diego, two GOP pockets in the solidly Democratic state
"We are going to make a strong play for California," Trump told his crowd in Fresno, reiterating minutes later "a heavy, heavy play"

"Maybe I can't do it," he conceded
But in a possible preview of his campaign's larger strategy, he says that even if he can't win Calif., Democrats "are going to spend a helluva of a fortune defending it"
Calif., with 55 electoral votes that represent exactly 1/5 of what's needed to win presidency, was last carried by a Republican presidential candidate in 1988
Obama carried state by 24 points in '08 and 23 points in '12
PPIC poll of the state's taken last week showed Hillary Clinton with a 10-point lead over Trump, 49%-39%
The entire Fresno police force was prepared to swing into action if necessary during Trump's rally, Fresno Bee reports

ON THE TRAIL
Bernie Sanders' campaign manager Jeff Weaver said on CNN that the Trump campaign is dragging its feet on pursuing a debate between the two candidates that the GOP businessman first broached
Weaver reiterated the campaigns have had discussions about the prospect of such a faceoff before Calif.'s June 7 primary
Mitt Romney, in an interview with the Wall Street Journal, said he felt he needed to speak out against Trump because he "wanted my grandkids to see that I simply couldn't ignore what Mr. Trump was saying and doing, which revealed a character and temperament unfit for the leader of the free world"
Romney said the attacks Trump has directed at time have been "constant and brutal" after he criticized the presumptive GOP nominee
Earlier this week, Trump told a crowd in Anaheim, Calif., that Romney "walks like a penguin"

CONVENTIONS
The DNC plans to hold hearings around the country to develop its platform for the convention in July, AP reports
Hearings will be held in Washington, D.C., Phoenix, St. Louis, and Orlando in early June and early July
Party will allow rank-and-file Democrats to submit written or video testimony or request to testify in person
The hearings and a new website for voter comments aim to smoothly resolve disputes stemming from the presidential nomination race, Washington Post reports
Rep. Elijah Cummings, D-Md., says Sanders has told him he trusts process will be fair under Cummings' role as chairman of the platform drafting committee

ETC.
Sen. Marco Rubio said on twitter that he won't vote for Clinton in Nov. and he won't abstain from casting a ballot in the presidential race
"If you can live with a Clinton presidency for 4 years thats your right. I cant and will do what I can to prevent it," he tweeted
Rubio didn't explicitly say he will vote for Trump, who he disparaged as a "con man" as he challenged him for the GOP nomination
Megyn Kelly teased a new Trump interview on her show last night, to come "very soon"

CONGRESSIONAL RACES
SENATE
AZ-SEN: U.S. Chamber of Commerce reported spending $300k against Democratic Rep. Ann Kirkpatrick, according to FEC filing
Chamber paid for TV ad that says Kirkpatrick is "wrong on Obamacare" and "wrong for Arizona"
Kirkpatrick challenging Republican Sen. John McCain, who also faces primary challenge from ex-state Sen. Kelli Ward
FL-SEN: Rubio said in CNN interview he "maybe" would reconsider decision to forgo Senate re-election campaign if his close friend, Lt. Gov. Carlos Lopez-Cantera, wasn't running to succeed him
"I think he's put in time and energy to it, and he deserves the chance to see where he can take it," Rubio said
Trump and Senate Majority Whip John Cornyn among Republicans encouraging Rubio to change mind and run, Bloomberg's Steven Dennis reported
Republicans hold 54-46 Senate majority, and Rubio's seat among seven GOP is defending in states President Obama won in 2012; candidate filing deadline is June 24
HOUSE
FL-23: Liberal group Democracy for America endorsed Tim Canova's primary challenge to Democratic National Committee chairwoman Debbie Wasserman Schultz, Politico reported
NV-03: Six Democrats, seven Republicans are running in district "nearly evenly split between registered Republicans and registered Democrats," Las Vegas Review-Journal reported in preview of June 14 primary
Republican Rep. Joe Heck giving up seat to run for Senate
NV-04: Democratic state Sen. Ruben Kihuen says in TV ad he'll "take on Republicans" to fight for equal pay and Social Security protections
Senate Minority Leader Harry Reid called Kihuen "progressive champion"
NC-03: Republican Taylor Griffin received donations from Bank of America, Wells Fargo, PricewaterhouseCoopers PACs for primary rematch against GOP Rep. Walter Jones, according to FEC filing
Jones voted for Dodd-Frank and would reinstate Glass-Steagall, which barred commercial banks from engaging in investment banking
NJ-05: Democrat Josh Gottheimer out-raised GOP Rep. Scott Garrett by $324k to $168k in 48-day period ended May 18, according to FEC filings due yesterday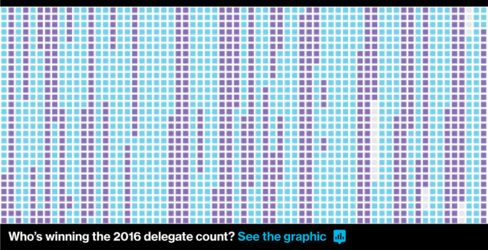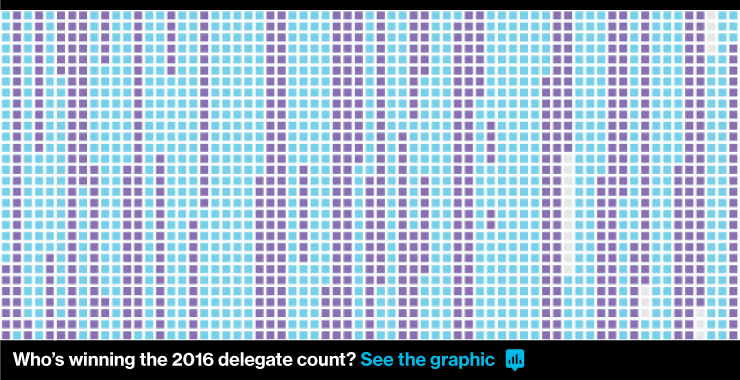 Before it's here, it's on the Bloomberg Terminal.
LEARN MORE