Campaign Wrap: Trump Leaves Open Female VP Pick Possibility
Donald Trump today walked back his chief strategist's earlier comments that the presumptive GOP presidential nominee probably wouldn't choose a woman or minority as his running mate because it'd be seen as "pandering."
Trump said at a press conference in Bismarck, N.D., that he expects to vet women candidates for the vice presidential spot, and that he's "looking for absolute competence"
On a day when Trump was deemed to have clinched the GOP nomination based on the AP's delegate count, he continued his public sparring with Sen. Elizabeth Warren, calling her "highly overrated" and "a disaster"

Warren, D-Mass., and Trump have been exchanging insults after she called him a "small, insecure money-grubber" in a Tuesday speech
Trump also used his N.D. visit to showcase his energy policy in a speech to a petroleum conference
Before his remarks, he told reporters that as president he would approve the Keystone XL pipeline but he wants "a better deal"
He pledged to open U.S. energy exports, get rid of coal mining regulations and use fracking to spur the economy

ON THE TRAIL
Trump spokeswoman Katrina Pierson said on CNN that N.M. Gov. Susana Martinez "was never on the VP shortlist"
Trump criticized Martinez, who hasn't followed many other GOP office-holders in endorsing him, at a rally in Albuquerque on Tuesday
House Speaker Paul Ryan, who also has yet to endorse Trump, told reporters he had a "very productive" phone call with him last night
Clinton at a union gathering in Las Vegas said "this election is a make-or-break election," and echoed Warren's comments that Trump is an "urgent threat"
Clinton said in an interview with Univision's Los Angeles affiliate last night that the State Dept inspector general's report on her private e-mail server won't affect "either the campaign or my presidency"
"There may be reports that come out, but nothing has changed," she said

DELEGATES
AP reports said Trump had amassed enough delegates for his party's nomination after a "small number" of unbound delegates told the news service they would support him, putting him over the top
Those delegates included Okla. GOP Chairwoman Pam Pollard
Clinton kept her edge in the May 17 Ky. primary after a recanvass in state, Courier-Journal reports
Sanders, who had sought recanvass to potentially win 1 more of state's delegates, said he accepts the primary results

DEBATES
Sanders said today in Los Angeles he hopes a network will agree to sponsor a debate between him and Trump before Calif.'s June 7 primary, and that "it's important that someone hold him to account for his outrageously bigoted remarks"
Trump, at his N.D. press conference, said he'd love to debate Sanders but that "a lot" of money would have to be put up for charity for him to do it
He added that the money could potentially go to a charity for women's health issues
Earlier, CBS reported that Trump was apparently joking about the willingness he expressed on Jimmy Kimmel's talk show last night to debate Sanders for charity
Sanders spokesman Michael Briggs said Sanders was serious about accepting debate challenge

POLLS
Clinton leads Trump by 7 points among voters with annual family incomes of $30k-$75k in Michigan, Ohio, Pennsylvania, and Wisconsin, according to online poll for Bloomberg Politics conducted by Purple Strategies
Trump's unfavorability rating is 64%, Clinton's 56%

ETC.
The sister of Vince Foster, the longtime ally of the Clintons from Ark. who joined Bill Clinton's White House staff but then committed suicide in 1993, wrote an op-ed in the Washington Post condemning Trump for seemingly giving credence to discredited conspiracy theories surrounding the death
"It is beyond contempt that a politician would use a family tragedy to further his candidacy, but such is the character of Donald Trump," Sheila Foster Anthony writes
R&B singer The Weeknd and rapper Belly canceled their appearances on Kimmel's TV show because Trump was featured in the same episode, USA Today reports

CONGRESSIONAL RACES
SENATE
FL-SEN: Republican Sen. Marco Rubio told reporters today it's "unlikely" he'll run for re-election, according to Bloomberg's Steven Dennis
Rubio said "part of the reason why" he probably will stick with decision to retire is that he's close to Lt. Gov. Carlos Lopez-Cantera, who's seeking seat Rubio decided to give up to run for president
Some Republicans encouraging Rubio to enter race, say he's strongest candidate to keep seat in GOP fold
Candidate filing deadline is June 24; primary is Aug. 30
NV-SEN: Democrat Catherine Cortez Masto's campaign airing Spanish-language ad with footage of Trump talking about border wall he's vowed to build as president, according to Kantar Media's CMAG
Ad first ran yesterday in Las Vegas market; Nevada is 28% Hispanic, according to Census estimate
OH-SEN: Fundraising event for Democrat Ted Strickland will no longer include Va. Gov. Terry McAuliffe, whose campaign donations are under federal investigation, Politico reported
Fighting for Ohio Fund, super-PAC aiding Republican Sen. Rob Portman, aired ad linking Strickland to Clinton's "reckless agenda"
Ad cites Clinton's remarks about putting coal industry "out of business"; first ran in Youngstown market this morning
PA-SEN: Freedom Partners Action Fund announced $3 million ad campaign opposing Democrat Katie McGinty, including TV spot
Group is super-PAC funded by the donor network of businessmen David and Charles Koch
McGinty campaign statement said ''billionaire Koch brothers are already going all in with a negative and false ad'' to aid Republican Sen. Pat Toomey
Toomey's campaign released TV ad attacking McGinty's ethics, citing praise for Toomey from ex-Democratic Gov. Ed Rendell
WI-SEN: Sanders sent fundraising e-mail to raise money for former Democratic Sen. Russ Feingold
Feingold seeking to reclaim seat he lost in 2010 to Republican Ron Johnson, who's running for re-election
Feingold ''goes full socialist" with Sanders's backing, America Rising PAC said in statement
HOUSE: DCCC digital ad campaign links GOP candidates to Trump in 15 districts, National Journal reported
FL-02: Republican Mary Thomas endorsed by FreedomWorks PAC, activist conservative group with libertarian bent, according to release
Democratic Rep. Gwen Graham not seeking re-election in northern Fla. district made more Republican in court-ordered redistricting
HI-01: Ex-Rep. Colleen Hanabusa "will make a bid" for House seat she held from 2011-2015, Honolulu Star-Advertiser reported, citing "sources who have discussed the race with her"
Hanabusa gave up House seat for unsuccessful 2014 Democratic primary challenge to Sen. Brian Schatz; her successor, Democratic Rep. Mark Takai, retiring for health reasons after one term
IA-03: Three Democrats seeking to oppose GOP Rep. David Young will debate at 7:30 eastern time; event will stream on websites of Des Moines Register and KCCI-TV
KS-01: TV ad for GOP Rep. Tim Huelskamp says he's "fighting for conservative principles, even if it means standing up to members of his own party"
Huelskamp won 2014 primary 55%-45%, voted against John Boehner for House speaker in Jan. 2015; opposed in Aug. primary by physician Roger Marshall
NJ-01: Patriot Majority USA, a 501c4 group, has spent more than $133k to aid Democrat Donald Norcross, according to FEC filing
Norcross opposed in June 7 primary by Alex Law, Sanders supporter running on anti-corruption and "progressive" platform
NC-02: Republican Rep. George Holding raised $294k compared with $27k for Republican Rep. Renee Ellmers in seven-week period ending May 18, according to FEC reports due today
Holding's donors include American Hospital Assn., Koch Industries, Boeing PACs; Northrop Grumman PAC donated to Holding and Ellmers
Holding and Ellmers seeking same Raleigh-area district in June 7 primary
NC-09: Republican Rep. Robert Pittenger's campaign aired TV ad accusing primary opponent Mark Harris of supporting "amnesty for illegals," being "weak on defense" like President Obama
Pittenger's district revamped in court-ordered redistricting earlier this year
Harris, a pastor, ran for Senate in 2014, placed third in primary with 18%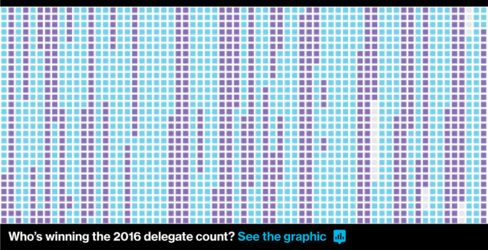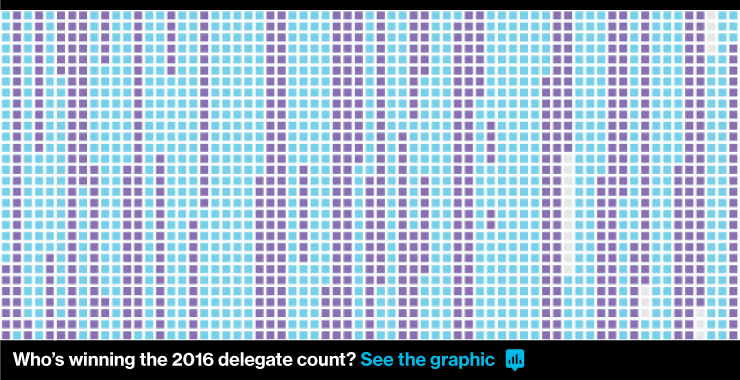 Before it's here, it's on the Bloomberg Terminal.
LEARN MORE