Power Shift
Donald Trump Parts Ways With National Political Director
Rick Wiley's duties in the Sunshine State have been shifted to another staffer.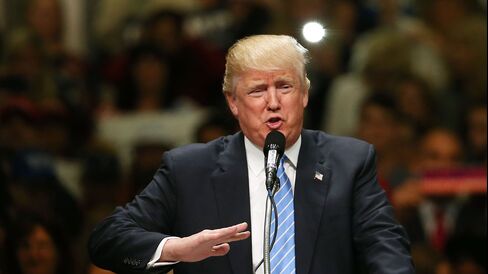 Rick Wiley, Donald Trump's national political director, has left the Republican's presidential campaign following a decision by Trump to strip his decision-making powers in Florida, a crucial state for Republicans to win in November in order to capture the White House.
Wiley was hired on April 13 to take over as national political director as Trump aimed to professionalize his staff after a primary loss in Wisconsin, a defeat that raised questions about whether Trump could carry his campaign over the finish line.
But the internal backbiting that has colored much of the Trump campaign caught up to Wiley, who managed Scott Walker's presidential campaign and was a deputy political director for Rudy Giuliani's bid in 2008.
Trump was unhappy with Wiley's management of the political team, particularly a clash with Karen Giorno in Florida. Bloomberg Politics reported earlier on Wednesday that Trump had shifted control of Florida away from Wiley and given it to Giorno, who ran the successful primary effort in the state.
"Rick Wiley was hired on a short-term basis as a consultant until the campaign was running at full steam," Trump's campaign said in a statement. "It is now doing better than ever, we are leading in the polls, and we have many exciting events ready to go, far ahead of schedule, while Hillary continues her long, boring quest against Bernie. We would like to thank Rick for helping us during this transition period."
No replacement was named. If the campaign looks internally, potential successors include Ken McKay, who managed Chris Christie's presidential bid; Ed Brookover, who has managed delegates for the campaign; and Alan Cobb, a strategic consultant for Trump and a former Koch Industries lobbyist, according to one top Trump aide.
Typically, the role of a national political director involves deciding which states to compete in and how to divide resources. Removing the largest battleground states from that portfolio is a dramatic change to the job description.
"Karen Giorno delivered Florida during the primary with overwhelmingly positive results despite being up against a sitting senator and popular former governor, among others," Hope Hicks, a spokesman for the campaign, told Bloomberg Politics earlier on Wednesday. "She will continue to oversee Florida through the general election."
Florida is the largest battleground state, and one of the most competitive. The past four presidential races in the state have been decided by 5 percentage points or less. A Republican hasn't won the White House without taking Florida since Calvin Coolidge did it in 1924.
Giorno denied any personality conflicts with Wiley, saying that Trump simply made a decision to get more involved in Florida strategy.

"We had an overwhelming win in Florida, and this state is personal for Mr. Trump," Giorno said in an interview. "He wants to win. I have a record of winning, and we're going with a winning team."
Giorno declined to say how many staff she'll hire in the state or to discuss the size of the budget, adding that the particulars are still being discussed internally. She said she hoped to bring on staff with experience working with the Florida Republican Party, the Republican National Committee, or former presidential campaigns.
"If you look at Mr. Trump as a traditional guy running a traditional campaign, you're going to get it wrong," Giorno said, explaining the changes. "He's a unique and individual candidate running things in a unique and individual way."
Trump, who lives part time at his Mar-a-Lago resort in Palm Beach, Florida, won 66 of 67 counties in the state's primary, beating Marco Rubio, who represents the state in the U.S. Senate, by nearly 19 percentage points.
Giorno, a former external affairs director for Florida Governor Rick Scott, was elevated as the Trump campaign's regional political director for the southeast after winning the Florida primary. She also served as Florida director for American Commitment, a conservative group with ties to the Koch political operation.
Before it's here, it's on the Bloomberg Terminal.
LEARN MORE