Campaign Wrap: Clinton Can't Shake E-Mail Issue With Report
The State Department inspector general report declaring that Hillary Clinton's private e-mail use as secretary of state didn't comply with federal policies again spotlights an issue that has dogged her for more than a year and which undercuts her efforts to expand her support.
The report will drive the news cycle as she tries to focus on locking down the Democratic presidential nomination
Audit faulted her, as well as past secretaries of state, for poor management of e-mail and information and for having slow responses to cybersecurity dangers
Washington Post highlights several revealing parts of the report, including:
Clinton's e-mail system was targeted by two hacking attempts in June 2011
Four Clinton aides also had "extensive use of personal e-mail"
After a staff member raised issues about her e-mail, staff were instructed "never to speak of the secretary's personal e-mail system again"
Clinton's campaign responded by saying that the report shows "just how consistent her e-mail practices were with those of other secretaries of state and senior department officials who also used personal e-mail"
''The report shows that problems with the State Department's electronic record-keeping systems were longstanding," spokesman Brian Fallon said in statement
Clinton didn't respond to questions from reporters after her event today in Orange County, California
Coming to her defense, Elijah Cummings, the top Democrat on the House Oversight Committee, said the report "confirmed what we have known all along," that she had been following the practices of her predecessors
Bernie Sanders continued his long-standing approach of not discussing the topic
Campaign manager Jeff Weaver said on CNN that "this is obviously an area where the senator has chosen not to go"
Read Bloomberg's QuickTake on Clinton's private e-mail use

ON THE TRAIL
Donald Trump's rally last night in Albuquerque sparked bouts of violence outside the auditorium as protesters threw rocks and bottles and burned Trump campaign T-shirts, Washington Post reports
Some police officers were injured; at least one rioter was arrested
At the height of the chaos, about 600 protesters were present
Trump tweeted today that the protesters "were thugs who were flying the Mexican flag"
At the rally, Trump criticized New Mexico Governor Susana Martinez, a Republican who didn't attend, saying "she's not doing the job" and "we got to get her moving"
He quipped: "Hey, maybe I'll run for governor of New Mexico"
Martinez's office responded in a statement saying Trump's "potshots weren't about policy, they were about politics. And the governor will not be bullied into supporting a candidate until she is convinced that candidate will fight for New Mexicans and she did not hear that" in his speech
Martinez, mentioned at the start of the presidential campaign as a prime running-mate prospect for the GOP ticket, endorsed Marco Rubio
She hasn't joined those backing Trump since he became the presumptive nominee earlier this month
Sanders campaign manager Jeff Weaver said Democratic leaders haven't been exerting extensive pressure on Sanders to end his race with Clinton, despite reports to the contrary
On a scale of one to 10, "one being the low ... it would be one," Weaver said on Fox News
Clinton will offer an infrastructure bill during her first 100 days as president, her campaign said in a statement
In the upcoming weeks she'll offer new infrastructure investment proposals
Her only other announced legislative priority for first 100 days is reforming immigration policy

THE RYAN FACTOR
After disputing reports that Paul Ryan is ready to end his standoff with Trump over endorsing him, the House speaker is set to speak with Trump by phone tonight, Bloomberg reports
Two members of Trump's team told Bloomberg that they believe a formal endorsement from Ryan, the U.S. House speaker, is imminent
Ryan told reporters today he hasn't made a decision on backing Trump and he's still having "productive conversations" about it

TRUMP ATTACKS
Trump's next Hillary Clinton target is the Whitewater real estate controversy, Politico reports, a failed business venture decades ago that plagued Bill Clinton during much of his presidency
Trump aide Michael Caputo e-mailed the RNC asking for information on Whitewater "as soon as possible"
Politico obtained the e-mail because spokeswoman Hope Hicks responded instead to reporter Marc Caputo

POLLS
NC: Trump leading Clinton 47%-43%, according to Public Policy Polling survey
North Carolina has 15 electoral votes

ETC.
HP CEO Meg Whitman tells CNBC that "under no circumstances" will she back Trump
"I think his policies around free trade will be damaging to business as a whole," she said
Whitman, the 2010 GOP gubernatorial nominee in Calif., backed New Jersey Gov. Chris Christie in this year's presidential race
Cisco Systems Chairman John Chambers said Trump has the momentum to beat Clinton
"It speaks to both parties not wanting the establishment to lead and that may not be the best answer for America but it does speak that transitions wait for no one," he said
He backed Ohio Gov. John Kasich in GOP race

CONGRESSIONAL RACES
SENATE
CO-SEN: Republican businessman Jack Graham says in TV ad that he's "not a lawyer" and has never run for office, will take "can-do attitude to Washington" to boost economy, jobs, income
Graham in crowded Republican field in June 28 primary; winner to oppose Democratic Sen. Michael Bennet
GA-SEN: Investment manager Jim Barksdale's campaign issued memo saying he will benefit from demographic shifts in state, can "unite Democratic base" and "spend his own resources" in campaign against Republican Sen. Johnny Isakson
Barksdale, president/chief investment officer of Equity Investment Corp. won Democratic primary yesterday; Cook Political Report rates Nov. race as "Likely Republican"
NH-SEN: Americans for Responsible Solutions PAC, the super-PAC arm of former Rep. Gabrielle Giffords's gun-violence prevention group, endorsed Democratic Gov. Maggie Hassan and released TV ad saying Republican Sen. Kelly Ayotte "stands with the Washington gun lobby"
Ayotte in 2013, 2015 opposed Manchin-Toomey proposal to expand gun background-check system, saying it would put burdens on gun owners
Ayotte's campaign released digital ad featuring praise from law enforcement officials and noting 2013 vote for amendment to Senate gun control bill that would have added more mental-health and criminal records to background-check database
Former NYC Mayor Michael Bloomberg, founder and majority owner of Bloomberg News parent Bloomberg LP, donated $250k to super-PAC in 2013
HOUSE
IA-04: Republican state Sen. Rick Bertrand is focusing on restoring the district's "agricultural clout in Congress" and says "people are tired of Steve King," including the seven-term congressman's "off-the-wall comments," Mason City Globe Gazette reported
June 7 primary in Iowa's most Republican-friendly district
MI-08: Democratic officials will be able to fill vacancy on November ballot caused by actress Melissa Gilbert's announcement yesterday that she's "physically unable" to continue bid, Detroit Free Press reported
Republican Rep. Mike Bishop seeking second term in Lansing-area district that voted 51%-48% for Mitt Romney in 2012 election
NV-03: Democrat Jacky Rosen endorsed by Culinary Workers Union Local 226, according to campaign release
Rosen backed by Senate Minority Leader Harry Reid for metro Las Vegas seat now held by Senate candidate Joe Heck
NV-04: TV ad for Democrat Lucy Flores says she's "walked in our shoes" and has endorsements from Planned Parenthood and "the leading progressive voices for change"
Flores, ex-state legislator who's endorsed Sanders in presidential race, running against state Sen. Ruben Kihuen, philanthropist Susie Lee in June 14 primary; winner to face one-term GOP Rep. Cresent Hardy
NY-19: Republican Andrew Heaney says in TV ad "Donald Trump and I represent everything that John Faso and his cronies hate," referring to veteran ex-state legislator also running in June 28 primary
Heaney or Faso will face winner of Democratic primary between Zephyr Teachout and Will Yandik; GOP Rep. Chris Gibson retiring from Hudson Valley-area district
NY-22: Grow the Economy PAC LLC, a super-PAC with ties to Oneida Indian Nation, has spent more than $114k opposing Republican Assemblywoman Claudia Tenney, according to FEC filing
Tenney lost 2014 primary challenge to GOP Rep. Richard Hanna, who isn't seeking re-election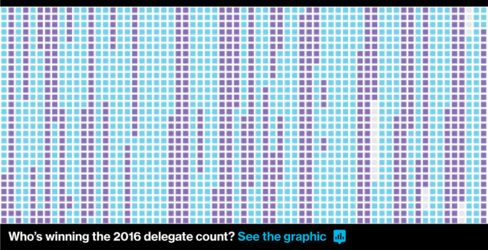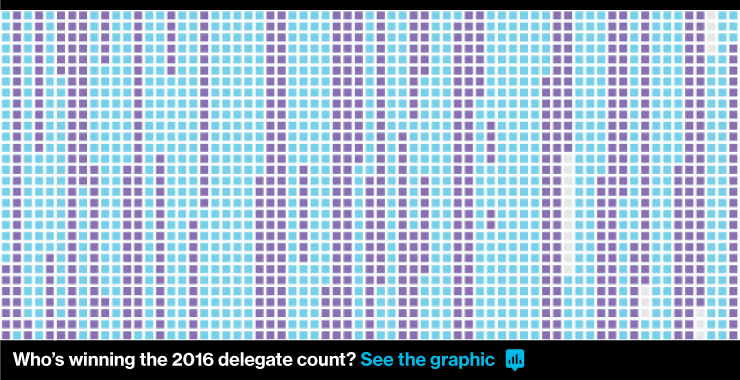 Before it's here, it's on the Bloomberg Terminal.
LEARN MORE