Campaign Wrap: Barrage of Polls Backs Up Quinnipiac Numbers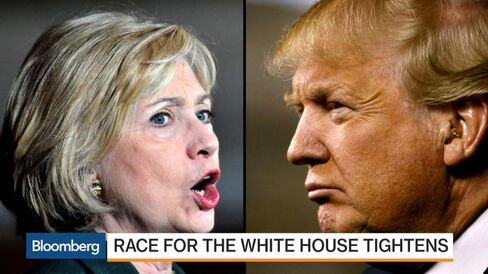 Pollsters are feeling the heat amid this unpredictable election season.
After releasing a poll on May 10 that showed Hillary Clinton and Donald Trump running neck-and-neck in Florida, Ohio and Pennsylvania, Quinnipiac University pollsters sent out a statement today patting themselves on the back for being ahead of the curve

Statement notes some had criticized the survey as an "outlier," questioning the demographic makeup of sample groups

Instead, Quinnipiac's results were "a forerunner, as every reputable poll since then has shown the Clinton-Trump race is close," statement says
Indeed:
Perhaps most significantly, neither candidate tops 50 percent in any of these polls, and in most cases they're several points away from that figure—an indication that many voters are taking a wait-and-see attitude

ON THE TRAIL
Bernie Sanders released letter saying that the bill unveiled in Congress last week to confront Puerto Rico's fiscal crisis would make a bad situation "even worse," AP reports
Sanders objects to giving power to an "unelected and undemocratic oversight board," allowing the island's governor to cut minimum wage
Clinton last week expressed support for bill, while saying she would "work to ensure that concerns about the oversight board are addressed"
Clinton at a Detroit appearance today focused her fire on Trump, saying his policies are "a recipe for lower wages" and that "he could bankrupt America like he's bankrupted his companies"
"Ask yourself, how could anybody lose money running a casino?"
She also said she applauds Sanders and his supporters "for challenging us"
Trump told the Wall Street Journal he has no current plans to travel overseas, as presumptive presidential nominees often have
"I don't think it registers with voters, to be honest with you," he said

CONVENTIONS
Sanders and Clinton agreed to new apportionment of the 15 members of the Democratic platform committee, Washington Post reports
Sanders will name five members, while Clinton will name six, and DNC Chair Debbie Wasserman Schultz will choose four
Clinton and Sanders apportionment based on number of popular votes each has received in their primary fight
"We will have the representation on the platform drafting committee to create a Democratic platform" that reflects those who want party to address "working families," not "just Wall Street, the drug companies, the fossil fuel industry and other powerful special interests," Sanders campaign said in statement

STAFF MOVES
Clinton campaign hired Jess McIntosh as director of communications outreach, Politico reports
McIntosh was previously vice president of communications at EMILY's List

CAMPAIGN FINANCE
T. Boone Pickens canceled his June fundraiser for Trump, according to Fox
Pickens may hold fundraiser in July after GOP natl convention; said he still supports Trump

POLLS
Nearly half of Republicans and GOP-leaning independents say they're following the news of the presidential election, while only 39 percent of Democrats and Democrat-leaning independents say they are, according to Gallup poll
Overall, about 40 percent of adults say they are watching the election closely

ETC.
Trump's golf and hotel complex in Ireland cites global warming in an application for a sea wall permit, Politico reports
On the campaign trail, Trump has called global warming an "expensive hoax" and pseudoscience
Trump's team is battling workers at his hotel in Las Vegas who voted to unionize last December, Huffington Post reports
National Labor Relations Board hearing officer last week found no merit to claims by Trump officials that workers were coerced, improperly influenced
Sen. Bob Corker, R-Tenn. said he and Trump talked about "getting to know one another" at meeting in New York today, the Hill reports
Corker, chairman of the Senate Foreign Relations Committee, has seen his name floated as a possible Trump running mate

He insisted there's "no reason whatsoever to think that I am being considered" for that spot

CONGRESSIONAL RACES
NH-SEN: TV ad paid for by U.S. Chamber of Commerce says Democrat Maggie Hassan pushed for more spending as state legislator/governor
Chamber is backing Republican Sen. Kelly Ayotte, who had 93 percent lifetime score from group through 2015
PA-SEN: Chamber of Commerce says in TV ad that first aired May 21 in Harrisburg market that Democrat Katie McGinty is "just another extremely polarizing partisan politician Washington doesn't need"
Chamber is backing Republican Sen. Pat Toomey, who had an 86 percent lifetime score from business federation through 2015
CA-24: Ad released by Democrat Salud Carbajal says he would "force the banks to refinance student loans"
Carbajal, Santa Barbara County supervisor, is backed by DCCC in June 7 all-candidate primary for open seat
FL-19: GOP businessman Francis Rooney joined race for retiring Rep. Curt Clawson's seat, Naples Daily News reports
Rooney was U.S. ambassador to the Vatican under President George W. Bush
NV-03: Republican Danny Tarkanian in TV ad cites his late father, former University of Nevada-Las Vegas basketball coach Jerry Tarkanian, and draws contrast with "establishment politicians" such as state Sen. Michael Roberson, who's also seeking GOP nomination in June 14 primary
VA-02, VA-04: U.S. Supreme Court rejected appeal by Republicans challenging reconfigured congressional map that added more Democrats to GOP Rep. Randy Forbes's district, Bloomberg's Greg Stohr reports
Democrats will be favored to win VA-04, which absorbed Democratic-leaning Richmond; Forbes seeking re-election in adjacent VA-02, represented by retiring Republican Scott Rigell
Forbes is "leading the fight to halt Syrian refugees" and "block criminal immigrants," he says in campaign ad
Forbes campaign mailer attacking state Rep. Scott Taylor, who's also running in June 14 GOP primary, is "partially accurate but skips important details," Politifact Virginia said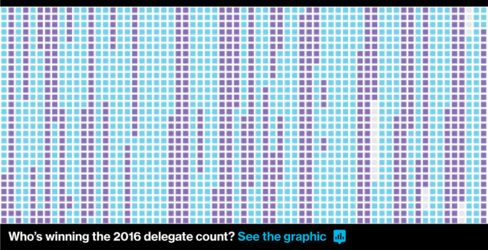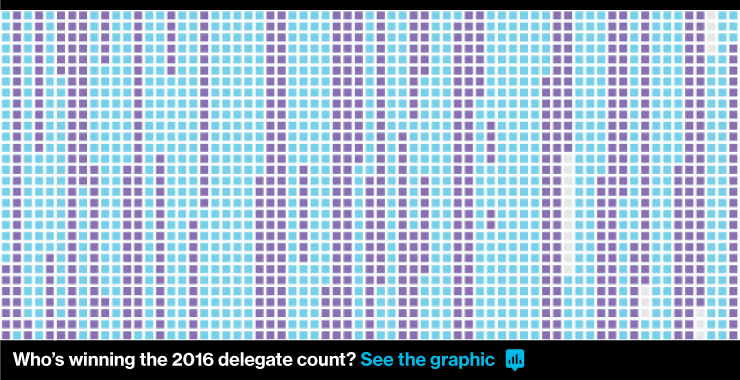 Before it's here, it's on the Bloomberg Terminal.
LEARN MORE