Campaign Wrap: Trump's Olive Branches Yield Mixed Reactions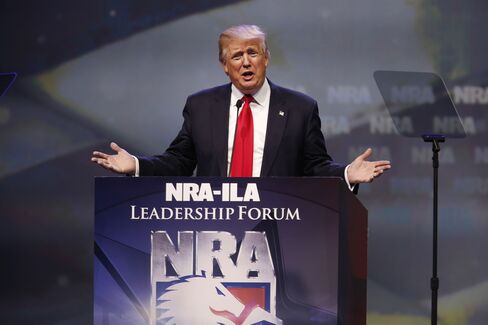 As Donald Trump increasingly focuses on the general election, he's attempting to reconcile with political groups and leaders with whom he's been at odds, with mixed results.
Trump spoke today at the annual meeting of the National Rifle Association, a group that's been leery of the GOP presidential front-runner given his past record on gun control, Bloomberg reports

In 2000, Trump supported an assault weapons ban and a waiting period to purchase firearms; he also criticized GOP lawmakers who "walk the NRA line and refuse even limited restrictions"

Trump, though, has embraced the NRA's positions on gun rights during his presidential run and today got the group's endorsement

Chris Cox, the head of the NRA's Institute for Legislative Action, was somewhat restrained in discussing Trump
"If your preferred candidate dropped out of the race, it's time to get over it," Cox told reporters at the group's gathering in Louisville, Ky.

Meanwhile, Trump's apparent effort to reach out to British Prime Minister David Cameron isn't going as well

After criticizing Cameron and saying the two were unlikely to have a very good relationship, Trump is walking back his comments and saying he'd "do just fine" with him
Trump told MSNBC today that Cameron invited him to visit him in London

Later, Sky reported the British leader has made no such invitation

ON THE TRAIL
Hillary Clinton said she supports the bill addressing the Puerto Rican debt crisis but she has concerns with it, including its proposed oversight board
Clinton wrote an op-ed in the Washington Post on child-care costs that details her proposals to make it more affordable
Trump tweeted that the Islamic State, China and Russia would all "love for Clinton to be president"
On MSNBC, he said more attacks such as one that may have downed an EgyptAir flight would cause a worldwide depression
Trump also said China will stop devaluing its currency when the U.S. gets tough with the country
"If we had a trade war, to be honest with you, it can't be worse" than trade deficit,'' he said
Trump's set to meet with Sen. Bob Corker on Monday, according to Washington Post
Corker, R-Tenn., praised Trump's April address in Washington on foreign affairs and has been mentioned as a prospective running mate

TAXES
Trump paid no income taxes in the late 1970s, Washington Post reports
He used a tax provision that allowed for negative income, reporting combined income of negative $3.8 million for 1978 and 1979

ADS
The RNC has reserved $150m in digital ads in its largest-ever digital ad buy, according to Advertising Age
Size of commitment "would be absurd five years ago," Gerrit Lansing, the RNC's chief digital officer said

CAMPAIGN FINANCE
Pro-Clinton super-PAC Priorities USA has $47m cash on hand, New York Times reports
Planning to use much of the money on negative ads against Trump
Group raised $8.6m in April

POLLS
Fox News Latino poll shows that 86 percent of Hispanic voters say they wouldn't be swayed by Trump picking a Hispanic running mate, while 80% say the same about Clinton
Clinton preferred by Hispanic voters over Trump, 62%-23%

CONGRESSIONAL RACES
OH-SEN: A TV ad from the U.S. Chamber of Commerce says that Democrat Ted Strickland "crippled Ohio's economy" as governor and "we need" Republican Sen. Rob Portman to oppose Obama administration's health-care law and "unfair" regulations
The ad cites Portman's November 2015 vote to disapprove of EPA carbon pollution standards for new/modified power plants
PA-SEN: A TV ad from Senate Majority PAC, a super-PAC working to elect a Democratic-run Senate, says that Republican Sen. Pat Toomey is "right for Wall Street" and "wrong for Pennsylvania"
The ad, which first aired on broadcast TV today in Pittsburgh, cites Toomey's opposition to the 2010 Dodd-Frank financial overhaul law and support for budget priorities of Speaker Paul Ryan
Toomey campaign statement said he's been "fighting for lower middle-class taxes and ending corporate cronyism," pointed to senator's opposition to Wall Street "bailouts"
HOUSE: Minority Leader Nancy Pelosi's PAC donated to 11 candidates last month, all Democratic women seeking Republican-held House seats, according to FEC filing
Pelosi-backed candidates include state Sen. Morgan Carroll in CO-06, ex-Rep. Carol Shea-Porter in NH-01, actress Melissa Gilbert in MI-08, businesswoman LuAnn Bennett in VA-10
CA-24: Campaign ad from GOP Assemblyman Katcho Achadjian features his daughter saying Democratic candidate Salud Carbajal and Pelosi are "distorting the truth" about and are "trying to frighten women voters"
Carbajal, Achadjian vying for seat being given up by Democrat Lois Capps
FL-19: Republicans weighing bid to succeed retiring GOP Rep. Curt Clawson include state Sen. Lizbeth Benacquisto, Florida Politics reported
Benacquisto lost to Clawson in April 2014 special primary; district includes Fort Myers/Naples and is strongly Republican
HI-01: Democratic Rep. Mark Takai's retirement announcement yesterday came less than three weeks before June 7 candidate filing deadline, Honolulu Star-Advertiser reported
Takai, 48, said he "must regretfully withdraw" from re-election campaign to focus on fighting his pancreatic cancer; Democrats favored to keep control of urban Oahu district
IA-01: Ex-state Rep. Pat Murphy released ad saying he's a "lifelong Democrat" and the "one progressive" in his party's primary race against ex-Cedar Rapids councilwoman Monica Vernon
Vernon was registered Republican until 2009, according to KCRG-TV, which fact-checked similar Murphy ad
TV ad from Emily's List super-PAC says Vernon will protect Social Security and Medicare from "Tea Party Republicans' attacks"; group is spending $149k to aid Vernon, according to FEC filing
NY-19: TV ad for Andrew Heaney's campaign refers to GOP rival John Faso as "lawyer, lobbyist, failed politician"
Heaney, Faso vying for seat being given up by Republican Rep. Chris Gibson
WI-08: According to FEC filing and an e-mail, the Midwest Growth PAC, an Appleton-based super-PAC that supports "common sense, conservative reforms," will back Republican Mike Gallagher
Gallagher, Marine veteran and former aide to Senate Foreign Relations Cmte and Gov. Scott Walker's presidential campaign, seeks to succeed retiring GOP Rep. Reid Ribble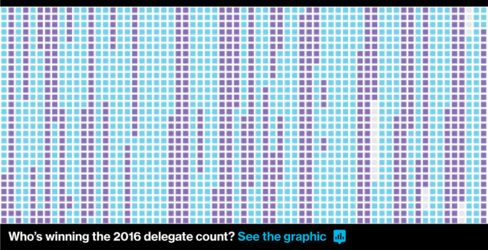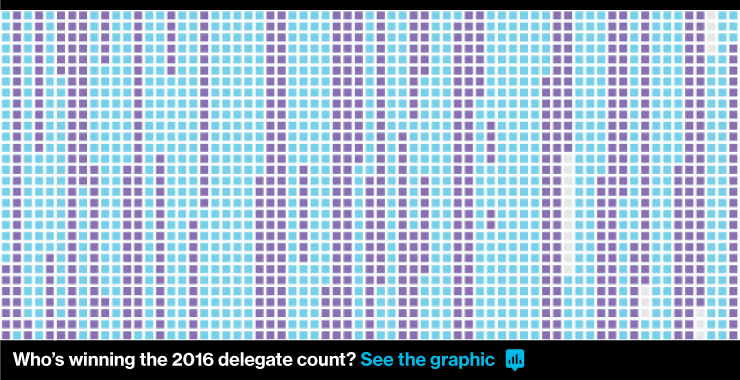 Before it's here, it's on the Bloomberg Terminal.
LEARN MORE