Culture Caucus Podcast
'Weiner' Is the Most Compelling (and Cringe-Inducing) Political Documentary of All Time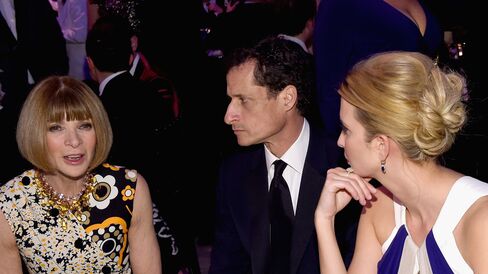 Perhaps no high-profile political campaign has exploded with such ferocious tabloid force as Anthony Weiner's 2013 New York City mayoral run. Forced to resign from Congress after his notorious 2011 Twitpic scandal, Weiner, with the assistance of his wife, longtime Hillary Clinton aide Huma Abedin, ran for mayor in part to bring his family "back to normal." But what happened next was anything but: Accusations of more Weiner photos, the emergence of Sydney Leathers and a good old-fashioned New York City media s***storm. Weiner ended up losing, both at the ballot box and in the public arena, and the campaign is widely considered a total catastrophe.
And as it turns out ... there were cameras rolling the whole time. In the 10th episode of the Culture Caucus podcast, we discuss the new film Weiner, which documents that campaign in an uncomfortably detailed and intimate manner. Co-directed by a former Weiner aide, but far from a glossy reconstruction of his image, the film shows us moments inside a campaign that the public would simply never see, and, more than that, moments inside a marriage. Whether it's staffers screaming at Weiner for his indiscretions, a desperate circling of the wagons to avoid a confrontation with the aforementioned Leathers (code name "Pineapple") on election night, or a series of increasingly wrought reaction shots from a petrified Abedin, the film is one of the most fascinating and informative political documentaries of all time.
In the second half of the podcast, we talk to Barbara Morgan, who was Weiner's communications director on the 2013 campaign and is featured prominently in the film, often looking (understandably) beleaguered as one cataclysm hits after another. She talks about what it was like to be there for such a crazy campaign, how she dealt with the dynamic between the candidate and his wife, and whether she'd ever sign on for such an assignment again. (She thinks she'd rather get a therapy puppy.)
It's a great show for a terrific movie. You can e-mail us about it at politics@bloomberg.net. Come say howdy!
SoundCloud: Episode 10: Anthony Weiner, a documentary and Barbara Morgan by Bloomberg
Note: At one point in the podcast, John and Will suggest that Josh Kriegman, one of Weiner's co-directors, was on the staff of Weiner's mayoral campaign. In fact, he was a former Weiner aide who made an arrangement with the campaign by which he gave it the right to use some of his footage in exchange for extraordinary access to the candidate and his team.
Before it's here, it's on the Bloomberg Terminal.
LEARN MORE