Campaign Wrap: Republicans Comforted by Trump's Court List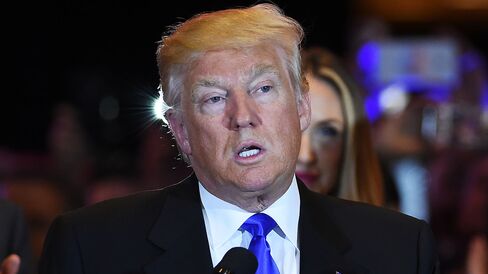 Donald Trump's list of 11 potential Supreme Court nominees includes well-known conservative judges, calming the fears of Republicans who were worried he wouldn't appoint justices whose political views are in line with their own.
House Speaker Paul Ryan, who recently met with Trump but has yet to endorse him, said the list "was a very good step in the right direction"

Ryan also said his team has been meeting with Trump's and "we're making progress"
Senate Judiciary Committee Chairman Chuck Grassley, R-Iowa, said Trump's list was "pretty encouraging" and would help allay conservatives' doubts about the presumptive GOP nominee

List includes an Iowan, Steven Colloton, whom Grassley has praised in the past

Conservative columnist Charles Krauthammer, who has been critical of Trump, said on Fox News that the judges are "quite sterling"

Still, he expressed concern over Trump's comment that he would "most likely" make an appointment from the list
"He always leaves himself wiggle room. He says he likes to have leverage. He keeps the leverage, but what he does is to kindle a little bit of doubt," Krauthammer said

ON THE TRAIL
Hillary Clinton and Trump both called the EgyptAir plane crash a case of terrorism, based on preliminary information
Trump tweeted that tragedy "looks like yet another terrorist attack"
Clinton said on CNN that the fight against Islamic State must be intensified and that "we have been effective in beginning to kill of the leadership of ISIS"
Clinton also said in interview that Trump isn't qualified for the presidency and is being used "essentially to be a recruiter" for terrorism by U.S. enemies
She said she thinks rival Bernie Sanders will keep his promise to do everything possible to keep Trump from becoming president
Trump aide Paul Manafort told reporters the businessman and Ryan agree more than they disagree on trade policy
Manafort is meeting with chiefs of staff for Senate Republicans today in Washington, Politico reports
Campaign confirmed to Bloomberg News that Manafort has taken on a larger role, and has been named campaign chairman and chief strategist
Rep. Chris Collins of N.Y., a Trump backer, suggested the candidate's much-touted border wall with Mexico may be "virtual," Buffalo News reports
"Maybe we will be building a wall over some aspects of it; I don't know," he said
He said Trump's promise to deport undocumented immigrants is "a rhetorical deportation"

DEBATES
The DNC is "negotiating" possible debate between Clinton/Sanders in California before state's June 7 primary, committee spokesman tells Fox

CONVENTION
Democratic Sen. Barbara Mikulski of Maryland said she won't tell Sanders to leave the party's presidential race before it's over, but that the end of the line arrives in June, not at the convention in July, the Hill reports
"So when we go to the convention, everybody's spoken. But when the process is over, through either primary or caucus, then it's over"
New York Times reported that Sanders is willing to intensify his efforts to inflict political harm on Clinton in order to win the California primary, which would give him more clout to advance his agenda at the convention

LIBERTARIAN PARTY
Former New Mexico Gov. Gary Johnson, seeking the Libertarian Party's presidential nomination (which he had in 2012), named former Massachusetts Gov. William Weld to be his running mate, according to AP
Weld is a one-time Republican
Johnson told CBS he has no knowledge of the Daily Caller report that billionaire David Koch pledged "tens of millions of dollars" to help his campaign

ENDORSEMENTS
GOP House conference chairwoman Cathy McMorris Rodgers of Washington said she mailed in her primary ballot with a vote for Trump in her state's May 24 contest
McMorris Rodgers is the House's No. 4 Republican leader

POLLS
NJ: Clinton leads Sanders 54%-40% among likely Democratic voters in June 7 primary, Quinnipiac University Poll finds

ETC.
Trump's recent comment that he wouldn't re-appoint Fed Chair Janet Yellen is "problematic," Richmond Fed President Jeffrey Lacker said
"I think it would be problematic for a presidential candidate to dismiss a Fed chair on the basis solely of the perceived party affiliation"
FedEx CEO Fred Smith said Trump could target OPEC if he wanted to curb trade imbalances, since trade deficits in oil outpaced those with China in recent years
"It seems to disturb him a lot when you have trade imbalances; oil imbalances significantly outpaced those with China," he said at event in Washington

CONGRESSIONAL RACES
REPUBLICAN WOMEN: Maggie's List, which works to elect "fiscally conservative" women to office, announced endorsements of 35 female Republicans in House and Senate campaigns
Most are incumbents strongly favored to win re-election; GOP women in competitive re-election races include Sen. Kelly Ayotte of N.H., Reps. Renee Ellmers of N.C., Martha McSally of Ariz.
Non-incumbents supported by group include Liz Cheney, seeking Wyoming's at-large House district
SENATE: IMPACT Senate 2016, a joint fundraising cmte, will raise money for Democratic Senate candidates Katie McGinty in Pa., Ted Strickland in Ohio, Maggie Hassan in N.H., according to FEC registration papers
IA-04: Iowa-based Progress Project, a "conservative issues advocacy group," has spent $49k on mail promoting state Sen. Rick Bertrand's campaign, according to FEC filing
Bertrand seeking to unseat Rep. Steve King in GOP primary
NV-03: State Sen. Michael Roberson is "the establishment's candidate, not ours," according to TV ad from businessman Danny Tarkanian that attacks GOP rival's record on immigration, taxes, Common Core education policy
NY-22: Grow the Economy PAC LLC, a super-PAC, has spent more than $78k opposing Assemblywoman Claudia Tenney ahead of June 28 GOP primary, according to FEC report
Super-PAC formed in April and hasn't yet disclosed donors; has ties to Oneida Indian Nation, Oneida Daily Dispatch reported
Tenney opposed by teacher George Phillips and businessman Steven Wells for seat of retiring Republican Richard Hanna, who beat Tenney by 7pts in 2014 primary
NC-02: "Those who say women don't know to fight have clearly never fought Renee Ellmers," according to TV ad promoting three-term GOP congresswoman's anti- abortion/pro-defense views
Ellmers faces June 7 primary challenge from GOP Rep. George Holding, whose campaign announced endorsement from John Bolton, former U.S. ambassador to the U.N.
NC-03: Republican Taylor Griffin is "political insider" and "Washington lobbyist supported by big Wall Street bankers," according to TV ad from Eastern Carolina Conservative Fund, which backs Rep. Walter Jones
Griffin released ad linking Jones to President Obama on Iran policy, saying incumbent "empowered Obama to cut a deal with Iran" and "caved to Obama"
Race is rematch of 2014 primary that Jones won 51%-45%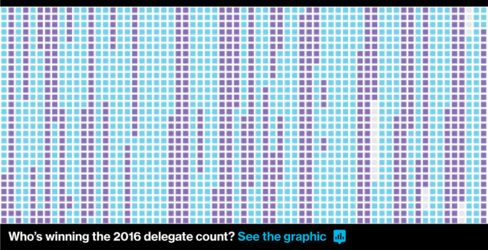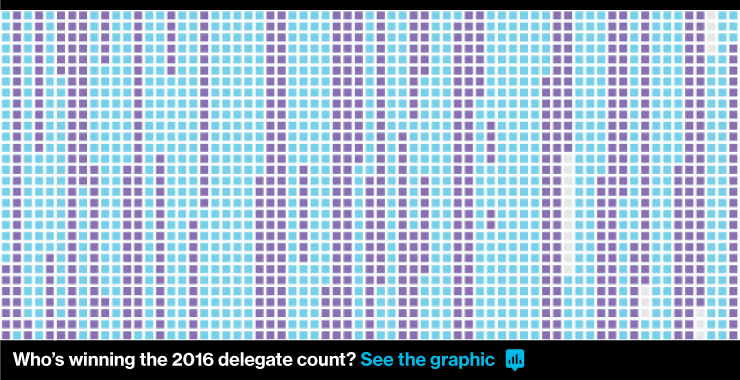 Before it's here, it's on the Bloomberg Terminal.
LEARN MORE