Campaign Wrap: Clinton Aims to Stop Sanders in Oregon, Kentucky
Hillary Clinton is trying to break Bernie Sanders' latest winning streak and get closer to putting away the nomination with Oregon and Kentucky's Democratic nominating contests today.
Oregon has 74 delegates up for grabs; Kentucky has 61
Counting superdelegates, Clinton needs only 143 more delegates to reach 2,383, the number that would give her the nomination
Sanders won West Virginia last week, and Indiana on May 3
Little polling has been done in either state; a Fox12 poll in Oregon from early May showed Clinton beating Sanders 48%-33%
Both states have closed primaries, which tend to favor Clinton
Oregon uses a mail-in ballot system, and The Oregonian reports that Democratic registration has surged
Oregon also holds a Republican primary today
Final polls close in Kentucky at 7 pm ET, Oregon at 11pm ET

ON THE TRAIL
Donald Trump tweeted that he thinks Megyn Kelly will be "very fair" in her interview with him tonight
Bernie Sanders said accusations that his supporters are violent are "nonsense," in response to disruptions that occurred at the Nevada Democratic convention
Yesterday, the Nevada State Democratic Party warned the DNC that Sanders supporters have displayed a penchant for violence
On Saturday, the convention had to be shut down because of chaos from Sanders backers
Sanders campaign manager Jeff Weaver said on CNN that even if the Vermont senator loses the nomination, he'll "work seven days a week, night and day, to make sure Donald Trump is not president"
Bill Clinton in Puerto Rico said he's "asked actually to be given the job of helping every part of the United States that has been left out and left behind economically"
He also said his wife believes Puerto Ricans are "entitled to restructure their debt in a fair and reasonable way and she will support immediate action" to do that
Ohio Sen. Rob Portman said on CNBC that he's not interested in being Trump's vice president
There are "other great people out there," he said
Portman said he has policy differences with Trump, but he thinks Trump is "a much better choice" than Clinton

TACO TWEET
Jeb Bush called Trump's Cinco De Mayo tweet "so insensitive" in an interview with Dutch newspaper NRC Handelsblad
"First, not all Hispanics are Mexican. Secondly, not all Hispanics eat tacos. Thirdly, showing your sensitivity by eating an American dish is the most insensitive thing you can do. Fourthly, to say this, next to all things he already said, is a further insult. It's like eating a watermelon and saying 'I love African-Americans'"

STAFF MOVES
Trump hired pollster Tony Fabrizio, Politico reports
Fabrizio worked on Fla. Gov. Rick Scott's campaign, as well as Rand Paul's presidential bid earlier this year
The businessman is trying to quickly expand his staffing in more than a dozen states in preparation for a broader electoral battlefield, AP reports
He's targeting states that traditionally favor Democrats, such as Maine and Minnesota
More Sanders staffers are leaving the campaign, Politico reports, including his director of technology and three members of his California leadership team

CAMPAIGN FINANCE
Trump is making arrangements to help RNC and state parties raise money for GOP candidates, Politico reports
Joint fundraising committee would be able to accept maximum checks of $136,100 per person or more

ETC.
House Speaker Paul Ryan said he's focused on unifying the Republican party
"The person who's getting the nomination of our party is the person to lead our party," he said of Trump
Clinton's former deputy chief of staff Huma Abedin is among at least six people who will be questioned by lawyers for a conservative watchdog group seeking information about Abedin's overlapping employment at the State Department, Clinton Foundation and outside consulting firm
Others to be questioned: Stephen Mull, Patrick F. Kennedy, Bryan Pagliano, Cheryl Mills, Lewis A. Lukens
Bush rejoined the advisory board of Jackson Healthcare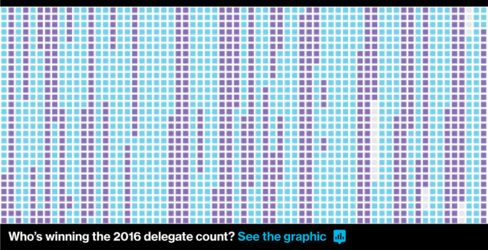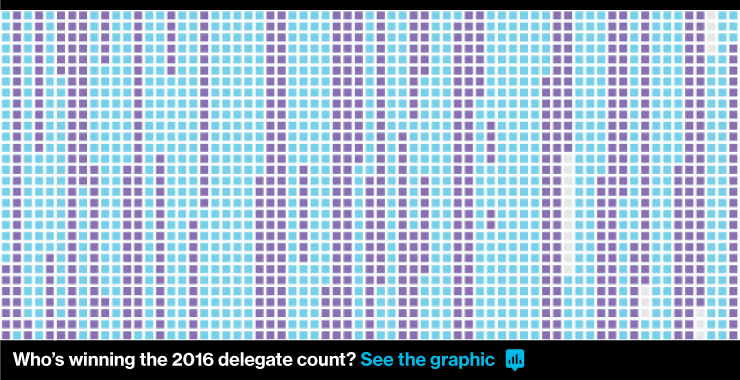 Before it's here, it's on the Bloomberg Terminal.
LEARN MORE